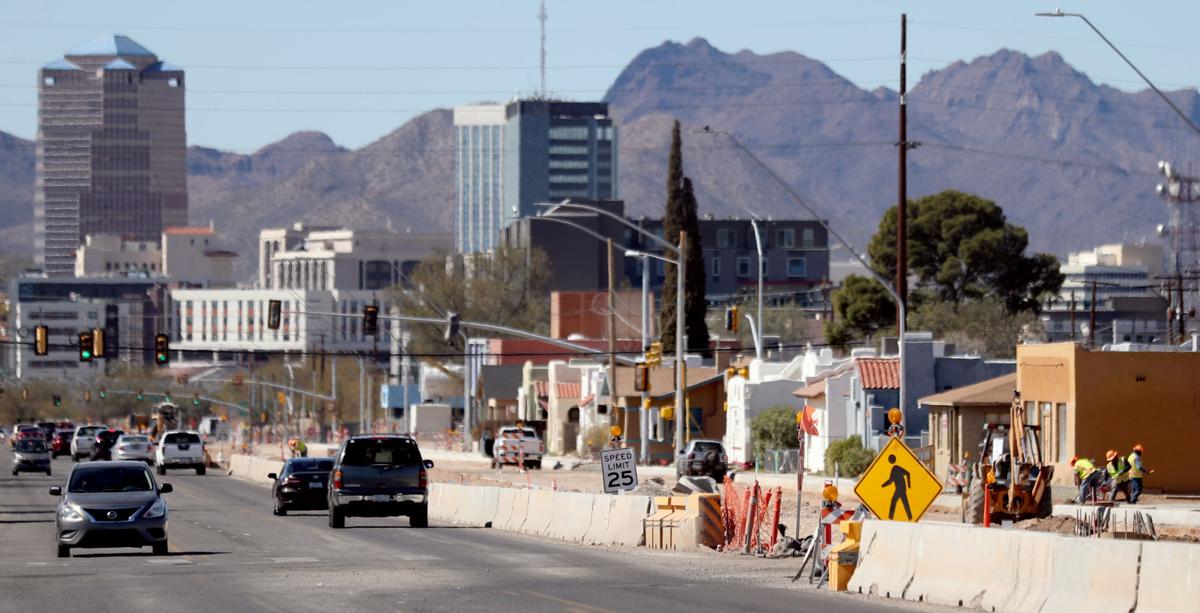 As a shortage of housing has pushed home and rental prices up, considerations are underway to erect high-rise buildings with affordable living options east of downtown Tucson.
A new proposal for 2 miles of Broadway known as the Sunshine Mile would allow for buildings up to 14 and 16 stories tall.
The project has received approval from the city of Tucson's Zoning Examiner's Office to qualify as an "urban overlay district," which allows flexibility in design and heights to promote urban infill.
The City Council will have the last word on approval when the item goes before it in the coming weeks.
There are two other urban overlay districts in Tucson — Main Gate Square, near the University of Arizona, and Grant Road between Oracle Road and First Avenue.
The Sunshine Mile is the first to incentivize affordable housing.
"We'll see how the rest of the world appreciates the work we're doing," Fletcher McCusker, chairman of the Rio Nuevo board told board members when they voted this past week to endorse the overlay district.
After much feedback from the surrounding neighborhoods, affordable housing surfaced as a priority.
"This has been a big priority to help offset the potential negative impacts of public and private investment such as increased housing prices, gentrification and displacement," said Evren Sönmez, who has lived in the Rincon Heights neighborhood for 11 years. "We're very much interested in increasing the affordable housing stock in our neighborhood and advocate for equitable outcomes with every plan or project proposal whenever we have a voice in the process."
State law prohibits mandating affordable housing in developments, so the project has turned to incentivizing developers to build it.
Those incentives would be in the form of height.
In the subarea of Euclid, immediately east of downtown, buildings could be as tall as 16 stories — about 200 feet.
In the Kino subarea, south of Broadway and Campbell Avenue, building heights of up to 14 stories — 168 feet — could be allowed.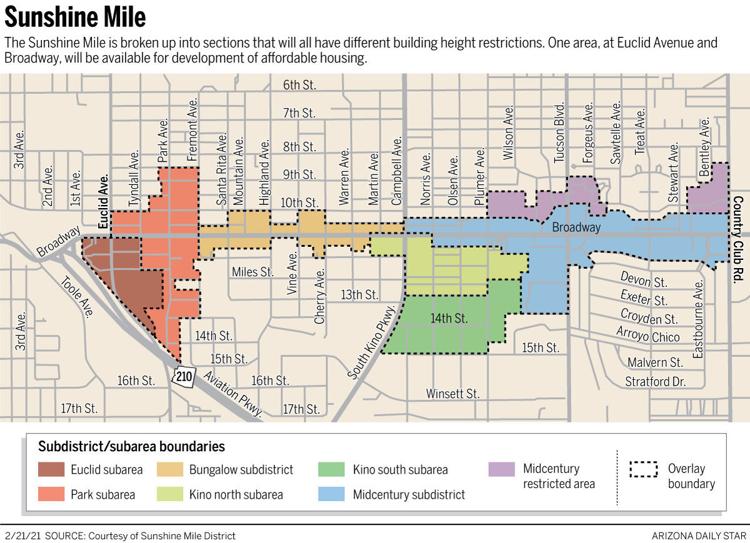 Sönmez said building heights were the topic of much discussion during public meetings.
"I can't speak for the entire neighborhood, but those of us who have been the most involved in this effort from Rincon Heights welcome the increased building height provision in the Park subarea," said Sönmez, director of strategic policy and practice with the Living Streets Alliance. "Increasing density in a thoughtful and intentional manner is key to supporting the future high-capacity transit services envisioned along the Broadway corridor, creating walkable mixed-use destinations, facilitating new housing development, and better aligning us with the city's climate change mitigation goals."
The proposal for incentivizing the creation of housing for low to moderate income, disabled and elderly residents is as follows:
Projects must have a minimum of 10 units or add 10 units to an existing project.
All units must be located within a single project.
Units shall be incorporated throughout the project and not be distinguishable from market-rate units, including square footage, access to amenities, location, grouping or exterior design.
At least 15% of the total units in the project shall be affordable housing units for households earning 80% of the area median income or less.
"We're all looking around, realizing there's this unintended consequence to our success in revitalizing and redeveloping," said Keri Silvyn, an attorney with Lazarus & Silvyn PC, part of the Sunshine Mile project team. "We need to ensure affordable housing."
Among the other provisions in the overlay district proposal is no parking along Broadway, instead offering alley parking or parking structures that are screened from street view and have at least one electric vehicle charging space for every 100 spots.
All ground-floor development must be pedestrian-friendly with walk-through construction from building to building and retail that spills out onto the sidewalks, whether it be restaurant seating or art galleries.
The proposal also promotes bicycle sharing programs and a car share program that could be an amenity to residents of multifamily developments.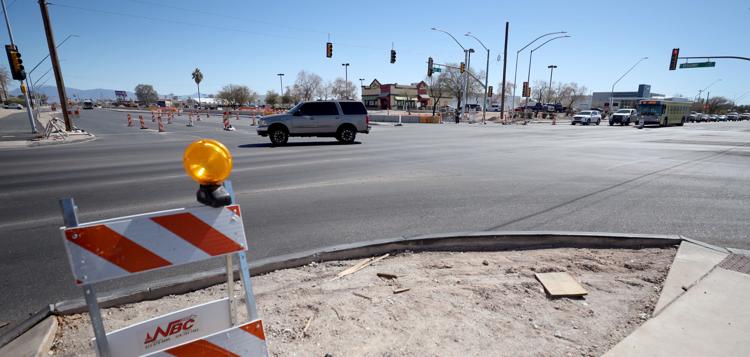 "These regulations are designed to spur mixed-use, transit-oriented infill development with a range of housing types and commercial uses to foster a more vibrant and pedestrian-friendly corridor and are consistent with the purpose of an urban overlay district," Zoning Examiner John Iurino wrote in a letter after the zoning meeting. "As proposed, the (project) is in compliance with and supported by Plan Tucson, the Arroyo Chico Area Plan, University Area Plan, Broadmoor-Broadway Village Neighborhood Plan, Miles Neighborhood Plan and Sam Hughes Area Plan. Approval of the Sunshine Mile urban overlay district is appropriate."
The National Park Service added the Sunshine Mile to the National Register last year. There are about 160 historic mid-20th-century buildings along that stretch of Broadway, from Euclid Avenue to Country Club Road.
The precursor to any development is the widening of Broadway, which is underway and expected to be completed this fall.
When done, it will have six lanes, landscaped medians, sidewalks, 16 bus pullouts, signalized pedestrian crossings and buffered bike lanes.