Alan Miklofsky opened one of his independent shoe stores on East Speedway just after the 9/11 terrorist attacks but managed to stay open.
But last week Miklofsky had to close his fourth and newest Alan's Shoes Tucson location at the Tucson Spectrum shopping center on the city's south side, after most neighboring stores closed and foot traffic stalled amid the coronavirus outbreak.
"I'm concerned for the safety of our employees and our customers," said Miklofsky, who co-founded Alan's Shoes about 37 years ago. "We hope we won't have to stay closed too long."
After closing a second store and laying off 17 of his 46 employees overall last week, Miklofsky isn't sure how long his two remaining stores will remain open but is carefully monitoring things with plans to reopen once the virus danger has passed.
The hardest part, he said, is the uncertainty brought on by the coronavirus pandemic and how it will end for his business.
"This is certainly an unprecedented issue," he said. "There's a lot of people that are hurt by this, and we as a business, we have an obligation to figure out how we can preserve capital so we have enough to ramp back up. Half of our concern is how to reformulate our business and rise from the ashes, so to speak."
Miklofsky is likely the rule rather than the exception among small businesses.
Besides concerns over health and safety, uncertainty is the biggest concern among the roughly 1,500 members of the Tucson Metro Chamber, chamber President and CEO Amber Smith said.
"People are scared for themselves and their families because of the health risk," Smith said. "But it's also the uncertainty of not knowing what tomorrow holds, what changes in the world are going to be made."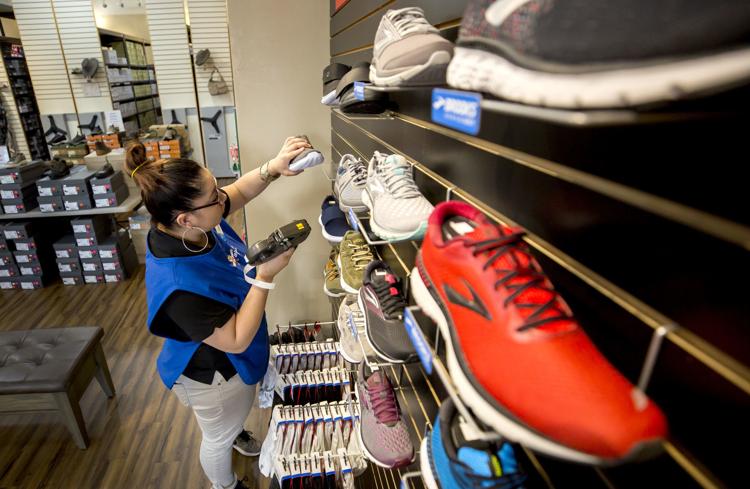 RECESSION INEVITABLE
The coronavirus pandemic is hitting Tucson-area businesses hard, business leaders and economists say.
While major events have been canceled and many businesses have closed at least temporarily, others are fighting to stay afloat amid measures to prevent public gatherings, including a statewide ban on eat- and drink-in bars and restaurants.
Some government help is on the way, with small-business disaster loans approved for Arizona last week and more help for businesses and consumers coming with a pending $1 trillion federal economic stimulus package. 
But much remains uncertain, and the economic disruption caused by business closures and self-quarantine from the pandemic likely will tip the nation into a recession — negative economic growth — in the second quarter, University of Arizona economist George Hammond said.
The current thinking is that the recession will last about three quarters, and that the economy will start growing again in early 2021, but that's only a forecast, Hammond said.
"The situation is still evolving every day, so there's a lot of uncertainty about how the outbreak is going to progress and therefore how the economic impacts is going to play out," said Hammond, director of the Economic and Business Research Center at the UA's Eller College of Management.
Hammond said he's still crunching numbers for an interim forecast update, but one research model he uses predicts that U.S. economic growth as measured by real gross domestic product will fall 5.4% in the second quarter with losses narrowing through the end of 2020 before growth turns positive next year.
Among the hardest-hit sectors so far is the leisure and hospitality sector, including travel and tourism businesses like airlines and hotels as well as arts and entertainment and restaurants and bars, Hammond said.
Among the closures last week was Roadhouse Cinemas, which reported 109 layoffs to the state. Two tribal casino operations, the Pascua Yaqui Tribe's Casino del Sol and Casino of the Sun, and the Tohono O'odham Nation's Desert Diamond casinos, also have temporarily closed though they plan to keep paying furloughed workers.
Retailers already are feeling the effects of the virus, with many closing stores at least temporarily, and manufacturers may see workplace issues, falling demand and supply-chain problems as the virus grips the world.
Even after the virus is at bay, historic declines in the stock market will stifle consumer spending — a linchpin of the economy — for a while, Hammond said.
"When stock prices fall then that means households' net worth takes a big hit, and when people feel poorer that makes them less optimistic about the future and they tend to spend less," he said.
As the virus has spread elsewhere, demand for goods for services have plummeted, and disrupted global supply chains will make it more difficult for manufacturers to keep their supply chains running, Hammond said.
"It's not just manufacturers, it's retailers who may struggle to get goods that they were able to get a couple of months ago," he said. "You put all those together and you get a big shock to the national economy. Arizona is going to feel that."
Hammond said how long the economic disruption lasts largely depends on how fast federal, state and local authorities can get a handle on the coronavirus outbreak.
"Right now one of the best things the government can do to control the economic impacts is to get a handle on the outbreak, and it's something that individuals can contribute to as well by working at home, washing our hands, staying home when we are sick and just generally staying away from people for the time being," he said.
RECORD TRAVEL YEAR HALTED
Southern Arizona's travel and tourism industry already is hurting, with cancellations of virtually all upcoming major events, concerts, meetings and closures of major attractions such as the Arizona-Sonora Desert Museum.
Though most Tucson-area hotels remain open — with exceptions including the Arizona Inn, which closed last week — occupancy is way down in what should be the peak visitor season.
Tucson's tourism industry had been hitting on all cylinders up until recently, with hotel room revenue in January and February of $99.5 million, up nearly 3% from the same period in 2019.
"Every indication was that it was going to be a record year for travel and tourism," said Brent DeRaad, CEO of Visit Tucson. "I don't think anyone in the U.S. or the travel and tourism industry had foreseen the COVID-19 precautions and travel impacts would hit this hard and this quickly."
The Tucson Gem, Mineral and Fossil Showcase, Tucson's biggest draw to outside visitors with an economic impact of about $120 million, went off mostly as planned in February, though there was some drop-off of international visitors in later weeks as the coronavirus began to restrict international travel, DeRaad said.
Likewise, the Tucson Rodeo and Major League Soccer preseason training were held in mid-February while the Tucson Invitational Games, a college baseball and softball training event that brings thousands of players and staff to Tucson, was able to get through about half of its month-long March schedule, DeRaad said.
The Tucson Festival of Books was canceled in early March, though that remains mostly a local event.
The evolving pandemic also prompted the cancellations of many smaller events such as industry meetings and conferences, DeRaad said.
Visit Tucson's database tracked some 43,000 nightly room rentals in March, with 70% to 80% in jeopardy because of the pandemic, but DeRaad said he believes most will be rescheduled for later in the year.
"We're seeing a great number of events and meetings rescheduled into the fall," DeRaad said. "We're hopeful as long as the coronavirus impacts dissipate in the next three months, and perhaps that's being optimistic, then we will see a really strong fall for metro Tucson."
At least one smaller local hotel is trying to stay open while it can.
The Hotel McCoy, a 90-room boutique hotel that opened in 2018 on West Silverlake Road just west of Interstate 10, has instituted special room deep-cleaning procedures and drive-thru room check-in for prepaid reservations, so guests don't have to interact with a human, general manager Nicole Dahl said.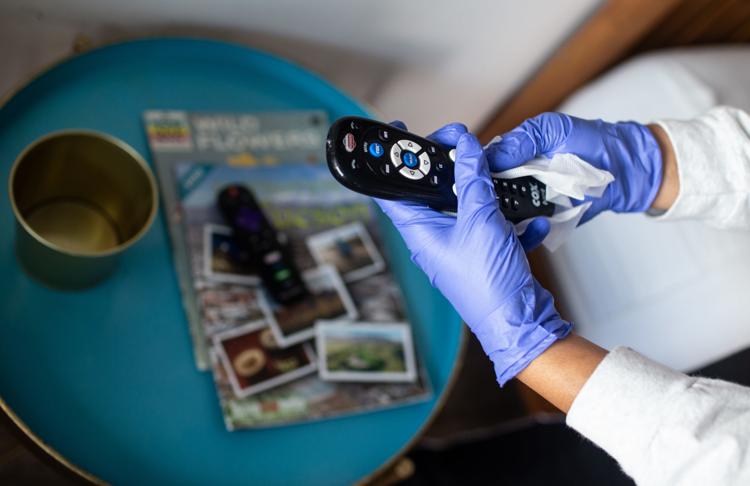 "You don't really have to make contact with anyone when you stay with us," Dahl said, adding that staff simply photograph guests' IDs as they go through drive-thru check-in.
After staying full during the gem showcase in February, the midcentury modern throwback hotel had 24 guests as of last week, she said. Before the virus hit, the hotel was 90% sold out for 2020.
Guests are placed in rooms with no neighbors. The rooms are disinfected on a rotating basis in a process that includes heating up the rooms to more than 90 degrees.
The Hotel McCoy's bar is closed but is still offering takeout, and though the hotel has had cancellations totaling "six figures," it will remain open with 22 employees for now, she said.
"Any hospitality business that is staying open is doing so at a loss but hoping that loss isn't too super detrimental," Dahl said. "But it's important to stay open for employees." 
The hotel is offering a 25% discount on prepaid reservations for the rest of 2020, which are refundable, she said.
She said the key is to remain positive and be a good community member.
The Hotel McCoy last week posted an offer online to go grocery shopping for any neighbor who was sick or too scared to go out. The hotel staff shopped for about a dozen neighbors, Dahl said, including an 80-year-old woman who lives 7 miles away.
"Right now what we're feeling is we have zero control over our finances and our employees' future, but the one thing we can control is how we react," Dahl said. "So if we react with kindness and optimism, then hopefully that will radiate out and people will feel that and when they are able to show kindness back, they will."
Tucson-based HSL Properties has so far kept its 11 local hotel properties open but has had to reduce workers' hours and lay off some employees amid low occupancy, HSL President Omar Mireles said.
HSL, whose properties include the Hilton El Conquistador Resort, has stopped turning down occupied rooms daily to limit guests' exposure, and has increased cleaning regimens between guests and boosted disinfection of common areas, Mireles said.
While 9/11 was tough on the hotel industry, the uncertainty of the virus outbreak has probably created more anxiety among consumers, he said.
"This is the enemy you can't see and the fear factor of not knowing who's infected and not knowing how many people can get hurt," Mireles said. "It seems like we are at the very beginning of the process and it changes every day."
Major chains like Hilton and Marriott have said they are protecting staff and guests by boosting staff hygiene training, stepping up room cleanings and in some cases relaxing cancellation and refund rules.
Meanwhile, Tucson-area bars and restaurants are offering takeout and in some cases delivery service after the city of Tucson, Pima County and the state banned dine-in service.
Smith said the Metro Chamber supported the bar and restaurant closures as a compromise position to try to protect the industry.
"The response has been positive from those who say they'll do it," she said of the takeout and delivery options.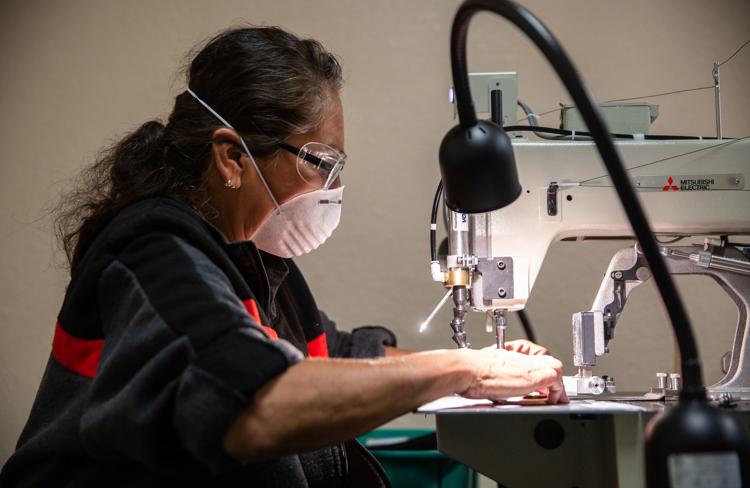 MANUFACTURING
Even businesses that don't deal directly with the public, such as manufacturers, have had to take special precautions because of COVID-19.
Howard Stewart, president of AGM Container Controls, said the company's business — making environmental controls for containers that hold things like missiles and engines, as well as elevator lifts — is humming despite the outbreak.
AGM's customers include major defense contractors like Raytheon Missile Systems, Northrop Grumman and Lockheed Martin, as well as the Defense Department itself.
"The orders have continued to come in like normal, which is kind of a surprise to me," he said.
But the company has had to adjust its operations, assuring that all of its roughly 150 workers are separated by six feet and staggering shifts so people aren't crowded into the company's small break room at lunch and during breaks.
"I don't want any of my employees to get (the coronavirus) and I'm going to do everything I can to prevent that," said Stewart, adding that he recently backed up a supervisor who sent home a worker who was sneezing and coughing.
"I think a lot of my role is to keep people calm," said Stewart, who penned a lengthy message stressing safety to his employees last week.
Officials at Raytheon Missile Systems, the Tucson region's biggest employer, said in a prepared statement that the company is taking steps to safeguard its 13,000-person local workforce.
"We are actively monitoring the COVID-19 pandemic and have taken a variety of immediate steps to ensure the safety and well-being of our employees," the company said. "This includes domestic and international travel restrictions, restrictions on face-to-face meetings, and new work-from-home and social-distancing protocols in all our facilities."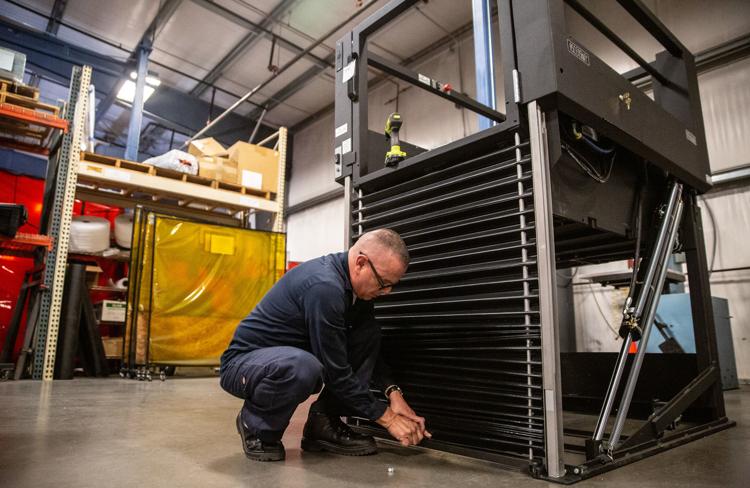 HELP ON THE WAY?
The Metro Chamber's Smith said her organization is working to get help to local small businesses with a new coronavirus web page.
The Chamber also is in touch with several lenders offering  bridge loans — some with no interest for 90 days — and is posting regular updates on such programs on its website. 
Government help is also on the way for small businesses and consumers.
Last week, Congress approved and President Trump signed into law a program to provide loans to small businesses affected by the coronavirus through the U.S. Small Business Administration.
The SBA approved an Economic Injury Disaster Loan declaration for Arizona small businesses that may be eligible for up to $2 million through the program.
The loans may be used to pay fixed debts, payroll, accounts payable and other bills that can't be paid because of COVID-19's impact. The interest rate is 3.75%  for small businesses without credit available elsewhere. The interest rate for nonprofits is 2.75%.
It can take about two to three weeks for the SBA to make a decision once a loan application is submitted. Funds can be disbursed within five days of receiving the loan-closing documents, SBA spokeswoman Carol Chastang said.
Miklofsky of Alan's Shoes said he's already looked at getting an SBA disaster loan — but like all SBA loans, the program requires a lot of paperwork to prove losses related to the coronoavirus.
"We certainly plan to apply for those, but there's no guarantee," he said.
Still pending in Congress is an economic stimulus package that will likely be worth about $1 trillion or more, including payments of $1,000 or more to eligible American adults.
That package also includes $300 billion to be used to help businesses keep people on payroll and offers loan forgiveness for those that do after the crisis ends.
Hammond, the UA economist, said the government must get a handle on the virus outbreak to ensure that monetary policy, like lowering interest rates, or fiscal stimulus has a chance to work.
"The government is the big hitter here, especially the federal government needs to step in to help businesses bridge this temporary issue," he said.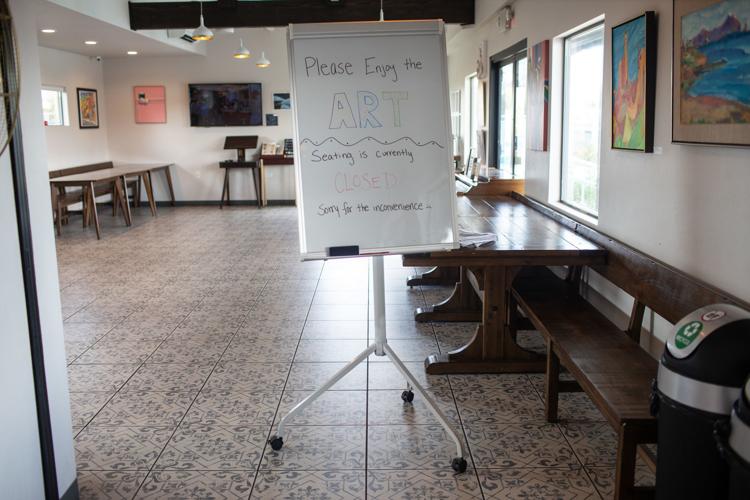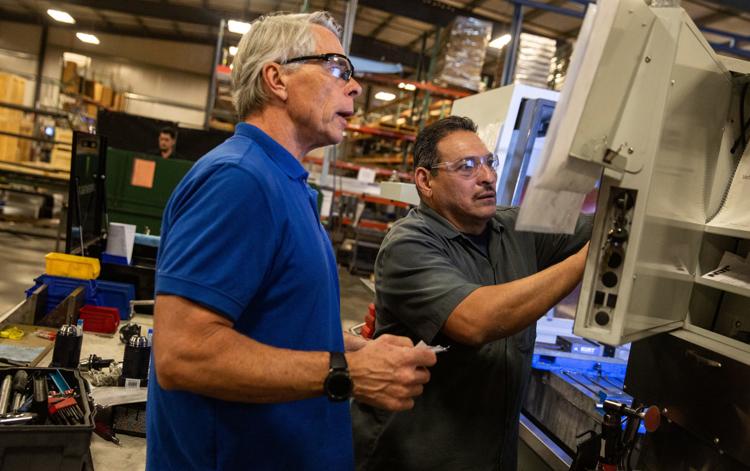 for a list of employers across Arizona hiring right now. Go to
thisistucson.com for a list of resources to help people who are suddenly out of work.
"We're seeing a great number of events and meetings rescheduled into the fall. We're hopeful as long as the coronavirus impacts dissipate in the next three months, and
perhaps that's being optimistic, then we will see a really strong fall for metro Tucson." Brent DeRaad CEO of Visit Tucson