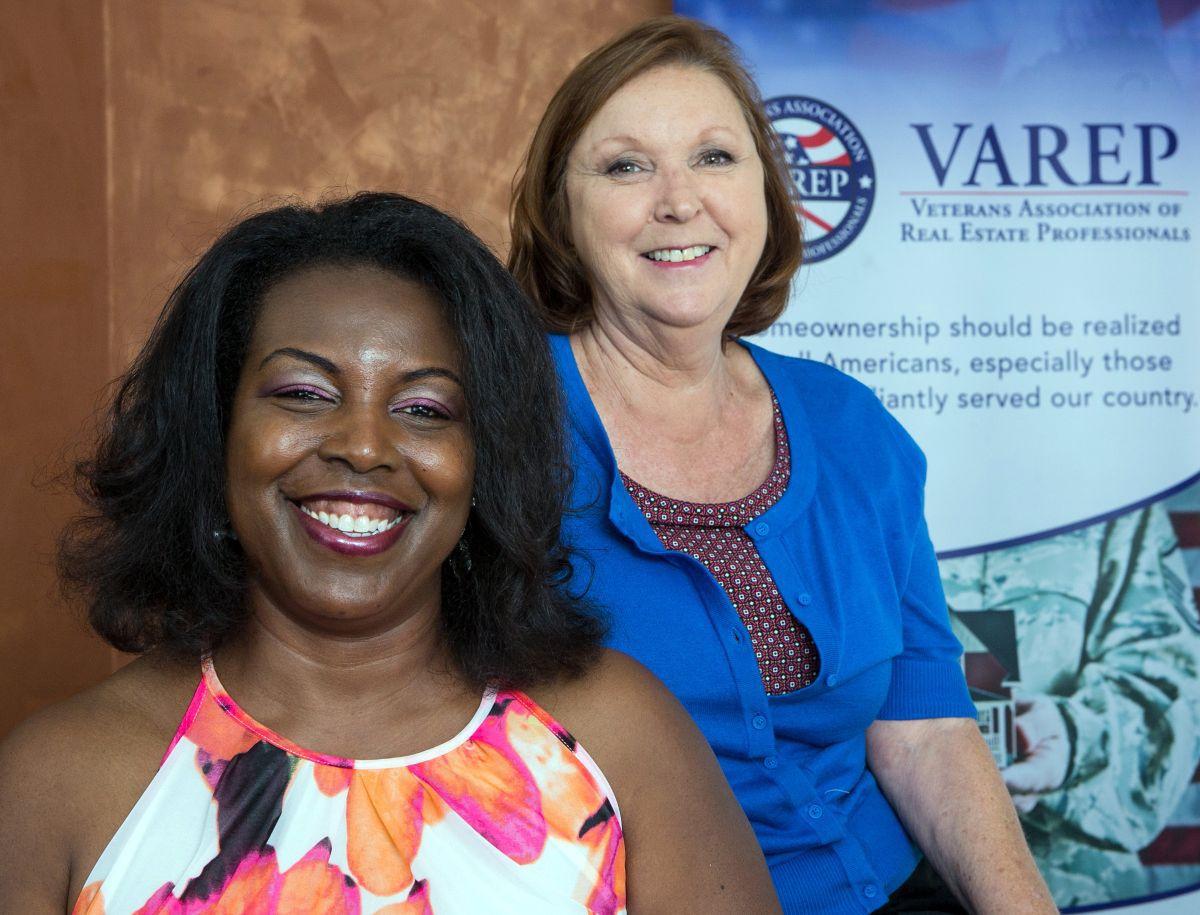 Sandy Heath stood with invitations to her wedding in hand, two destinations before her: garbage can or mailbox.
She picked the garbage can — and headed to a recruiting office. Military service would define the next chapters of her life.
Heath, who advanced to sergeant, spent the next four years working in aviation supply and as a recruiter for the U.S. Marine Corps. After getting out, she decided she would become her own boss.
She became a licensed real estate agent in Tucson in 1983.
Since then, Heath has jumped to work with veterans, and in January 2015 launched the Tucson chapter of the Veterans Association of Real Estate Professionals, or VAREP. Phyllis James, a retired U.S. Army sergeant first class, joined her soon after.
VAREP is a national nonprofit started in 2011 to educate real estate professionals, veterans and active military about their benefits, specifically the VA home loan. Saturday, May 14, it held its first summit in Tucson to help veterans and active military by providing education on the loan, credit counseling and other services.
The Tucson branch joins about 40 other chapters across the country, some still in the works. The Phoenix chapter launched in fall 2013 and has about 300 members, said G-II Varrato II, VAREP's Arizona state director based out of Phoenix. Another chapter is planned to launch in Yuma toward the end of this year or early next. Varrato is a U.S. Air Force veteran.
"Because of the military presence, close to Fort Huachuca and D-M, (Tucson) was a natural place for us to set up shop," Varrato said, abbreviating Davis-Monthan Air Force Base.
So far, the Tucson chapter has about 50 members, said Heath, who is the president of the local group's board. Professionals who join the association do not need a military background.
"It's about educating the community on how we can help our veterans ... and at the same time educating veterans in their financial literacy," Heath said.
For eligible veterans, active military and some surviving spouses, the VA home loan program promotes home ownership.
"You can have interest rate reduction, direct loans to Native Americans, you can have multiple VA home loans at the same time ... or over a lifetime," said Gary Ochoa, the southern regional manager for the Arizona Department of Veterans' Services. The program also allows eligible homebuyers to purchase a home with no money down and negotiate for no closing costs.
The program has changed over the years, unbeknownst to some professionals and veterans, Heath said.
"You run into people who are unfamiliar with the VA and afraid to accept a VA offer," said William Kent, owner of Veteran's Properties, Inc. He has been helping veterans and active military find homes in Tucson since 1988 and is a veteran of the U.S. Army. "It's changing. A lot of the realtors are familiar with the VA and what you can and can't do, but it got a bad rep in the '80s when the seller had to pay a lot of fees. Now all the seller has to pay is the escrow fee."
And even that cost can be absorbed elsewhere, Heath added.
When Heath purchased her first home as a young 20-something fresh out of the Marine Corps, she planned to rent, not buy. But when her real estate agent found out she was a veteran, he explained her benefits and the advantages of buying a home.
"I've stayed with that standard of knowing how he helped me when I was only 22 years old," Heath said.
Making use of the VA home loan has traditionally required either the veteran or their agent to bring it up, said James, the community outreach director for the Tucson chapter. Historically, the uniform residential loan application (Form 1003) did not collect information about military service.
VAREP advocated to change that last year, and U.S. Rep. Raúl Grijalva of Tucson championed it to the Federal Housing Finance Agency. At the end of 2015, Fannie Mae and Freddie Mac announced a redesign of the application, though not for the sole purpose of adding a military service section.
When the form is completed, price comparisons generated by the application will include the VA loan, along with the conventional and FHA loans, Heath said.
"Even in the multiple listing system, there is a section that says they accept cash, FHA or conventional loans, and often you will not see VA on the listing," James said. "You can call and ask, 'Do they accept VA?' and they'll say,'Oh yes, they'll do a VA.' But that just tells you it's not in the mindset to offer it."
As veterans themselves, Heath and James bristle when a listing agent or seller discourages use of the VA loan.
"I had an agent say to me that she did not want to work with a veteran because it was too difficult," James said. "And I said, 'You're talking to a veteran.' "
Myths abound among veterans and professionals. Eligibility is not a promise of a loan, just as accepting a VA loan does not necessarily mean a slow close. In both instances, it's a case-by-case basis.
It's not that the military doesn't explain benefits to service members, James said, but many veterans, especially those who served in the Vietnam or Korean wars, don't even realize they qualify. That's why it's important for real estate professionals to know about a borrower's military service and be willing to go through the VA home loan process. That's where VAREP comes in.
"If you are turning away from veterans, not only are you turning away from assisting someone who has served their country, but you're cutting your own business as well," James said.
After 20 years in the U.S. Army, James got into real estate in Tucson in November 2014 to continue what she loved about her career — serving.
"It's an honor for me to have served my country," she said. "And it's an honor to be part of an organization that is earnestly trying to assist veterans and the military."
Contact reporter Johanna Willett at jwillett@tucson.com or 573-4357. On Twitter: @JohannaWillett