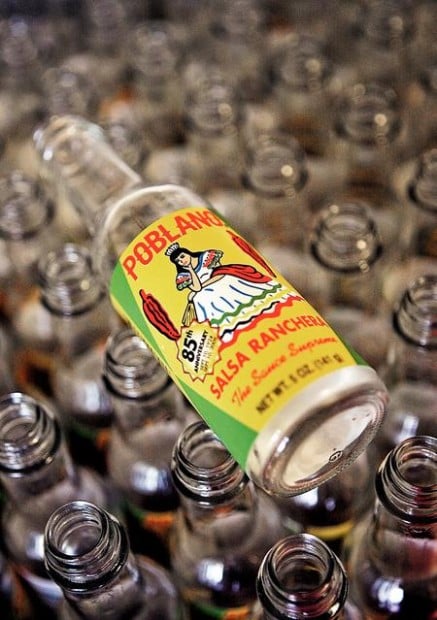 Oscar R. Segura grinds his green jalapeños at night.
"The fumes are so strong I don't want to bother my customers," said the owner of the local company Poblano Hot Sauce Inc., which turns 85 Sept. 10.
It is the second generation of the Segura family that continues the salsa-making tradition started in 1924 by Oscar's dad, Nicolas Segura.
Their salsa has come a long way since then, and was even reported to be craved by certain soldiers in Iraq during Desert Storm.
The family has four flavors, and in October they're going to launch two more, Poblano Chile Guerito and Poblano Habanero.
Oscar, 74, said the recipes have remained a secret, even within the family. Only Oscar and his wife know them, not even their two sons who work with them.
"They're not ready to have the recipes yet," said Oscar's wife, Gloria, 73, as she worked next to one of their sons, 44-year-old Oscar.
It was a secret that Nicolas nearly took to his grave in 1985.
Even though he was in the hospital with a kidney infection, Nicolas left the doctor's care to show Oscar how to make the last recipe he didn't know.
"Keep it to yourself and don't let nobody else see what you do," he remembers his dad told him.
After sharing the secret, Nicolas refused to return to the hospital and died at home three days later.
But Nicolas' delicious legacy started very casually. He owned a restaurant downtown near Court Avenue and West Congress Street called La Casita Café. His friends loved his salsa and suggested that he start bottling and selling it.
MillerCoors was going to switch to a different type of bottle at the time and sold him all the spare bottles.
"My job was to clean the bottles," the elder Oscar said of when he was 10 years old.
The first clients were small stores like T&T Market and United Market, as well as places where tortillas were made, such as La Suprema and Grande Tortilla Factory.
The majority of the bottles have a logo of a "china poblana," a girl with a colorful sequined dress from Puebla, a southern state in Mexico.
"My dad ran away from home in Pachuca de Hidalgo, México, when he was 10 years old and ran into the camp where 'Pancho' Villa was having a cookout," Oscar said.
"One of the china poblana girls was asking 'Pancho' Villa what type of chile he wanted her to make chile with. That image stayed with him," he said.
Eventually, the restaurant closed down. They got a new place near El Minuto Café, and what is now the Tucson Convention Center, and concentrated on making salsa only.
Even though other family members were involved in the business, Oscar said, he was his father's right hand because he would help him make all the orders in English.
When their building was going to be demolished to make way for the TCC, he also refinanced his home and, with the money, bought a place on Lester Street at 15th Avenue so his dad could continue in business.
"He made me his secret partner," Oscar said, moved by the memory. After his father died, the business became his.
The company is now in an industrial area near South Palo Verde and East 44th Street.
The family produces 960 bottles a day. They still sell in small neighborhood stores, but they've grown and have bigger clients like Safeway, Fry's and Food City. They also get orders from places as far as New York and Maryland.
Despite the demand, the Seguras have continued to do everything by hand. "We're very old-fashioned. The only machine we have is the grinder," said Oscar's other son, Vicente, 33, as he bottled some salsa. "We do the sanitizing, the labeling, the bottling, the capping and the sealing."
Nicolas set the bar high for them years ago, and the Segura family strives every day to meet that standard.
"We try to make the product better than when my dad used to make it," Oscar said, "but that's impossible."
• The company is turning 85 on Sept. 10. Its salsas are Poblano Mexican Hot Sauce, Poblano Salsa Ranchera, Poblano Red Jalapeño and Poblano Green Jalapeño. In October, it will launch two more salsas, Poblano Chile Guerito and Poblano Habanero.
• The salsa can be purchased at the company's one-room plant, at 3250 S. Dodge Blvd., Suite 2, from 8:30 a.m. to 3:30 p.m. Mondays through Fridays. Call 519-1330.
• To celebrate the anniversary, Poblano will give out samples and sell the salsa Sept. 6 at the Fifth Annual HoCo Fest at Hotel Congress, 311 E. Congress St.
• All the company's salsas at Food City will be sold at $1.99 Sept. 7-13.
• Starting Sept. 10, a 10 percent discount will be offered to active and retired military personnel and seniors who purchase the salsa at the plant.
The business news you need
With a weekly newsletter looking back at local history.