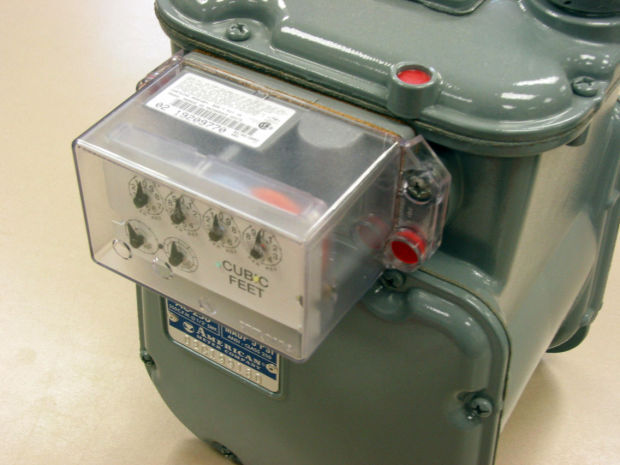 Arizona customers of Southwest Gas will see their monthly home bills rise an average $3.50, or about 9.7%, starting in January after state regulators approved a much smaller increase than the utility had wanted.
The Arizona Corporation Commission approved the new gas rates Wednesday on a 4-1 vote, after cutting millions of dollars in cost recovery for pipe replacement and some of the gas company's most recent system improvements.
Southwest Gas filed for new rates with the Arizona Corporation Commission in May 2019, seeking to increase its annual revenue by about $81 million, or 15.6%, to recover more than $667 million in costs for improvements made since its last rate case in 2016.
The company's original request would have raised rates for the typical single-family residential customer with average monthly gas usage of 24 therms from $36.16 to $42.39, an increase of $6.23 or 17.23%.
An administrative law judge last week issued a recommendation to allow Southwest Gas a revenue increase of about $52 million and an average residential rate increase of $4.73 per month.
But on Wednesday, the Corporation Commission approved an even smaller, $38 million revenue increase by cutting several expenses that would add to the company's rate base.
The commission also voted to drop a program to replace "vintage steel" gas pipe and limit a separate program to replace customer-owned yard lines.
Daniel Pozefsky, chief counsel for the state Residential Utility Consumer Office, said during the first part of the ACC meeting on Tuesday that he was shocked by the "surging and exploding rate base" proposed by Southwest Gas.
He cited testimony by an expert witness that steel gas pipe does not need to be routinely replaced unless it is found to be leaking.
"We need to put the brakes on this rate base surge," said Pozefsky, whose agency represents consumers in rate cases before the Corporation Commission.
The vintage steel pipe replacement program was approved as part of Southwest Gas' last rate case, and ending it cut about $8 million in annual expenses.
The commissioners also approved an amendment to limit Southwest Gas' replacement of customer-owned yard lines to only when a leak is found, or when the company is already performing other work in the immediate vicinity, as an efficiency measure.
Commissioner Lea Marquez Peterson said records show the number of yard-line replacements had ballooned in recent years as the company seemed to adopt an "anywhere, anytime" approach to the replacements, though replacements dropped to more normal levels last year.
Catherine Mazzeo, Southwest Gas managing counsel for regulation and litigation, said the company began to perform more targeted yard-line replacements a few years ago but went back to replacing mainly leaky lines when it became apparent the program would be under review in the rate case.
Limiting the customer-owned yard line program is expected to cut the company's annual expenses by more than $1 million.
In perhaps the most contentious issue, the regulators cut expenses for some recent system improvements and equipment, such as gas lines, that were put into service after a "test year" — in this case the 12 months ended Jan. 31, 2019 — used in rate cases to estimate future revenue and expenses.
Regulators generally only allow utilities to recover costs for equipment put into service before the end of the test year but sometimes allow some expenses within a certain amount of time after the test year.
That change, proposed in an amendment by Commissioner Justin Olson, cut an allowance for so-called post-test-year improvements to six months' worth of expenses beyond the test year, from 11 months as proposed by the company and a commission administrative law judge.
Southwest Gas' Mazzeo said that without the longer allowance for post-test-year improvements the company will be waiting two years to start recovering its costs, because of delays in the hearing process due to the pandemic, and noted that an allowance of 12 months of post-test-year expense is not uncommon.
Denial of a longer period to recover expenses for recent system improvements will prompt Southwest Gas to file its next rate case "sooner, rather than later," she said.
The commission also disallowed several other cost items, including half of the cost of liability insurance for its directors and officers, and required Southwest Gas to deduct interest on the share of federal corporate income-tax reductions that the company is required to pass along to ratepayers in the form of bill credits.
The regulators also rejected a request by Southwest Gas to set up a new program to add renewable natural gas from sources like dairy farms and sewer plants, instead approving workshops to further examine the practice.
While the new rates will boost home bills by $3.50 monthly over the year, they will boost Southwest Gas' average residential bill in the peak winter months by $5.47 per month, while the average summer bill will increase by $1.63.
The sole vote against approving Southwest Gas' rates was Commissioner Sandra Kennedy, who questioned why the company couldn't delay its quest for higher rates in the midst of the COVID-19 pandemic.
"In today's time with COVID-19, with unemployment and poverty rising, customers are unable to pay their rent or their mortgage, customers are having to choose between paying their utility bill or medication to survive," Kennedy said. "I just don't think it's in the public interest to move forward with a rate case today."
Southwest Gas' Mazzeo responded that the case was already delayed because of the pandemic and any further delay will only add to future rate increases, adding that the company is doing what it can to help customers cope with financial hardships.
"We understand times are difficult, we have an abundance of programs to help individual customers based on their needs, and we have every intention of continuing that," she said.
Based in Las Vegas, Southwest Gas Corp. provides service to about 2 million customers in Arizona, California, and Nevada.
Just over half of its customers are in Arizona, including all of Tucson and eastern Pima County, the greater Phoenix area in Maricopa County and parts of Cochise, Gila, Graham, Greenlee, La Paz, Pinal, and Yuma counties.
Contact senior reporter David Wichner at dwichner@tucson.com or 573-4181. On Twitter: @dwichner