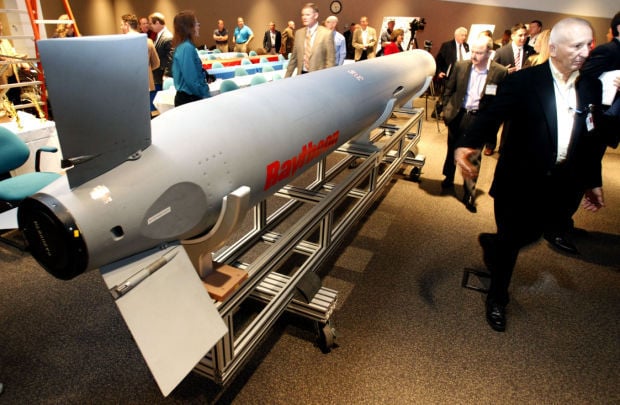 Funding for Tomahawk cruise-missile production remains murky for the 2015 fiscal year starting Oct. 1.
But Tucson-based Raytheon Missile Systems will be producing Tomahawks for the next two years, under a recent contract award of previously appropriated funds.
The U.S. Navy has awarded Tucson-based Raytheon Missile Systems a $251 million contract to procure 231 Tomahawk Block IV tactical cruise missiles.
The contract, which includes 20 torpedo-launched versions for the United Kingdom, is for fiscal year 2014 production with an option for 2015.
The Navy had sought a hiatus in Tomahawk procurements in the as-yet unpassed fiscal 2015 defense budget, citing its inventory of about 4,000 Tomahawks and plans for a next-generation cruise missile.
But Congress wants to belay that order, adding language to pending versions of the defense budget that would appropriate $82 million to procure 100 Tomahawks in the next fiscal year.
The most recent contract, which uses appropriated fiscal 2013 and 2014 funding, calls for Raytheon to build and deliver 147 Tomahawk Block IV missiles in a vertical-launch configuration for surface ships and 64 capsule-launch submarine versions for the U.S. Navy, in addition to the torpedo versions for the U.K.'s Royal Navy, according to a Defense Department contract notice.
The U.K. will pay $26.6 million for its share of the contract under a foreign military sales agreement, the Pentagon said.
The contract, which includes flight testing and maintenance support, runs through August 2016. About a third of the work will be performed in Tucson, with the rest scattered among more than 15 other Raytheon and contract partner sites, the Pentagon said. Production and delivery will start in 2015, Raytheon said.
Capt. Joseph Mauser, U.S. Navy Tomahawk program manager, said in a news release that Tomahawk remains the "weapon of choice" to destroy high-value targets and sophisticated air defenses, citing its reliability in more than 2,000 combat missions and 500 successful flight tests.
Earlier this week, the Pentagon said that 47 Tomahawks had been fired against Islamic State targets in Syria.
The Tomahawk Block IV missile includes a two-way satellite data-link that enables a strike controller to retarget the missile in-flight.
Mike Jarrett, Raytheon vice president of air-warfare systems, noted that the company and the Navy are working to bring even greater capability to this already sophisticated weapon.
A planned modernization program would add a new warhead and a new radar seeker to the latest version of the missile.
The business news you need
With a weekly newsletter looking back at local history.