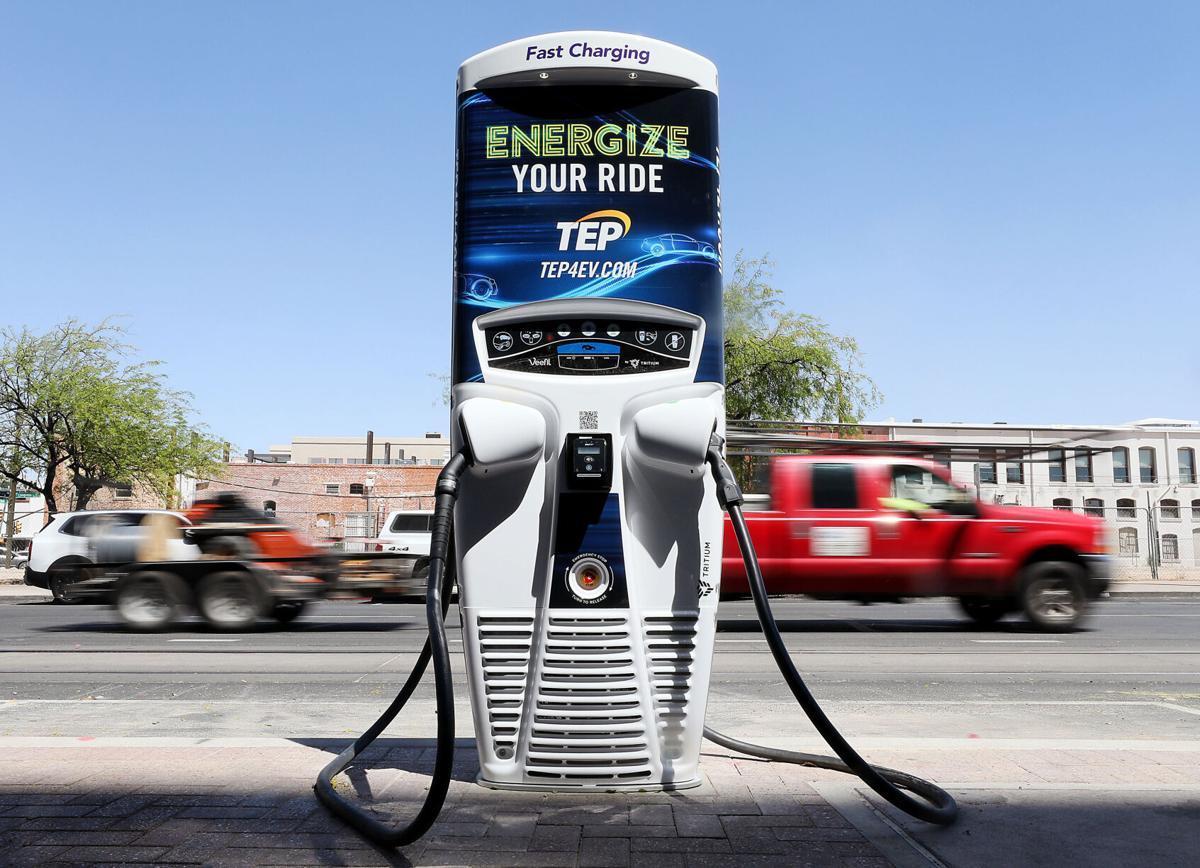 Electric-vehicle owners and businesses that cater to them will get a boost from Tucson Electric Power Co. as the utility amps up its efforts to support a rollout of EVs that is accelerating nationwide.
Some electric-vehicle proponents want TEP to move farther and faster to help build out the infrastructure needed to support an expected wave of electric cars, trucks and commercial vehicles.
In a statewide comprehensive "transportation electrification" plan that TEP and Arizona Public Service Co. filed recently at the direction of the Arizona Corporation Commission, TEP proposed a goal of about 96,000 EVs on the road in its service area by 2030, up from only about 4,000 in 2020.
TEP's goal includes 95,000 light-duty vehicles such as passenger cars and light trucks, and about 850 heavier trucks and buses, under a "medium" adoption scenario expected to result from new incentive programs and infrastructure.
Million-plus EVs by 2030
"Our current goal is ambitious but achievable, requiring considerable effort from utilities like TEP and multiple other stakeholders in support of vehicle electrification," TEP spokesman Joe Barrios said.
Barrios says TEP is already playing a key role in driving the deployment and use of electric vehicles, offering residential and commercial and incentives for the installation of EV chargers and special residential charging rates, educating customers about EV technology and benefits, and helping local government and schools introduce EVs into their fleets.
The plan also proposes a goal of just over 450,000 EVs in APS territory by 2030 under the same scenario.
With additional electric vehicles in other service territories — most notably the Salt River Project, which has set a goal of 500,000 EVs in its service area in and around Phoenix by 2035 — the plan has a goal of just over 1 million EVs in Arizona by 2030.
The utilities' electric vehicle plan follows a Corporation Commission policy adopted in 2018 and fleshes out a conceptual statewide EV plan TEP and APS filed in late 2019.
TEP and APS laid out plans to continue to develop special EV charging incentives for home and business fleet customers, while developing a network of chargers in collaboration with businesses, apartment owners, schools, nonprofit groups and third-party electric vehicle charging providers — with an emphasis on including traditionally underserved communities.
The plan, written for TEP and APS by the San Francisco-based consulting firm Energy + Environmental Economics, estimates that that under the medium adoption scenario, the EV plan could provide total lifetime net benefits of $9 billion to electric vehicle purchasers in Arizona by 2040 through lower total cost of vehicle ownership, and $12 billion to electric utility customers through downward pressure on electricity rates.
TEP's Barrios said increased power sales for EV charging can help the utility recover more of its system costs through usage-based charges, helping to keep overall rates low.
"As EVs increase overall usage, they can relieve pressure to increase those charges, especially if we can encourage EV owners to make efficient use of our system by charging when peak loads like air conditioners are not running as much, or when plentiful solar energy is available," he said.
New EV plans trickle out
Both TEP and APS have rolled out some initial programs offering home and business customers special incentives to install and began offering special off-peak charging rates to spur EV adoption.
But some stakeholders said the utilities' plan doesn't go far enough or fast enough to drive electric vehicle adoption to the levels needed to help mitigate climate change.
Western Resource Advocates, a Colorado-based nonprofit environmental group, contends the statewide goal should be on the order of 1.5 million light-duty EVs alone in Arizona by 2030, based on EV adoption efforts in other Western states.
Aaron Kressig, transportation electrification manager for Western Resource Advocates, said the group was pleased that TEP and APS committed to an EV adoption goal, noting that the utilities in an initial draft of the plan didn't commit to any goal.
"Pushing for a robust goal, any goal, was the main thrust of our advocacy, just because a lot of the other stuff is background information and lofty aspirations, which have a place but are not concrete actions," Kressig said.
But the utilities' goals fall far short of what's needed to help drive EV adoption to levels needed to help slow global warming and climate change, he said.
"The TEP portion in particular is conservative and I think a little disappointing," Kressig said, noting that TEP's goals for electrifying bus fleets are a little more ambitious.
Western Resource Advocates bases its recommended goals on modeling for the number of EVs that need to be adopted to help lower global temperatures by 1.5 to 2 degrees Celsius, to meaningfully mitigate climate change, said Autumn Johnson, the group's Arizona government-affairs manager.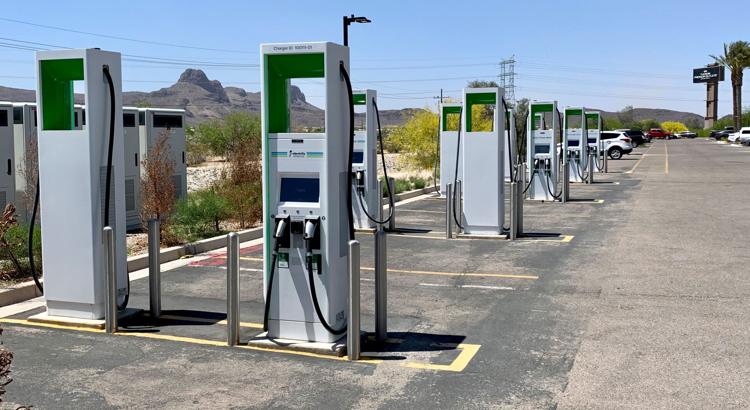 TEP's Barrios noted that the goals in the utilities' EV plan were based on a Rocky Mountain Institute study that concluded that reaching 50 million electric light-duty EVs across the U.S. by 2030 would cut emissions enough to keeping global climate change below 2 degrees Celsius, scaled to Arizona.
Kressig said the utilities can be huge players in pushing transportation electrification forward but need to be bolder to avoid a shortage of charging options that could slow EV adoption.
But TEP and APS are behind their peers in advancing EVs, he said.
"At the end of the day, investment in transportation electrification is a financially rewarding decision for them, they make money building the infrastructure and from additional sales," Kressig said. "We think there is a big benefit for the utilities, and we would like to see TEP and APS going in more wholeheartedly."
Other stakeholders including the Arizona Public Interest Research Group, the Southwest Energy Efficiency Project and the Arizona chapter of the American Lung Association also commented that the utilities should pursue more ambitious EV adoption goals.
Lagging behind the world
A leader of a Tucson electric vehicle owners' group who participated in the study's stakeholder groups said the utilities' EV adoption goals were too modest to begin with, given the rapid global growth of EVs.
"The high (adoption scenario) was too low," said David Gebert, a longtime EV owner and immediate past president of the Tucson Electric Vehicle Association. "I expect that, with the rest of the world basically pushing hard, Europe being No. 1, with laws and regulations and taxation, how many years are the auto manufacturers going to go on making multiple drive-train vehicles?"
Gebert, a retired computer equipment salesman, said he expects the U.S. electric vehicle market to "explode" in the next few years, though only a few new models have trickled out recently.
The EV advocacy group Plug In America says there are 18 models of EVs available in the U.S., ranging from Nissan's Leaf starting at around $32,000 to Teslas that run from about $39,000 to more than $100,000.
EV rates and rebates
TEP expects that without expanding current programs and initiatives, the number of electric vehicles in its service territory will increase from fewer than 4,000 in 2020 to between 27,000 and 52,000 by 2030.
Gebert said TEP and other utilities should play an important role in making sure underserved, lower-income communities have access to local charging even if the chargers don't make money right away, noting that consumers can now pick up used electric vehicles for as little as $10,000.
From a public health standpoint, the statewide EV plan notes that every light-duty EV put on the road today results in a net reduction in emissions of 70% in APS service territory and 53% in TEP service territory, compared with a gas-burning vehicle.
The report notes that the disparity in the APS and TEP emissions savings reflect APS' large reliance on carbon-free nuclear power, and emissions savings will rise as both utilities shift their generating portfolios away from fossil fuels to more renewable energy sources in the near future.
The initial EV programs TEP and APS already have rolled out are similar to other incentives being offered by utilities nationwide, including rebates for home charging systems and special rates for off-peak charging.
In 2019, TEP began offering its home customers who own EVs rebates of up to $500 each to install home charging systems and rolled out special rates that allow EV owners to save money by charging during off-peak hours and new "super off-peak" overnight hours. The company also began offering homebuilders $100 for each house they pre-wire for higher-voltage home charging.
Last year, after a delay prompted by the COVID-19 pandemic, TEP began offering commercial customers rebates of up to 75% of the cost of installing EV chargers for customer or employee use and rebates of up to 85% for installations at apartment complexes, subject to certain dollar caps.
Barrios said that so far, about 80 residential customers have taken advantage of the charger rebate and 55 commercial customers have signed contracts for the charger installation rebates, with 23 new local charging ports installed.
By the end of 2022, TEP expects to have more than 300 EV charging ports installed at hundreds of commercial locations throughout Tucson.
TEP recently showed its support for EVs by installing two DC "fast chargers" in front of its headquarters building downtown. DC fast chargers can charge some EVs up to 80% in 20 to 30 minutes, depending on their power levels. The chargers are free to use, courtesy of TEP.
Meanwhile, the Corporation Commission at its open meeting last week considered but did not vote on two new rates TEP has proposed for commercial EV charging customers.
Tesla and Nikola Corp., a Phoenix-based startup developing hydrogen and electric-powered trucks, have objected to TEP's rate proposals, contending they are overly complicated and could cost more than regular rates.