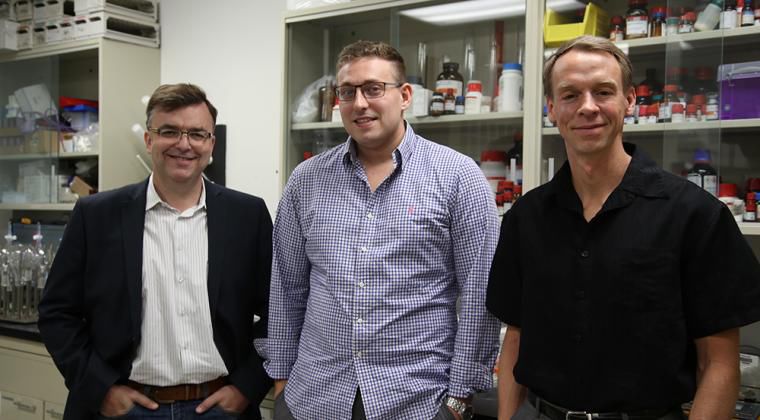 The University of Arizona has licensed patented compounds to treat neurodegenerative diseases like Alzheimer's to a startup company founded by two faculty members who developed the drugs.
Iluminos Therapeutics will look to expand upon significant pre-clinical findings to push the series of compounds to clinical trials with Alzheimer's disease patients, the UA said in a news release announcing the deal.
The compounds were developed by Christopher Hulme, a professor of medicinal chemistry in the UA Department of Pharmacology and Toxicology and a member of the BIO5 Institute, along with post-doctoral research fellow Arthur Shaw and UA alumnus Travis Dunckley, an assistant research professor at the Arizona State University-Banner Neurodegenerative Disease Research Center.
The compounds were designed and synthesized at the UA College of Pharmacy in collaboration with the Translational Genomics Research Institute, the UA said.
The inventors worked with Tech Launch Arizona, the UA's commercialization arm, to patent the drug compounds and license it to Iluminos, founded by Hulme and Dunckley.
In research published in the journal Aging Cell last year, the researchers showed their new compounds dramatically slowed the onset of Alzheimer's disease pathology in animal models of the disease.
Iluminos plans to expand on those findings and push the compounds into clinical trials in Alzheimer's patients, with a goal of halting or slowing the disease, Dunckley said, adding that would be "a significant step forward" in the treatment of the disease.
PHAROS PARTNERS
WITH UA VET LAB
Tucson-based Pharos Diagnostics is teaming up with the UA Veterinary Diagnostic Laboratory to provide comprehensive diagnostic services to the regional veterinary and research community.
The collaboration combines the UA lab's pathology and related services with Pharos' hematology, chemistry, immunoassay, and mass spectrometry "to create the most sophisticated veterinary diagnostic laboratory in the Southwest," Pharos founder Nina Ossanna said.
Established 35 years ago, the AzVDL offers pathology, cytology, molecular and standard microbiology services, as an American Association of Veterinary Laboratory Diagnosticians accredited lab and a member of the National Animal Health Network.
Pharos was created in 2016 and is federally certified for all of its testing, including the high-complexity, mass spectrometer assays it offered initially.
The company recently added routine testing capabilities in chemistry, hematology and immunoassay, as well as Valley Fever testing.
In January, the company formed Pharos Veterinary Diagnostics, which will handle testing under the partnership with the UA.
The collaboration will provide faster turnaround times, improved accuracy and lower costs to veterinary clinics and hospitals, as well as a comprehensive range of tests for research clients, Ossanna said.
BIO STARTUP
WINS $1.6M GRANT
Microvascular Therapeutics, a startup founded by UA radiology professor and serial entrepreneur Dr. Evan Unger, has been awarded a $1.6M grant from the National Heart, Lung and Blood Institute of the National Institutes of Health to study a new ultrasound imaging contrast agent.
Unger, co-leader of the cancer imaging program at the UA Cancer Center, has a track record of success in imaging technology.
He sold one of his first companies, ImaRx Pharmaceuticals, to chemicals giant DuPont for about $40 million in 1999. Its main product, a contrast agent for sonograms called Definity, was launched in 2001 is now marketed by Lantheus Medical Imaging as the world's top-selling ultrasound imaging agent.
Unlike Definity, the new agent developed under Microvascular Therapeutics doesn't require refrigeration, allowing it to be stored at room temperature. And it may have other advantages, said Dr. Wyatt Unger, the startup company's chief medical officer and son of Evan Unger.
The company said it has received formal guidance from the U.S. Food and Drug Administration that its contrast agent, called MVT-100, will be developed under a regulatory process that streamlines approval for drugs that are similar to previously approved drugs.
The principal investigator on the grant is Dr. Thomas Porter, the Theodore F. Hubbard Distinguished Chair of Cardiology at University of Nebraska Medical Center and an internationally recognized authority on echocardiography — ultrasound imaging of the heart — and ultrasound contrast, the company said.
Another company founded by Dr. Evan Unger, NuvOx Pharma, is in clinical trials with a drug candidates to treat brain tumors, stroke and sickle-cell disease.