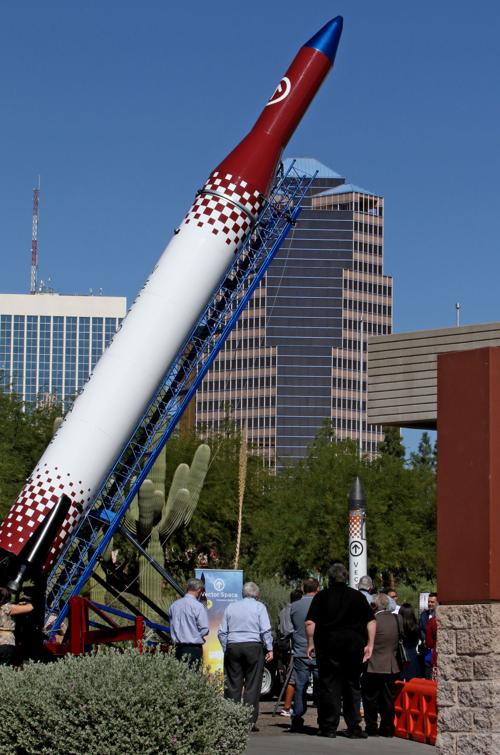 Tucson's aerospace manufacturing industry has pulled up from a post-recession nosedive, and new space-related jobs expected here will add to that momentum.
With Arizona's overall attractiveness to aerospace manufacturers at a high, according to a recent report, Tucson should get a fair shot at more aero jobs as the industry is expected to grow.
Vector Space Systems announced last week it will open a small-rocket manufacturing plant in Tucson, potentially employing some 200 workers.
That's welcome news for the local aerospace manufacturing industry that lost an estimated 1,700 jobs from 2010 to 2014 before rebounding last year.
Vector is building at Pima County's emerging aerospace park south of Tucson International Airport, where WorldView Enterprises plans to lease a county-built facility and eventually employ hundreds of people building and launching stratospheric balloon vehicles from the nascent Spaceport Tucson.
"There's no question momentum is on our side," said Alex Rodriguez, Southern Arizona vice president of the Arizona Technology Council.
Rodriguez said landing Vector Space was the result of strong, new cooperation and collaboration between Pima County, the city of Tucson, Sun Corridor Inc. and other industry and economic-development groups.
Pima County Administrator Chuck Huckelberry told the Star last week that the county is actively courting eight other companies that could bring a total of more than 3,500 jobs to the region.
At least one of those companies is an aerospace firm that could bring up to 1,000 jobs, according to county documents that don't name the prospects.
During remarks Thursday at the Tech Council's Southern Arizona Tech + Business Expo, Vector CEO Jim Cantrell said his company looked at other locations to build its operation.
The company got an attractive incentive offer from Florida but Cantrell, a space-industry veteran who has lived in Tucson for eight years, said he was impressed with the reception he got from the Tucson community.
"They were really interested in doing business with us," Cantrell said. "I'm surprised and humbled by how many people think this is a very cool thing."
University of Arizona economist George Hammond said any new space jobs would add to a local aerospace sector that shed jobs after the recession and during federal budget sequestration in 2013.
Hammond said the latest figures from the U.S. Bureau of Labor statistics showed aerospace employment in the Tucson area at 11,400 workers in August, up from 10,700 in August 2015 and 10,500 in 2014.
"Job growth in aerospace is a hopeful sign, and adding to what's already a large cluster in Tucson is a good thing," said Hammond, director of the Economic and Business Research Center at the UA's Eller College of Management.
Tucson and Arizona have long been among the top areas for aerospace, recently ranking fourth among the states in both industry revenues and payroll in a 2012 study by Deloitte.
In 2013, a report by the Economic and Business Research Center at UA's Eller College found that Tucson has the biggest "traded cluster," or concentration of related companies and institutions, in the nation for "missiles and space vehicles."
The report, by Eller business-research center director emeritus Marshall Vest, found some 17,500 employees locally in missiles and space vehicles.
Most of that is owing to the presence of Raytheon Missile Systems, the world's biggest missile maker and the region's biggest private employer with nearly 10,000 workers.
But many smaller companies in the Tucson area supply Raytheon, and smaller firms like Paragon Space Development Corp., NP Photonics, Ridgetop Group and AGM Container Controls are significant local contractors to NASA that employ hundreds of workers.
On a statewide scale, Arizona is the most attractive state for aerospace manufacturers, according to a September report by the accounting firm PWC.
In its third annual Aerospace Manufacturing Attractiveness Rankings, PCW said Arizona topped Florida, Georgia, Utah and Missouri in the top five.
Arizona ranked eighth for its tax climate, sixth for its concentration of aerospace companies and 12th-best for operating expenses, but 20th in education.
The business news you need
With a weekly newsletter looking back at local history.