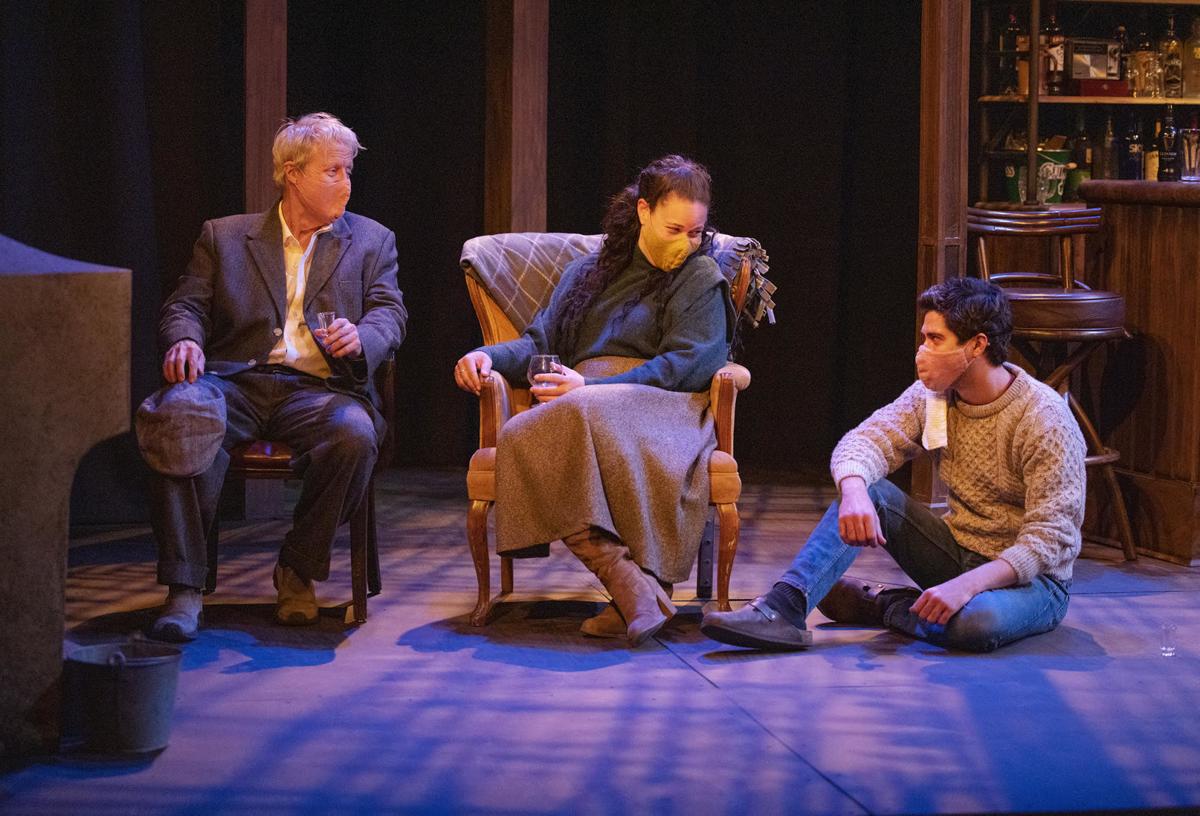 This pandemic has put a damper on long-distance travel.
So a trip to rural Ireland where you can sit in a cozy bar, drink a Guiness and listen to the local folk spin tales of loneliness, ghosts, love and heartache just isn't possible.
Unless you take yourself to The Rogue Theatre, which is currently staging Conor McPherson's "The Weir."
This was the play that pushed the Irish playwright into the big times, and it's no wonder: It's lyrical, engrossing, and speaks to the strength of community, the heartbreak of loss, the power of storytelling and the deep need for connection.
The whole story takes place on a windy night in an isolated bar where the men gather to raise a glass and spin a yarn.
Brendan (Hunter Hnat), an active listener, owns the bar and connecting house and farmland. He has been abandoned by his sisters, who are anxious for him to sell the property. Jack (Joseph McGrath), the eldest, owns a garage, is a bachelor and an endearing curmudgeon. Jim (Aaron Shand), who works for Jack, lives with his aging and demanding mother. Finbar (Christoper Younggren) has moved to Dublin and is resented by the other men for his success as a real estate agent. It is the slightly arrogant Finbar who brings in Valerie (Carley Elizabeth Preston), who is moving into a house near the pub.
The storytelling starts innocently enough — when Jack discovers Finbar has settled Valerie in a house that is said to be haunted with fairies, he tells the story about the night the fairies came knocking on the door.
The men — with the exception of Brendan — each tell stories of hauntings. The tales get darker and darker. Finally, their stories inspire Valerie to tell hers, one so wrenchingly heartbreaking that the men are deeply moved.
Each story reveals the teller and lays bare insecurities, lost love and deep longings.
The Rogue has created a sort of hybrid theater: The actors are masked, the lines recorded and acted out by the appropriate cast member.
The masks are flesh colored and you can see the outline of the lips as the actors mime the lines.
But "The Weir" is an intimate play, and the masks and recorded lines robs the audience of that intimacy. There are some very funny moments in the play, but those, too, were lost. The hybrid approach worked for The Rogue's "A View From the Bridge," which opened the 2020-21 season. Not so much "The Weir."
This is a primo cast directed with finesse by Christopher Johnson. The play, voted among the 100 most significant plays of the 20th Century in a Royal National Theatre (London) poll, is riveting. Would it be too much to ask The Rogue to remount it when the pandemic is behind us?