If your arm is sore and covered in a flesh-colored Band-Aid, congratulations! You have likely received one or both vaccination shots meant to protect you from the coronavirus.
Now is the time to explore your options for a third shot. The kind served in tiny glasses meant to celebrate the good times we'll all be having once this COVID-19 nightmare is over.
Whether you are looking for new and original flavors or lean more toward the traditional melon ball shots of your youth, Tucson's bars and restaurants are ready to serve.
Here are some of the city's more creative establishments.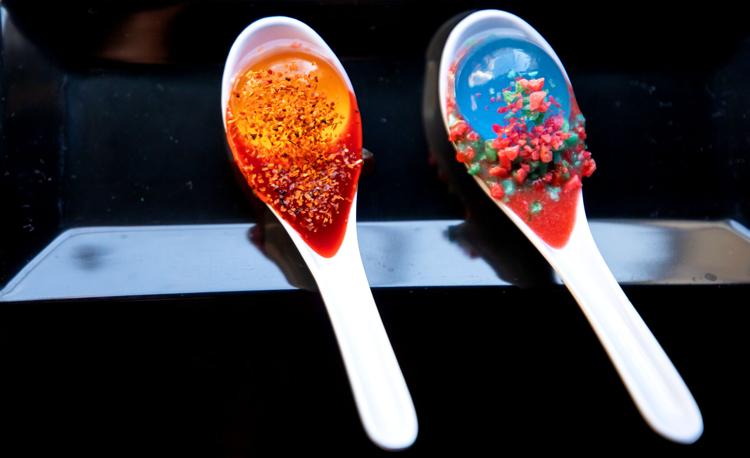 HighWire Lounge
When HighWire Lounge opened its doors in 2015, during the emergence of the craft cocktail renaissance in downtown Tucson, it brought to the table drinks that were just as fun to watch as they were to taste.
Through the practice of molecular mixology, prickly pear margaritas were served with spherified tequila droplets that popped against the tongue, and vodka martinis took on brilliant hues when nostalgic treats like Pop Rocks and cotton candy were added to the glass.
Six years later, and HighWire is still creating Instagram-worthy adult beverages. One that pops up on local social media feeds more than any other is the bar's signature pearl shot, a staple of HighWire's menu since shortly after it opened.
Served in large soup spoons, HighWire has offered these little balls of liquor in many different flavors over the years.
It has two constants: Its strawberry Pop Rocks pearl and mango Mexican candy pearl.
Some of its other seasonal pearls have tasted like pumpkin pie with Fireball Cinnamon Whisky, caramel apple and banana cream.
This weekend, just in time for summer, HighWire will be rolling out a cucumber mint vodka-based pearl with strawberry and watermelon.
Co-owner John Hardin, the driving force behind the bar's menu, learned spherification while attending the Culinary Institute of America.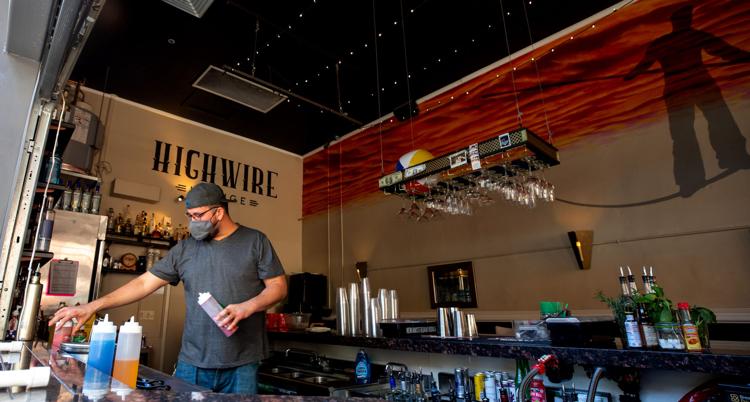 "We were doing it with sauces, dressings, vinaigrettes," he said. "It was interesting to transfer that process over to alcohol. It had been done before. We just found a way to make it faster and stronger."
The bar's current plan is to rotate in a different flavored pearl each month, that they will bring out at the same time each year, not unlike the system used by Tucson's own Eegee's sandwich chain for its iced drinks.
In addition, HighWire has been developing rapid barrel-aged cocktails that will be served on tap.
"There has been a shift in the industry," Hardin said. "People don't want to wait a long time for their cocktails to be made. With what we've put together, you'll be able to get a beautiful, balanced old fashioned in a minute as opposed to waiting 10 minutes."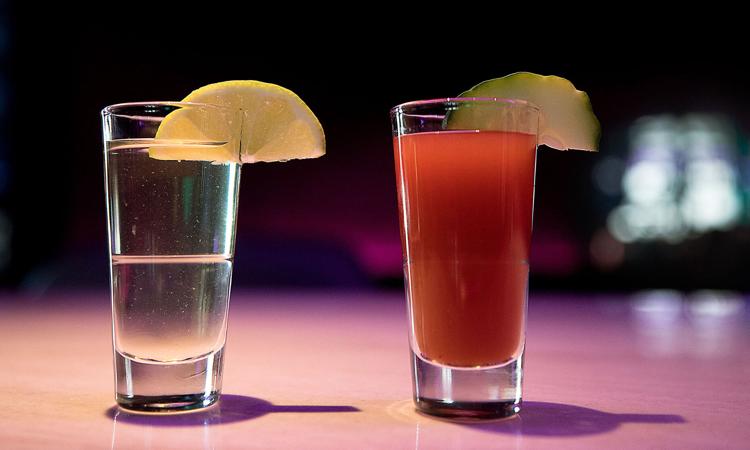 Portal Cocktails
At Portal Cocktails, the sleek watering hole that sits connected to Ermanos Craft Beer & Wine Bar, shots are not called shots.
They are called quickies.
Bar manager Ryne Hoffman likes to consider them small-service cocktails.
"They are designed to be more like an appetizer before the main course," Hoffman said. "Something you order before you get your actual cocktail."
Portal, which opened just before the pandemic last year and emerged from the lockdown in early December, currently has four quickies on the menu, including an espresso martini shot, a smaller version of the bar's espresso martini, its most popular cocktail, and a green tea shot served with Irish whiskey, peach, lemon, and, of course, green tea.
Its Hypnotizer quickie is a Hpnotiq-based, passion fruit-infused throwback to one's college years, Hoffman said, while the Peñasco, a jalapeño and cilantro tequila shot with a Clamato-sangrita chaser, is the most popular quickie "by a mile."
"I wanted something spicy and savory," Hoffman said. "It comes out beautifully. I've been calling it liquid ceviche."
Hoffman said while the quickies are meant to be starters before your cocktails, many people come in, order a round of quickies, then keep ordering quickies before heading to their next destination on North Fourth.
"With our limited capacity, that is ideal," Hoffman said.
In normal times, full occupancy at Portal is about 44 people. It is currently limited to 24.
Hoffman said his crew has started the process of developing a spring/summer cocktail menu, with new quickie potentials on the horizon.
"We are putting together a very first rough draft of Volume 2," he said.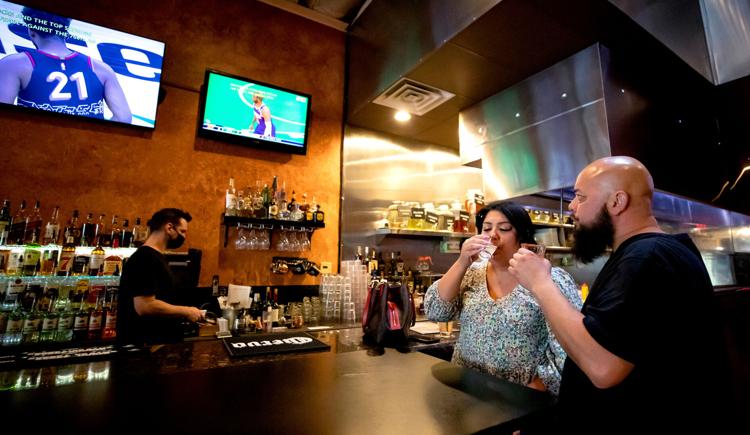 Elliott's on Congress
Adventurous drinkers looking to give their flavor palates a workout might consider Elliott's on Congress for their shots.
In addition to a healthy selection of mixed shot options, including a Mexican candy shot, a Pumpkin Mind Eraser shot and a garlic shot with a dill chip chaser, the downtown watering hole has 24 house-made vodkas that can be ordered in shot form.
Flavors include blueberry, raspberry, bacon, ginger and pineapple.
Owner Billy Elliott, who prefers his vodka straight, says some are made specifically to be mixed into other drinks.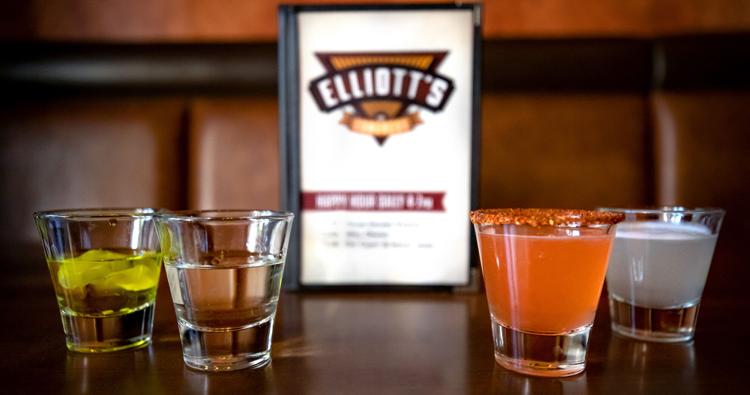 "The habañero vodka is crazy spicy," he said. "Not everybody is going to want that straight. They'll want a splash in their Bloody Mary."
But overall his house-infused vodkas are versatile.
"We encourage people to get creative," he said.
Elliott said one of his best-selling shots since business has picked up again is his Water Moccasin, a mix of strawberry vodka, amaretto, pineapple juice and sour mix.
A chunk of his business over the last year has been from selling his mixed drinks and vodkas to go, something the state has allowed during the pandemic.
All of Elliott's vodka flavors are available in sizes ranging from gallon jugs to fun-sized 50 ml bottles.
"I call them airplane bottles," Elliott said. "People like to mix and match."
The Neighborhood Cocina & Cantina
Danny Cordova said The Neighborhood on East 29th St. has experimented a lot over the last six years in business when it comes to shots.
As owner, he encourages his bartenders to get creative and every so often a new quick hit will rotate onto the menu for a trial run.
The one shot that has remained a constant on the menu is the bar's mangoyada shot, a flavorful mix of mango, Tajin, chamoy, lime and vodka.
"It is one of our top sellers," Cordova said. "People will order them in groups."
The shot has stayed on the menu as the bar itself has evolved. Cordova initially envisioned The Neighborhood as a sports bar, but it has also become a popular weekend spot, known for its nightlife, specialty cocktails and take on the traditional Michelada.
Cordova said, like all bars and restaurants, The Neighborhood has spent the last year on a rollercoaster ride that he believes might finally soon be leveling out.
In the meantime, he continues to see an increase in business.
"We will continue to be creative," he said. "Pushing out some cool cocktail concepts and food items for customers."