If you want to spice up your at-home Taco Tuesday, Tumerico has an idea: a Cuban taco made with jackfruit.
Owner Wendy Garcia said it's a hot seller at the University of Arizona-area vegan/vegetarian Mexican food restaurant.
Avocado is the centerpiece of Tucson newcomer Toro Loco Tacos y Burros' fried avocado taco, and south-side institution El Torero takes it old school with a classic deep-fried hamburger patty taco.
Don't even get us started on Café Santa Rosa's Indian taco, with its crispy indulgent fry bread.
We reached out to these restaurants for advice on upping our taco game. We asked each for their recipes and tips on replicating their out-of-the-box tacos from the comfort of home. Lucky us, they agreed.
Most of the recipes call for seasoning to taste; if you like it spicier, kick up the chile, etc. And quantities will vary by family so you can decide how much or how little of each taco filling to fit your needs.
If you're game, follow along. And if the home edition of Taco Tuesday isn't your thing, you can get the real deal from the restaurants.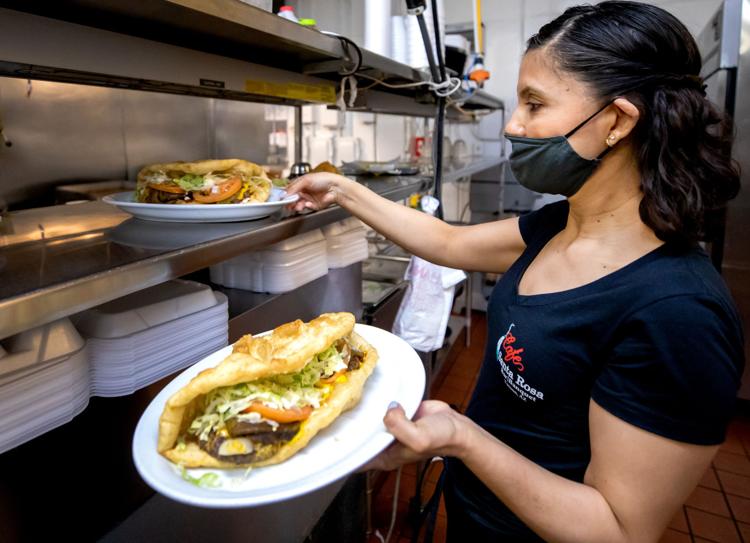 Café Santa Rosa
Hours: 8 a.m. to 9 p.m. Tuesdays through Saturdays, 8 a.m. to 6 p.m. Sundays
About Café Santa Rosa: The Gonzales family opened the restaurant in April 2013, specializing in Native American cuisine. They wanted to create a traditional experience while paying tribute to their Tohono O'odham heritage. Sylvia Gonzales, one of five owners, was the restaurant's first cook, combining her Native American mother's cuisine with her Hispanic father's. She said a lot of her recipes were inspired from her mother's cooking.
"My father didn't have much family, and so we just kind of grew up with my mother's traditions," she said.
Café Santa Rosa's bestseller is the Indian taco with red chile, which is served on a popover known as fry bread.
The taco: Indian taco
Ingredients: Homemade popover, red chile, beans, lettuce, tomato and cheese
How to make it at home: The red chile is essentially diced beef. To make the chile sauce, start with chile pods. Café Santa Rosa orders them from New Mexico, but you can find them at your local grocery store. Clean the pods, boil them and blend them with garlic and salt to taste. Cook the diced-up beef with spices, then pour the blended chile sauce on top and let simmer.
For the popover, most recipes for small batches call for combining 4½ cups of all purpose flour, 1½ teaspoons of salt, a tablespoon plus a teaspoon of baking powder, 6 tablespoons of unsalted butter or lard and 1½ cups of water and mix either by hand or in a blender until mixture is a smooth dough. Wrap in plastic and set aside to rest for 30 minutes, then form dough into patties and deep-fry in oil until the bread is golden brown. Top with beans, red chile, lettuce, cheese and tomato.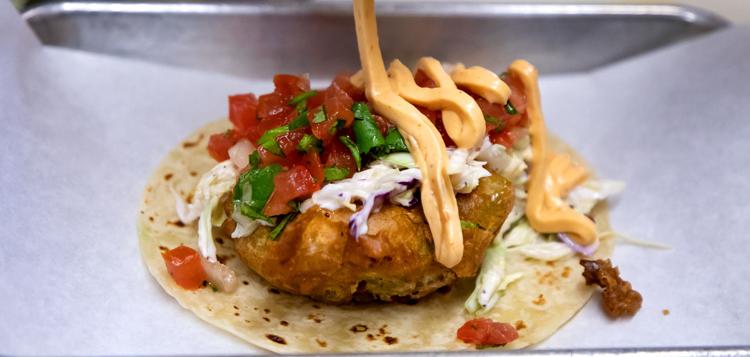 Toro Loco Tacos y Burros
Hours: 11 a.m. to 8 p.m. daily
About Toro Loco Tacos y Burros: Brothers Travis and William Miller of Serial Grillers fame spent many vacations in San Diego, where they were inspired by the beach-front taco shops.
"They wanted to bring something like that back home," said Parker Martin, the restaurant's regional manager.
In August 2019, the Millers, who also own Boulevard Barbecue & Fixins, opened Toro Loco Tacos y Burros. Travis Miller takes the creative lead in the restaurant's inventive taco lineup including the street corn chicken taco, a fried chicken taco and a grilled chicken and Poblano chile taco.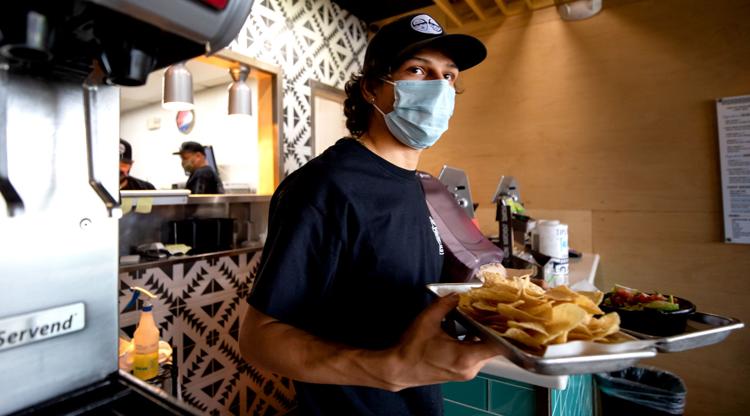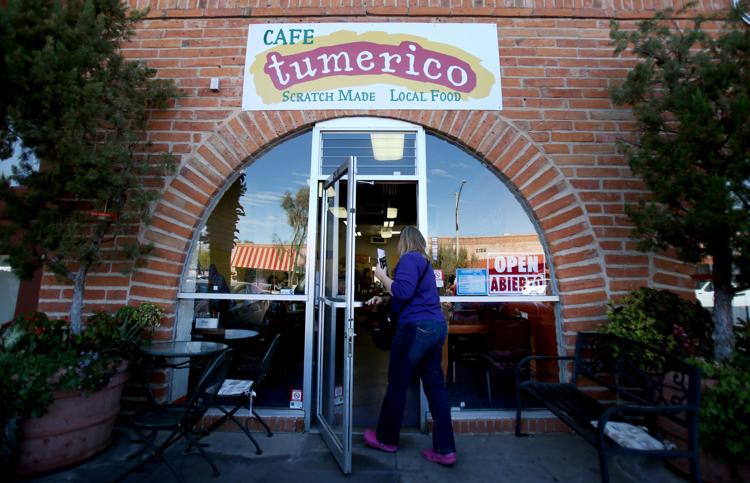 Tumerico
Hours: 10 a.m. to 3 p.m. Sundays and Tuesdays, 10 a.m. to 7:50 p.m. Wednesdays through Saturdays
About Tumerico: Owner Wendy Garcia serves a vegan and vegetarian Latin food-inspired menu that has gained a devoted following since she opened the restaurant six years ago.
"When I opened the restaurant, what I had in mind was, 'oh, I just want to make my nana's food and I just want to make it vegan,' " she said.
The restaurant is family- and community-oriented with an ever-changing menu curated by Garcia. She regularly comes up with new recipes inspired by local ingredients, something her customers have come to expect.
In addition to the original location on Sixth Street, Garcia has a smaller restaurant called Tumi on 4th at 402 E. Fourth St. that serves a more limited menu. Both locations sell her special Cuban Taco.
The taco: Cuban taco
Ingredients: Tortillas, jackfruit, onion, garlic, salt, cilantro sauce (available for purchase at Tumerico) with cilantro, scallions, chili pepper and lemon juice.
How to make it at home: Heat a pot over medium flame and sauté diced onion until translucent and add minced garlic. Stir in jackfruit and cilantro sauce and let simmer with a lid on until the jackfruit is tender, about 45 minutes. Season to taste. Remove from heat and using the back of a fork press to shred the jackfruit into thin pieces. You may want to transfer jackfruit and juices to a broiler to crisp it up.
To prepare the cilantro sauce, finely chop cilantro and transfer to a bowl with scallions, chile pepper and a squirt or two from half a lemon. Top your tortilla with the jackfruit carnitas and cilantro sauce.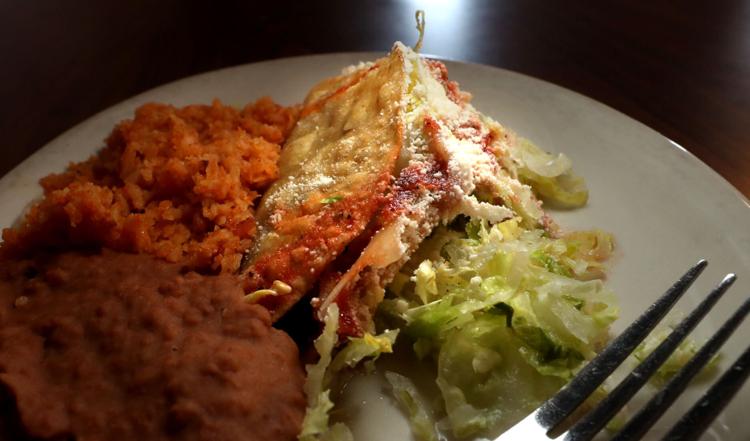 El Torero
Hours: Noon to 8 p.m. Tuesdays and Wednesdays, until 9 p.m. Thursdays through Saturdays
About El Torero: Brothers Mike and Brad Hultquist co-own the family's longtime South Fourth Avenue restaurant, drawing on the recipes of their Aunt Adelina Borgaro, who opened El Torero in 1956. Mike Hultquist emphasized that the popular old school patty taco is not a really big secret; families and restaurants have been making a version of the taco for a very long time in Tucson. But is a fan favorite at El Torero.
"People love them," he said.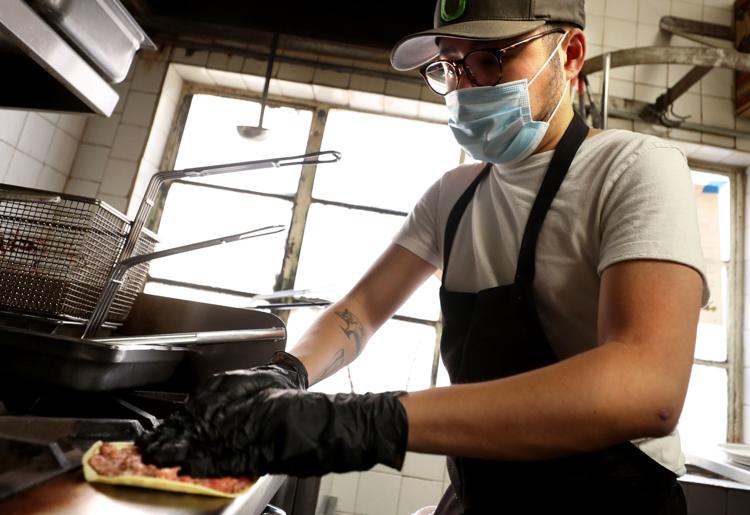 Be warned, Hultquist said: "If you're frying something, it's a painful process."
Another word of caution: The meat can sometimes spill out of the tortilla, which could result in hot grease spitting from the pan. For first-timers, Hultquist recommends overcooking the patty versus undercooking it. Once the taco is fried, let it drain on paper to release the excess grease and to let the tortillas set. The tortillas may break if you try to open the taco right away to add toppings including shredded iceberg lettuce, tomato sauce and Cotija Mexican cheese.
Yasmin Acosta is a University of Arizona journalism student apprenticing with the Star.