Some little boys dream of becoming a police officer.
And when he retired in July after 20 years in uniform with the Tucson Police Department, he turned his attention to another profession that he kind of stumbled into: acting.
On Friday, Sept. 4, Berube's debut film, "A Cry in the Night: The Legend of La Llorona," comes out on YouTube. In the low-budget horror-thriller that was filmed in Arizona, Berube plays the role of Connor, a former military guy who tags along with some high school buddies on a camping trip that turns into a nightmare.
Back in 2018 when he auditioned for the indie film, Berube was just checking a box on his bucket list: to be an extra in a movie, one of the guys in the background that often land on the proverbial cutting-room floor.
But when he walked into the audition, the director didn't see extra: He saw lead.
"I had no clue what I was doing," said Berube, 44, who with his clean-shaved head and muscular physique reminds you of an early-career Vin Diesel.
The director had Berube read some lines. Next thing he knew, Berube was on location making his acting debut.
He hasn't slowed down since.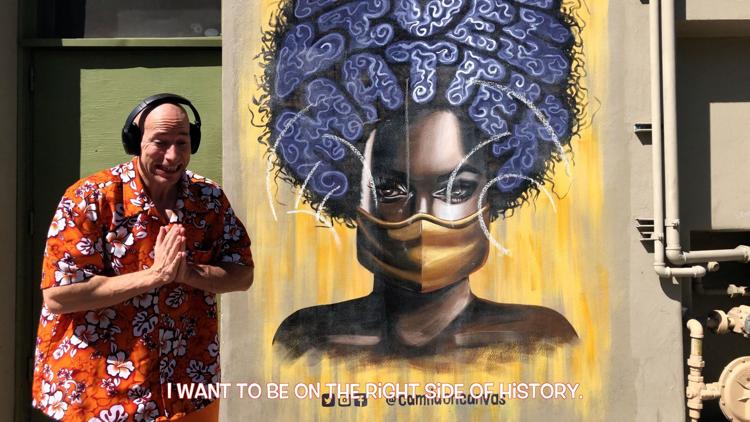 Over the past 18 months, Berube has acted in 30 productions, from feature-length indie films ("Army of the Dead," "The Righteous Twelve," "The Dark Side of Opulent III") and shorts ("Only Ramona Knows," "Ruby," "Furry") to commercials and TV series pilots ("You Only Live Twice," "The Devils Pit").
Berube has taken acting classes, signed on with an agent and, if all goes well, will move early next year with his wife Annie and their year-old twins Hannah and Liam to Los Angeles, where Berube is planning to focus his full attention on acting.
"I'm willing to do the move, see what comes of it," said Annie Berube, who met her husband when she, too, was working at the Police Department. She left a few years ago when the couple decided to start a family and she launched her baking company, CopCake Cakery. "At the end of the day we've seen so much with our careers that we don't want to sit here wondering about the coulda, shoulda and wouldas."
Annie Berube remembers when her husband told her he was going to audition for "A Cry in the Night."
"I encouraged him. He wanted to be an extra, that was his thing," she said. "He wanted to get that off his bucket list, to be an extra."
"He just kind of took off with it," she added.
She supported his auditions in New Mexico, Los Angeles and Phoenix, squeezed in between his full-time job with TPD. He would put in an eight-hour shift, then get in the car and drive to the audition and turn around to come home and make his shift the next day.
"I had some pretty good bosses for sure," Berube said of the flexibility he was given to juggle his day job and acting.
Falling into law enforcement
Berube grew up in Massachusetts and attended a vocational high school with plans to become an electrician. When an Army recruiter showed up at his school his senior year, he enlisted, but the notion of being an electrician no longer appealed to him. The recruiter suggested he join the military police, and Berube said why not.
He served six years active duty, most of it in Puerto Rico, where he met his first wife and started a family. When the marriage soured, his wife, the daughter of a military man, moved with their two young sons to her hometown of Tucson. When his six-year enlistment ended, Berube moved to Tucson to be close to his sons and applied for jobs with the federal prison system and Border Patrol before landing a job with TPD.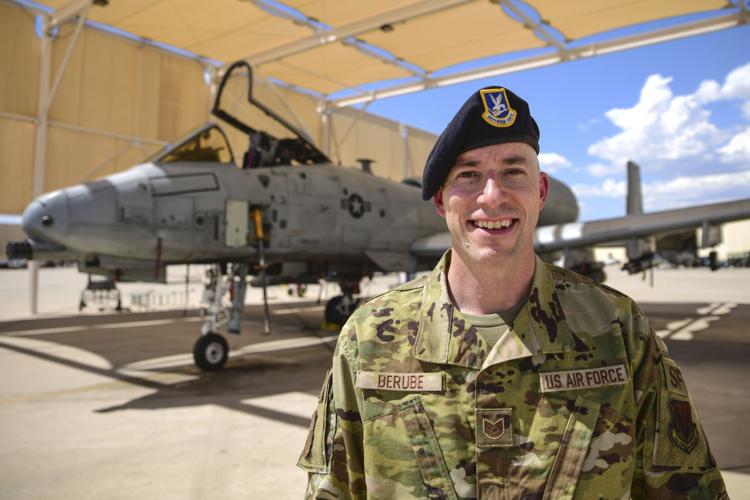 In 2015, he joined the Air Force Reserve out of Davis-Monthan, where he puts in a month a year of active duty as military police. In a couple years, he will be eligible to retire from the military, as well.
Checking off the bucket list Berube had never been involved in drama or theater growing up, but when he met Tucsonan Danny Ray, who supplied Western wardrobes for movies, at a TPD Fourth of July barbecue in 2018, he was intrigued.
He asked Ray what it would take to become a movie extra, and Ray told him about a movie he was working on with an Arizona filmmaker. He encouraged Berube to come out for the open auditions in Phoenix, but instead of auditioning for an extra, he suggested he aim for the role of the sheriff.
That's what Berube was doing when the casting director asked him to read for the role of Connor, one of three top characters in "A Cry in the Night." In his first ever acting experience, Berube landed third in the list of acting credits.
Last year, Berube auditioned for a project closer to home: the role of head monk in Tucson filmmaker Linda Chorney's goofball sitcom "Saving Bernie ... and the World." The 11-episode series, centered on Democratic presidential candidate Sen. Bernie Sanders, aired on Vimeo in March through early July and is available on the streaming service.
"Not only is he a talented actor, he's a great comic actor," said Chorney, who had initially intended the monk role to be a small one. "I gave him a very challenging, silly role that not everyone would have the (nerve) to take, especially in his position as a cop. We ran around downtown Tucson with him in this orange sheet and he assumed the monk position with his hands. I was peeing my pants laughing. He did it without any inhibition. He just went out there and did it."
The Grammy-nominated singer-songwriter, whose other film credit was her critically acclaimed biopic "When I Sing," ended up expanding Berube's role, including featuring him in the finale.
"I loved his acting so much that I kept writing him into new episodes," she said. "I just turned him into a more major role."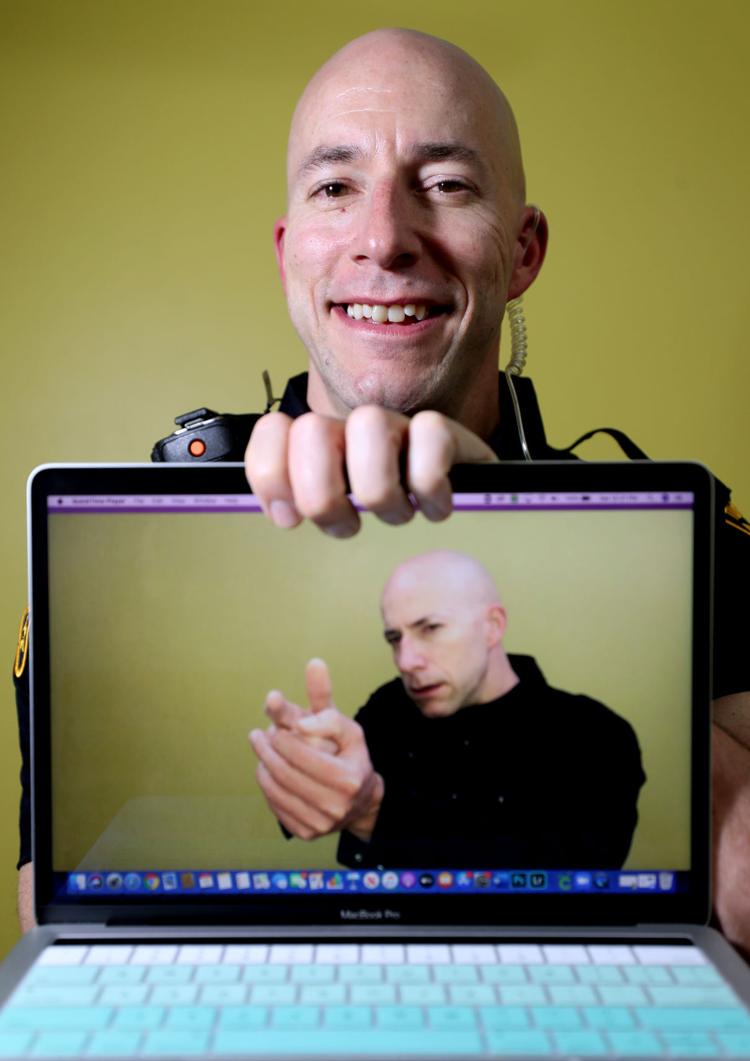 He plays a cop on the big screen
In some ways, it's almost as if Berube's police career prepared him for his acting career.
He has been cast as a police officer in the crime thriller "Exposure" with Eric Roberts and "Spiked" with Aidan Quinn — two of the five movies he has filmed so far this year — and he plays a Russian mobster in "The Dark Side of Opulent III," which finished filming at the end of March.
"I had to learn a Russian accent," Berube said in a pretty convincing Russian dialect.
Berube said his law enforcement experience was the perfect training ground for his acting career. He taps into his experiences from policing, the emotions he experienced and witnessed while on the job, and brings that to his acting.
"I am definitely able to tap into all of those experiences," he said. "It's funny how I kind of fell into it. Maybe there was a part of me that subconsciously wanted to do it."
Contact reporter Cathalena E. Burch at cburch@tucson.com or 573-4642. On Twitter @Starburch
Stay up-to-date on what's happening
Receive the latest in local entertainment news in your inbox weekly!