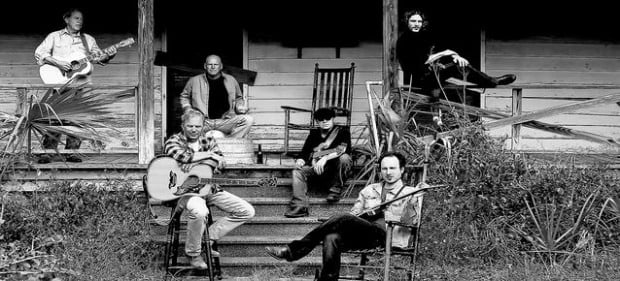 A swooning fiddle passage opens the pop-country single "Superman 14," introducing Kevin Costner's slightly rough-hewn John Hiatt-esque vocals.
"I'm 90 miles from nowhere / Living in this dust bowl dirt. / Baseball / Put on my black tennis shoes / Dirty old T-shirts," Costner sings against the backdrop of muscular guitar licks.
"Superman 14" is the first single off Costner's forthcoming major-label-debut country album, "Untold Truths," recorded with his band Modern West.
The band was never supposed to record an album; it was put together three years ago mostly as an outlet for Costner, a budding singer-songwriter who has quietly nurtured musical ambitions in the shadow of his burgeoning movie career.
Modern West reunites Costner and longtime friend and musical collaborator, Tucson singer-songwriter John Coinman. Twenty years ago, the pair, joined by bass player Blair Forward, made an indie rock record that was released only in Japan.
While Coinman and Forward went on to forge successful indie-music careers, Costner became a major movie star and kept his music as a hobby.
That is, until three years ago, when he called Coinman and asked him to put together a band.
During a phone interview from Los Angeles last Friday, Costner said he told Coinman, "Let's make it about the music and let's let the chips fall."
"I didn't think we would make a record," Costner added. "I just said to my good friend, Johnny, 'I don't know where this is going to take us, but let's let this be about the music and let's make it be about playing live.' Because that's what I want to do."
In addition to Forward and Coinman — who has been friends with Costner since they took acting classes in Los Angeles in the 1980s — the band includes Tucson drummer Larry Cobb and ex-Tucson singer-songwriter Teddy Morgan, now based in Nashville. Morgan plays guitar, lends vocals and contributed heavily to the songwriting alongside Costner and Coinman. Nashville guitarist Park Chisolm rounds out the lineup, and Bobby Yang and Luke Bulla make fiddle contributions.
The album was the band's idea, Costner said, dreamed up after they had played dozens of concerts big and small around the country and appeared in his movie "Swing Vote," released last summer.
"We took it a step at a time and really continued to like the direction it was going and gradually got to playing more shows. It blossomed into this," Coinman said.
"The songs are as good as we can make them at this point in our evolvement," Costner, 53, added. "In my mind, I thought we were fresh. I thought we were good enough. If I didn't I would keep the music right where it belonged, which would be in the living room."
The album has strong Southwestern nods as it spins stories about trains dead-ending to Yuma ("Long Hot Night") and strolling along Nogales Street "in the shadows of the accordion man" (the Coinman-penned "Down in Nogales"). Costner contributed to the songwriting on five of the dozen tracks, including the twangy, rustically charming Southern rocker "Backyard," an ode to old, dead cars.
Costner, the father of three grown children, a 17-month-old and a baby due in February, says he's not savvy about the music industry. And he knows there are those detractors, the ones with the prove-it-to-me smirks, convinced that the CD is an attempt to feed Costner's ego.
"I see the world pretty clearly," Costner allowed. "Let's face it. . . . I have my head so f---ing far out there. It's just waiting for somebody to chop it off."
"It's a double-edged sword with Kevin," Coinman explained. "On one hand, he's a famous person and you have instant name recognition. On the other side, the minute they hear Kevin Costner's doing a record, 'Oh great! Who else is doing it.' Until they hear the music, they raise their eyebrows. When they hear it, they go, 'I didn't expect that.' "
The band will play several CD-release concerts in the coming weeks, including at the Grand Ole Opry on Saturday and the Blender in New York City Dec. 3. So far, there are no plans to play Tucson, where Costner filmed "Tin Cup" and "The Postman" and was a regular headliner in the early 2000s of the Tucson Open's pro-am.
"I would play there in a second if it made sense and somebody put the date there. I've made two movies there and I would love to go play music there," Costner said.
Kevin Costner & Modern West "Untold Truths" (Universal Records South/Republic Records). Release date Tuesday.