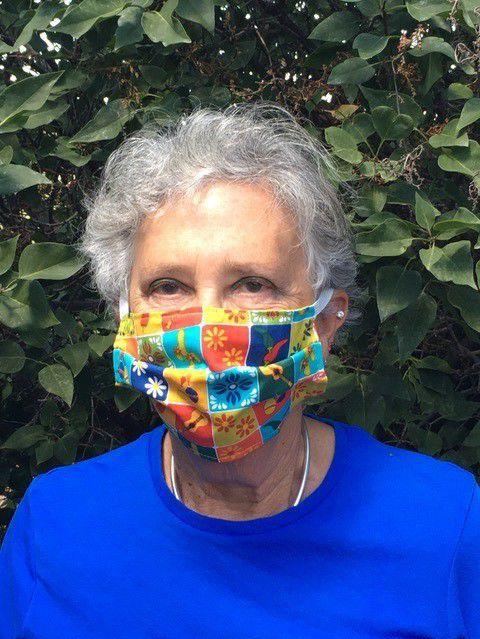 In January 1968, I just graduated from university with a newly minted degree in religious studies and arrived in Tucson to begin work at the Tucson Creative Dance Center under the tutelage of its internationally known founder and director, Barbara Mettler. During my years with Ms. Mettler, I deepened my understanding and practice of an important principle: there is freedom within boundaries.
The road to total freedom in dance was paved with exercises that at first glance seemed restrictive: create a dance of only straight lines; create a dance whose theme is strictly limited to opening and closing; create a dance lying down.
The goal of these exercises was not to lessen our creativity and freedom, but to cause us to plumb the depths of creativity and freedom within tight boundaries. The result was the discovery of dance possibilities that could not have been revealed otherwise.
In these past several months of life in a pandemic, we have indeed been face to face with restrictions and boundaries: wash your hands; wear a mask; keep 6 feet apart.
We are weary, fatigued, impatient, more than ready to cry out, "Tear down these walls!" that hem in our freedom of expression and movement. What if we took a moment to expand our freedom within the boundaries? What if we sought to discover spiritual possibilities and freedom of practice within the walls?
"Now we see as through a glass darkly, but then we shall see face to face." (I Corinthians 13:12, KVJ)
The CDC urges us to wear masks as a kindness to one another, to protect the health of those around us. We are not used to wearing masks. We can't see each other's faces completely, can't hear each other well. The masks may be uncomfortable; and we don't like being told what to do. "Don't limit my freedom."
But we are free to wear a mask of our own choosing. I want to find a mask that says Namaste, a Sanskrit word that means "the divine in me recognizes the divine in you."
I choose that to be the face I present to others, to you, as we wait for this scourge to pass. Until then, I hope my mask, eyes, speech and demeanor communicate my respect for you, my wish to protect you, my desire to love you as I love myself, while we pray we may soon be face to face again, and behold the face of God in the faces of one another.
"Cleanse me with hyssop, that I may be pure; wash me and I will be whiter than snow." (Psalm 51:9, NAB)
Washing, as a prelude to prayer, or as prayerful ritual is found in many world religions.
In Christianity, the waters of baptism purify and ready the person for life in the community of believers. Making the sign of the Cross with water is a reminder and renewal of that baptism.
In Judaism, there is a special ritual prayer for hand washing prior to the Seder Passover meal. The Netilat Yadaim reads: "Blessed are You, Lord our God, King of the universe, who has sanctified us with Your commandments, and commanded us concerning the washing of the hands." The pouring of the cleansing water first from the non-dominant hand to the dominant, and then vice versa requires centered focus on the prayerful action being performed.
Islam teaches that all aspects of life, all actions, are part of one purpose, the worship of God, raising even the washing of hands from the status of mundane to sublime. Five times a day, appointments with God are preceded with a ritual cleansing that begins with the washing of hands.
During this pandemic, I have an opportunity to wash my hands, not mindlessly, but mindfully, perhaps reciting in silence or aloud a mantra (a spiritual word or phrase repeated over and over again for focus, concentration, meditation), much like the 19th century Russian monk in The Way of the Pilgrim who "prayed without ceasing" (I Thessalonians 5:17), "Lord Jesus Christ, have mercy on me."
Seek and choose your hand washing mantra carefully. It could become a habit.
He went up on the mountain by himself to pray. When it was evening he was there alone. (Matthew 14:23, NAB)
Holed up in our homes for days, weeks, months, we feel separated and alone. Passing each other on the street during our morning walks, it feels like we are practicing not social distancing, but social isolation.
When we do gather socially, in twos or threes, we no longer shake hands or embrace. As social animals, we abide in a foreign land. Apartness does not come naturally. I draw comfort in the invitation of our spiritual heroes and heroines of the past who continue now to call us to come apart to a quiet place for reflection, self-examination, deeper prayer, and yes, refreshment and renewal.
Once during this pandemic time, I emailed a spiritual mentor, anguishing over the pain of our pandemic situation. His reply? Sit quietly, alone, several times a day; tune into your heart, your breath, the presence of God in and around you.
Excuse me now, while I put on my Namaste mask, wash my hands while praying my mantra, and go sit alone in the glider on the back porch where I will give thanks to God for life, and look forward to the day when I will see again your wonderful smile, and give you a big bear hug.
Be the first to know
Get local news delivered to your inbox!