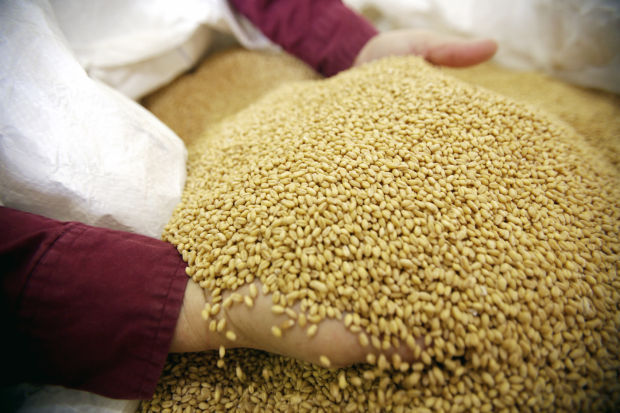 I'm having a lot of fun learning more about one of the oldest local foods available: Sonora white wheat.
It's said that Spanish missionaries brought triticum aestivum to the Southwest as early as 1640. Some sources connect with Father Eusebio Kino, while others say anonymous Spanish missionaries introduced it first in Mexico and later brought it to the U.S.
Unlike many newer hybrid wheats, it has superb disease resistance and can tolerate drought. Here in Arizona, it's grown over the winter, with planting in November or December and harvest in spring, before the rainy season begins.
Without Sonora white wheat, we probably wouldn't have flour tortillas. Early tortilla makers found the soft flour made from it, and its low gluten content, perfect for the tortillas that say "Sonora" more than almost any other food.
From its introduction until the mid-20th century, Sonora white wheat was the main source of flour in the West. It could be said that Sonora white wheat prolonged the Civil War, because the thousands of pounds shipped both to California and back east fed both Union and Confederate soldiers.
Locally, Sonora white wheat flour is available from Phoenix's Hayden Flour Mills and from BKW Farms in Marana (which offers free delivery to Tucsonans).
Though I'm only a casual dessert baker, I'm a devotee of homemade bread. This slightly sweet wheat, with its soft texture and creamy color, makes a lovely loaf.
Wheat flours are classified as "soft" or "hard" by their protein content.
Lower-protein soft flours make the best biscuits, pie pastry and cakes. They're commonly milled from the soft summer wheats that are grown in the South, which is why Southerners are famous for their excellent biscuits (among other things). With a protein content of just 9% to 12%, they're lower in gluten than all-purpose or bread flours.
Martha White, White Lily and King Arthur all offer soft flours, but if you can't find those brands, cake flour can substitute.
Bread bakers typically want the much higher protein from flours milled from hard wheat, frequently hard spring wheat like that grown in New England and the Midwest. It's no coincidence that both areas are known for top-notch breads and pizza crusts. With a protein content of 10% to 13%, bread flour — sometimes called "strong flour" — contributes the elastic gluten that bread doughs rely on for a lofty rise. Many milling companies now offer flours blended to meet that high protein level. Anything labeled "bread flour" will fall into this category.
As with so many things in our desert domain, Sonora white wheat is a paradox. It's a high-protein (about 15%) flour that acts in cooking like a soft flour. It makes tender tortillas and, in breads, contributes to a tender crust. But it's lower in gluten than other high-protein flours, so in bread baking, you need to combine it with bread flour or all-purpose flour.
I liked the loaf I made that was stuffed with the Southwestern flavors of chorizo, chiles and Mexican cheeses. I hope you will, too.
Cumin bread filled with chorizo, chiles and cheese
Leave the cumin out of the bread dough and you'll have an excellent daily bread that's fast and easy to make.
Loaves made with instant yeast don't have the complex flavors that develop during two rises, but sometimes that doesn't matter. Such subtleties would be lost in this loaf, with its powerfully flavored chorizo-chile-cheese filling.
Take care to roll the filled dough as tightly as possible to prevent gaps in the finished bread.
Ingredients
1½ cups Sonora white wheat flour
1½ cups bread or all-purpose flour
1 envelope instant or fast-rising yeast
1 pound fresh chorizo, cooked into crumbles and drained
2 cups grated asadero cheese, queso quesadilla, queso Chihuahua or a mix of Mexican grated cheeses
2 roasted Hatch chiles, diced or 1 roasted Hatch chile and 1 roasted poblano chile, diced
Preparation
Butter a 9-by-5-inch loaf pan and set it aside.
Make the bread dough: Combine flour, sugar, yeast, salt and cumin in a large bowl. Microwave the water, milk and butter in a glass measuring cup until the butter melts, about 1 minute. Allow to cool slightly so the temperature is lukewarm, so you can barely feel the heat in it.
Combine the warmed liquids with the dry ingredients and stir until dough forms. The dough will be shaggy and a little sticky at this point. Tip the dough onto a floured work surface or a large piece of baking parchment and knead until the dough has become smooth and elastic, about 8 to 10 minutes.
Cover the dough and allow to rest for 10 minutes.
Once the dough has rested, roll it out to a large rectangle (I turned a rimmed baking sheet upside down and rolled the dough out to its dimensions on a piece of parchment.) Scatter 1 cup of cheese over the dough, then the cooked and crumbled chorizo and diced chiles, and finally the remaining grated cheese.
Starting with a short side, roll the dough as tightly as possible. Pinch ends and seam to seal, then place seam-side down in the prepared loaf pan. Press the dough firmly into the pan using your fists, then place in a draft-free spot, covered with cloth, to rise until it has doubled in bulk, about 45 minutes.
Preheat the oven to 400 degrees. Lightly butter the top of the loaf and place it in the oven. Bake for 25 to 30 minutes. Remove from the oven and allow to cool before slicing.
Robin Mather is a longtime food journalist and the author of "The Feast Nearby." Follow her blog as she writes her third book, "The Feast of the Dove," at www.thefeastofthedove.com