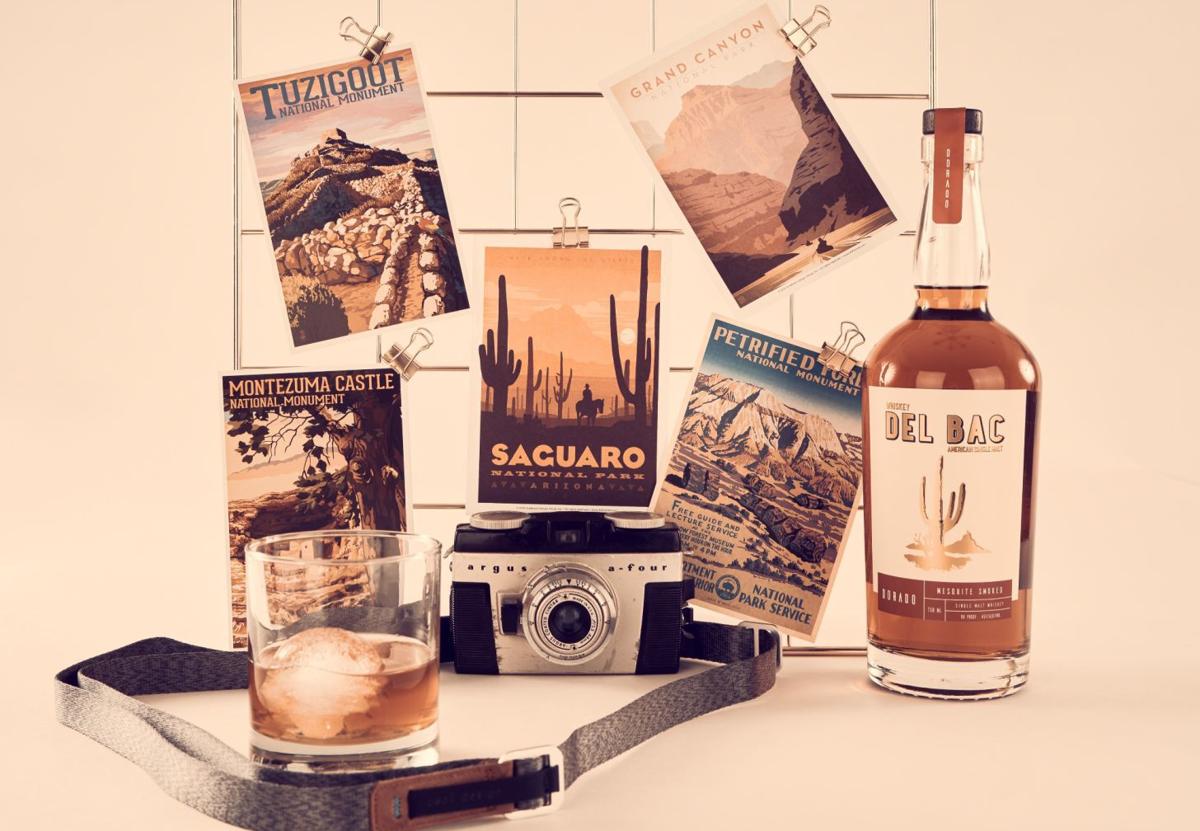 Stephen Paul calls his wife, Elaine, "Idea Woman" for a reason.
The couple was relaxing after a day's work at their former custom furniture company, Arroyo Design, on 4th Avenue. As they waited for the mesquite fire built from some scraps from the shop to be ready to grill their dinner, they were talking about whiskey.
"Scotch whisky is made from malt dried over peat," Stephen recalls Elaine saying. "Why couldn't you dry malt over mesquite?"
In that moment, Whiskey Del Bac was born. The artisanal line of whiskeys is distilled from grain to glass in an office park off Grant Road just west of Interstate 10. It's been made there since 2014 when Whiskey Del Bac outgrew its quarters in a partitioned-off space at the furniture company. It's perhaps best known for its mesquite-smoked Dorado and Old Pueblo whiskeys, but the company also produces several whiskeys that are made from unsmoked malt.
Stephen Paul describes himself as founder and director of Whiskey Del Bac, and credits his daughter, Amanda, as co-founder. Seated at a huge wooden table near the distillery's tasting bar, he talked about the complex process — part science, part art — that turns grain into whiskey.
Although Whiskey Del Bac uses the same distilling process as Scotch single-malt whiskeys, it uses the more common "whiskey" spelling, rather than the Scottish "whisky." The difference in the spelling comes from the translations of Scottish vs. Irish Gaelic words, although both translate to "water of life."
"To make alcohol, you combine yeast with sugar," he says. "The yeast digests the sugar and produces alcohol and carbon dioxide. Most homebrewers know this — they rely on the yeast to produce alcohol." Bread bakers also rely on this basic process, because the carbon dioxide that the yeast produces is what leavens, or raises, their breads.
But, he says, "grain has no sugar — only starch. So, to give the yeast the sugar it needs to work, first the grain is sprouted. That's what malting is. Any grain, when it sprouts, produces an enzyme that changes starch to sugar."
The dampened grain is allowed to "steep" for a period, but it has to dry for longer storage, Paul says. "We run 5,000-pound batches through the dryer," where the malted grain picks up the smoky flavors of the mesquite fires that dry it. The dried malted grain can be used as it's needed.
The next step is to cook the malted grain, called "mashing." At Whiskey Del Bac, the mash is cooked for an hour, then transferred to a fermenter for five days. What comes out of the fermenter is a beer with 9% alcohol, but, Paul says, "it's basic. It has no brewer's magic to add flavor or other things."
Like all Scotch whisky, Whiskey Del Bac uses a pot still to distill the beer twice. The first distillation, called the stripping run, removes dangerous methanol and other compounds, but the volume is reduced by about 35%. The second distillation, called the spirit run, produces alcohol that is 70% by volume.
Whiskey Del Bac cuts this high-alcohol distillation with reverse-osmosis water to lower its alcohol to 60%, or 120 proof. "The yeast loves the minerals in the city water, so we use city water for everything up until we cut the spirit run," Paul says.
From there, the whiskey goes into 15-, 30- or 53-gallon casks for aging. The casks are made from American white oak and are charred on the inside to contribute flavor to the aging whiskey. The big 53-gallon casks are barrels that were previously used to age fortified spirits such as sherry or cognac, and the whiskey gains flavor from that, too.
During aging, the whiskey continues to lose volume — distillers call this "the angel's share," and it's about 10% of the cask's capacity. After aging for a year or two, depending on the size of the cask, the whiskey is ready for the final step. Now the aged whiskey is cut once more, again with reverse-osmosis water, to a consistent 45% alcohol, or 90 proof.
Some batches go directly into the bottle, Paul says. But Whiskey Del Bac's Distiller's Cut showcases the art of blending. Using varied malts, cask types and finishing methods, Distiller's Cut is produced in small batches two or three times a year.
Paul credits the hands and palates of Nathan Thompson-Avellino, a master blender who will soon open his own company called Low Desert Spirits, and Stephen Ott, the head distiller, for Whiskey Del Bac's consistent high quality. The company has won many awards for its whiskeys, which you can see on its website.
The company's whiskeys range in price from $40 to $80 for a 750-ml bottle. They're available at Total Wine and online at the company's website, Caskers.com and Drizly.com.
Gold Rush Cocktail
Recipe courtesy Whiskey Del Bac
To make the honey syrup for this cocktail, combine equal parts honey and water in a small saucepan. Bring to a boil, then turn down to a simmer and stir until the honey is completely dissolved. Cool before using. The honey syrup will keep for several weeks in a covered container in the refrigerator.
Ingredients
1/2 ounce (about 1 tablespoon) honey syrup
3/4 ounce (about 1 1/2 tablespoons) fresh lemon juice
2 ounces Whiskey Del Bac classic
Preparation
Combine all ingredients in a cocktail shaker. Shake vigorously for 1 minute. Strain the cocktail into an old-fashioned glass. Garnish the drink with a lemon half-wheel and serve.
Next week: Iskashitaa Refugee Network helps refugees and asylum seekers become integrated members of our community and improves access to fresh local produce for the 1 in 4 people in Pima County who suffer from hunger.
Robin Mather is a longtime food journalist and the author of "The Feast Nearby." Follow her blog as she writes her third book, "The Feast of the Dove," at www.thefeastofthedove.com.