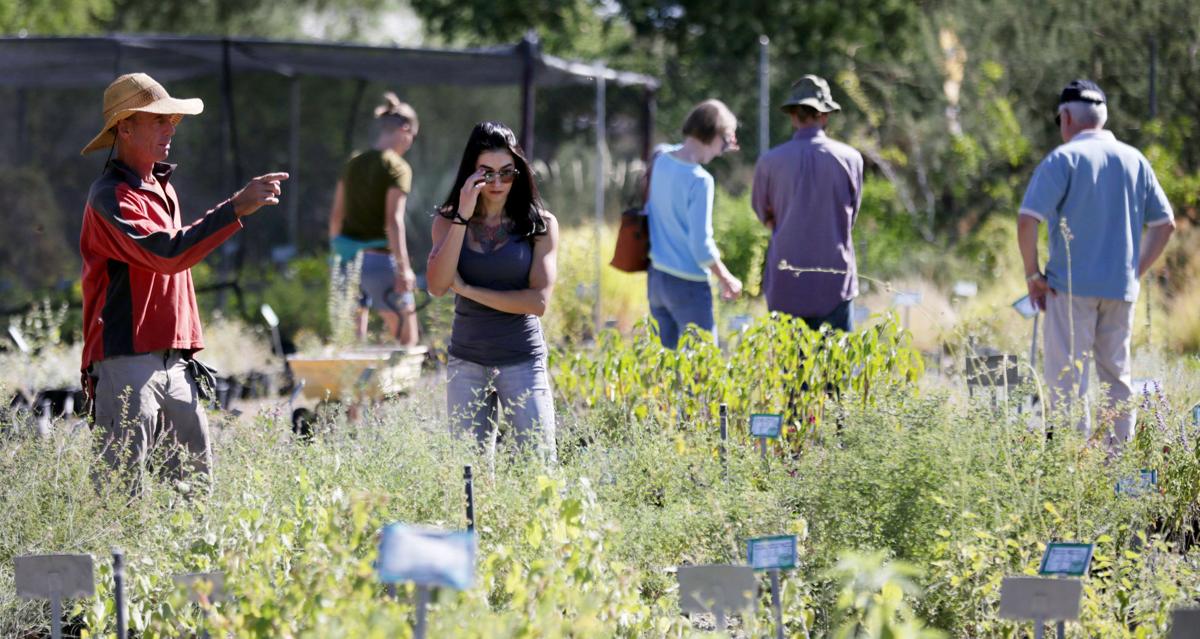 Fall is coming, and with it comes the best season for planting in your Tucson garden. This is a great time to evaluate your garden space and decide what you want to plant — whether it's trees, shrubs, perennials, or annual wildflowers.
If you love browsing at nurseries, you probably have a hard time resisting some of the display plants. They're lush, have gorgeous flowers or leaves, or beautiful structure. You want to take them all home — and if you're like me, you frequently do! But will they do well in your yard?
Selecting the appropriate plant for your needs involves a bit of thought. Particularly for plants such as trees and shrubs, which can live for a long time and can be expensive, it's important to choose the right plant for the right place. Here are the things to consider before you make your purchase.
1. What function do you want this plant to serve? Do you want it to provide shade? Color? Habitat? Food? Privacy?
2. How much maintenance are you prepared to do? Non-native plants, or those that are not adapted to our heat and sun will need much more fussing and are much less likely to survive. They will need more water, shade, and possibly soil amendments and fertilizer. Tropical plants will need to be brought inside for the winter. Some fruit trees and bulbs require a certain number of chill hours to bloom or produce fruit, which will not be possible in our warm climate.
3. Where will you put it and how much space do you have? It's easy to forget that the tiny 2-gallon plant you brought home will turn into a 30-foot tall tree or a 6-foot wide shrub. Consider the final size of the plant, but keep in mind that the tag on the plant may set unrealistic expectations. Plants grow differently in different climates — so in Tucson a plant may grow either larger or smaller than usual. The best thing to do is to ask a local nursery grower how large a given plan grows in our area.
Also consider whether this plant will need maintenance. Put plants that need more attention closer to your living space, so it's easy to walk around and water, pick the fruit, or deadhead the flowers. Lower maintenance plants (such as native trees and shrubs) can be planted farther from your house. Remember, though that even natives will require extra watering for the first year or two until they become established.
In addition, you want to avoid putting plants in places that may cause a hazard. If it's near a walkway, don't get a plant with spiky leaves (like yuccas) or lots of thorns (like many native plants or bougainvillea). Don't plant trees where they are likely to grow into power lines or where their roots can get into your septic system or plumbing. Finally, you probably don't want plants that create a lot of litter near a flat roof or a swimming pool or other water feature. If someone in your household is allergic to bee stings, don't put flowering plants near your outdoor use areas — in fact, you may want to avoid them altogether.
4. Consider your microclimate. Where do you get sun and shade in the different seasons of the year? Are you planting against a wall or near other vegetation? In an urban environment, the narrow spaces between houses and buildings can act like canyons, with one side permanently shady and cooler and the other hot and sunny, depending on your building's orientation. The south and west facing walls tend to be the hottest, and will absorb and reflect heat. The north-facing area is the coolest, but at our latitude will still get considerable sun in the summer months.
You will also need to consider your neighbor's plantings. Do they have a huge tree that shades half your yard all afternoon? Do they have mostly concrete or other hardscaping that will reflect the sun's heat into your yard?
If you are near a wash or other low-lying area you will have cool air flowing into your yard. Cold air is denser than hot air, so it flows like water — down from the mountains along valleys and canyons. Expect to have winter temperatures several degrees cooler than in the city if you live near a wash.
5. If you have a Homeowner's Association in your neighborhood, you will need to check with them to see if they have a list of approved plants as well as any rules about where you can plant them. Usually the rules apply to front yards.
Once you've considered these questions, check out various local resources to help you choose the appropriate plant for your needs. One great resource for low-water-use plants that do well in our climate is Plants for the Arizona Desert. It's a searchable website with plant pictures maintained by the Arizona Municipal Water Users Association. It includes information on where to plant, growth rate, color and bloom period of flowers (if any) and includes both native and drought-tolerant non-native species.
Plants are living things, not just decoration, and thus require care and the appropriate conditions to thrive. If you choose well, your garden will reward you with years of enjoyment.
Be prepared, though — inevitably some of your plants won't make it. Don't take it personally, and definitely don't give up! Try to figure out what went wrong and learn from it — gardening is a process, with a lot of trial and error. Many long-time gardeners advise keeping a notebook or diary so that you can refer to your notes and learn from your experiences.
A useful local resource for expert information about plant problems is the Pima County Master Gardener Plant Clinic, which during COVID-19 is via email. Just fill out their form with your question and a Master Gardener from our area will do their best to answer.
Do you have any gardening topics you'd like to see covered in the Tucson Garden Guide? Email me at dheusinkveld@tucson.com with your suggestions and questions. Thanks for reading!