Take a look at the membership of the Tucson Garden Railway Society and you'll see couples who share the hobby of model trains running through the landscape.
Creating a garden railroad layout often becomes a two-person affair. Train operation, scene creation and gardening are divided up based on each person's interest.
John Carmichael is different. His Cholla Patch Railroad is his own creation, from selecting and tending succulents to constructing the railroad and buildings.
Phil Pappas, who lives in the same northwest-side home, helps out with maintenance and some of the landscaping labor. Otherwise, the Victorian-era layout is all Carmichael's vision and accomplishment.
It is among the stops in the 16th annual Rails in the Garden tour March 2 and 3.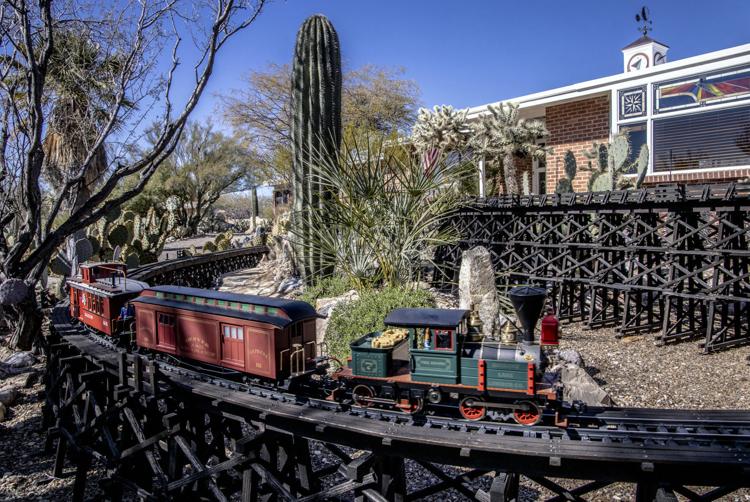 "What's so great about this hobby is that it spans so many fields," says Carmichael, who used to work as a horticulturist, but who now builds sundials.
Since 2012 when Carmichael started building his railroad in the front yard, the hobby has given him touch points in horticulture, botany, electrical engineering, architecture and history. The result is a desert town that's true to the last half of 19th century.
Carmichael is a longtime train fan. He says he was thrilled to discover garden railroading and the variety of elements that go into staging a layout.
"I thought that's just great. I can combine art and science," he says.
His layout is compact, helped by what he calls a pretzel-shaped route he worked out by winding a hose on the ground before he lay a single track.
The single 350-foot track guides two electric trains along trestles and bridges that take them over and under each other. There's also a separate trolley track.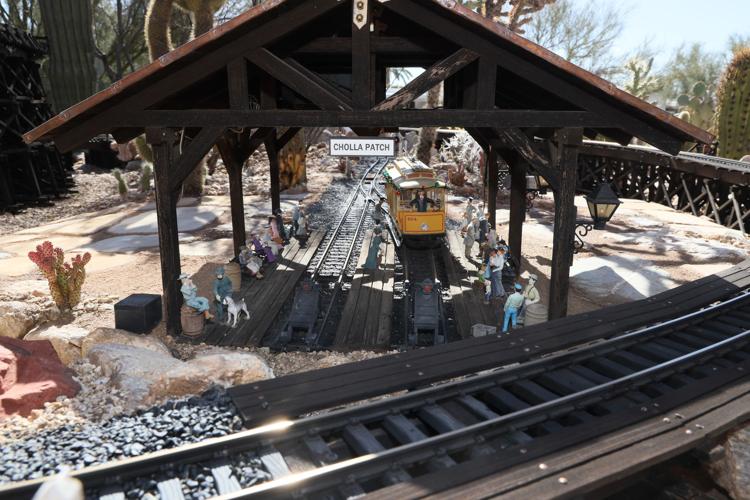 Thanks to proximity sensors, the trains can run at the same time unattended without crashing into each other.
The trains are store-bought, as are about 200 figurines and dozens of accessories. Carmichael has built everything else, including the rock tunnel, the buildings and all the vignettes.
His latest pride and joy is the two-story log cabin.
Using his own design, he cut redwood into little logs and used a joint system to stack them into walls. The stone for the chimney came from England.
Like the other buildings, he's furnished the rooms with period pieces. They're revealed only when he turns on the lights wired into the structures.
Similar devotion to custom, detailed work is seen in the observation tower, the train car barn and the three-level treehouse that wraps around a mesquite tree.
There's a lot of life in his vignettes. Figurines atop the observation tower look down on one that has been gored by a real cactus spine. A seated figure staffs the train station, while a wedding goes on in the treehouse. There's a dinosaur dig and one for real trilobite fossils.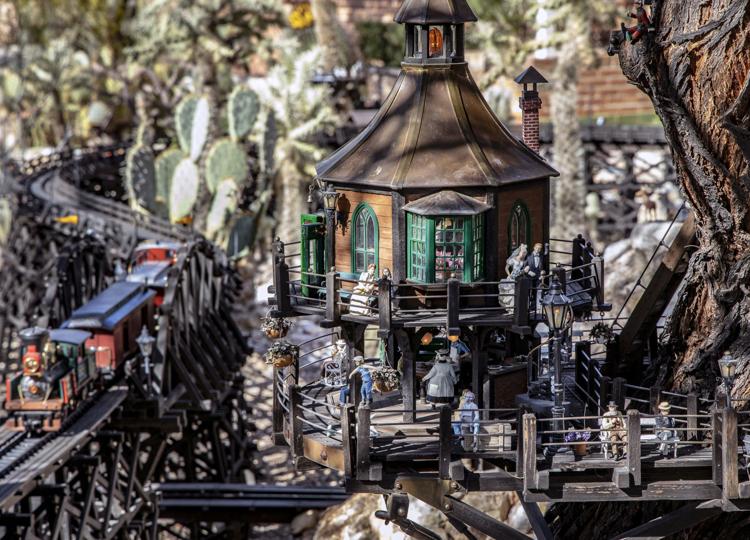 Carmichael's showcase element is the 200-foot-long, three-level trestle that he designed and built by hand. He says he cut enough redwood pieces that, when laid end to end, would cover three miles.
"There are no kits here," he says proudly. "It's all my design work."
As a plant guy, Carmichael puts the emphasis on "garden" for his garden railroad. While some hobbyists — they're known as engineers — add plants after the track is laid, Carmichael wanted to wind his track around the plants he had before gardening railroad came into his life.
Some of his well-groomed chollas are about 5 feet tall. The garden is made up of mature yucca, prickly pear, saguaro and old man cactus. Carmichael has added many other plants, including tiny succulents that fit the scale of the railway scenes.
"I'm trying to keep the gardening aspect of it," he says. "I didn't want to sacrifice the plants."