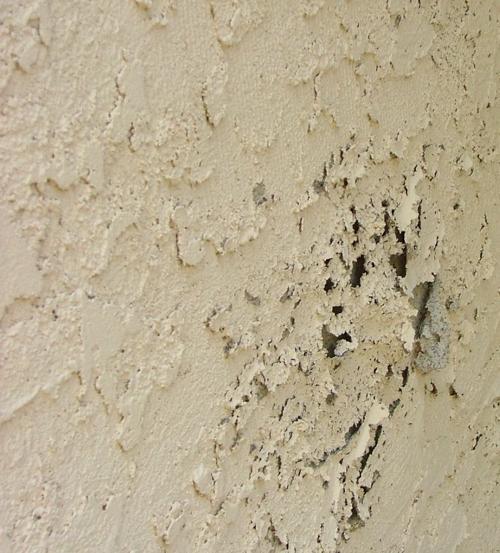 I recently tried to patch a crack in the stucco on a freestanding block wall that separates my yard from a neighbor's yard. I scraped off the damaged area and then put on a patch of textured stucco, all of which ended up looking really crummy. Now I want to fix it before I paint it so that the area will blend in with the rest of the wall. This is the second or third time I've had to do this job.
If the stucco keeps failing, it's probably due to moisture intrusion into the wall. You can solve the long-term problem by painting the wall more often with a good exterior paint that has high acrylic content. To fix your immediate problem, you should remove that patch that you just put on and then power wash the wall, let it dry, and apply a concrete glue binder. Then use a sponge trowel that you have bought at a building supply store to float the patch on top of the wall. Once that dries you can repaint.
I have a 600-square-foot flagstone patio that I think I have to remove and replace because it runs up to the wall of the house, and when there's a big storm, water pools up on the patio. Now it's beginning to leak into the house onto our hardwood floors. We've been in the house more than 10 years, but the patio was built by a previous owner who put the patio on top of a concrete slab. Do I have to remove the concrete as well?
It's hard to say without seeing your yard, but we would suggest removing both the flagstones and concrete. Then when it's all gone, you can install permeable concrete pavers for your new patio to ensure that the water won't build up next to the house.
I live in a one-bedroom apartment that has a utility closet built for a washer and dryer. However, I have no dryer, and when it rains, water comes into the closet through a dryer vent. How can I stop this?
Call the property manager and tell him that the dryer vent needs an automatic damper flapper installed so that it will close during a storm. You can assure the management that this is a simple and cheap repair that they are responsible for doing.
I am retired and live in a neighborhood where "flippers" are often buying and renovating houses and then reselling them. I'd like to have a slightly larger home and would like to buy one of these houses. How can I check on the status of the house so that I know that all the work was done to meet the building code? One of my neighbors bought one of these houses and had some trouble with it. I want to protect myself from the same problem.
Anyone who is buying a house that has undergone a quick renovation by a "flipper" should check with the building department in their city or county to see if permits were pulled for the renovations. Insist on seeing the current contractor's license for whatever contractor is listed on the building permit. No permit? No licensed contractor? Find another home.
For more do-it-yourself tips, go to rosieonthehouse.com. An Arizona home building and remodeling industry expert for 25 years, Rosie Romero is the host of the syndicated Saturday morning "Rosie on the House" radio program, heard locally from 8-11 a.m. on KNST-AM (790) in Tucson and from 9-11 a.m. on KGVY-AM (1080) and -FM (100.7) in Green Valley. Call 888-767-4348.