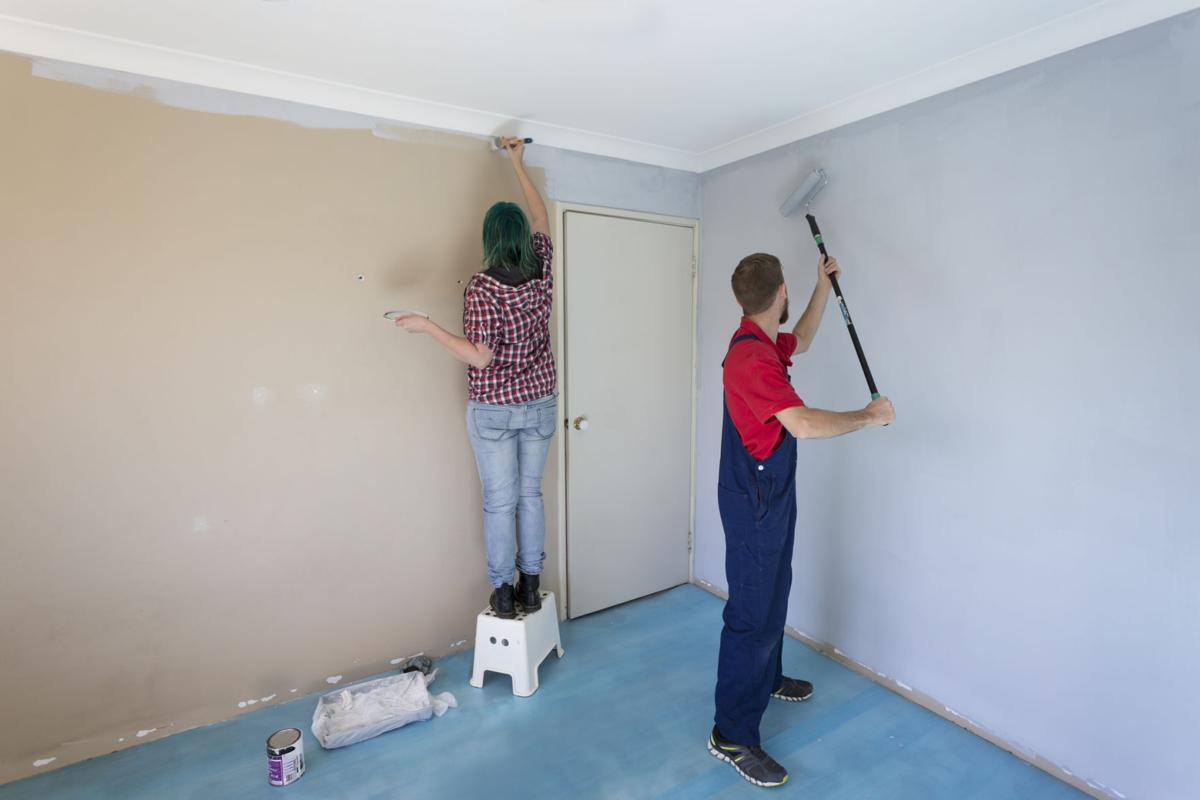 Question: What kind of paint should I use in the interior of my home?
Answer: Paints can be divided into two groups; water-based, and oil-based. All paints are made of either water- or oil-based binder combined with pigments for the right color (pigments and binder can separate over time, so always give your paint a good stirring before starting to paint). Water-based paints have replaced about 90% of the jobs oil-based paints used to do since they are more user-friendly, easier to clean up and dry much quicker. For these reasons, I will focus on water-based paints.
The binder to pigment ratio changes the paint finish. More binder gives a glossier finish, and more pigments make for a flatter finish. Gloss finishes are the most durable and dirt resistant, and aren't very forgiving. If the walls have imperfections or patch-up jobs, they will be noticeable with glossy paint. Flat finishes aren't as durable but do well for large walls in bedrooms and living rooms where huge shiny walls would be a little overbearing or have imperfections needing to be hidden.
Enamel paint is regular paint with enamel resins, which give the paint a light film covering. This film gives a glossy appearance and is extremely washable, making it ideal for bathrooms and kitchens where walls may be routinely scrubbed or wiped down. New flat paints are formulated for scrubbing, so you have a choice.
A matte finish looks better on a wall than a shimmery, reflective surface. Flat paint also hides nail hole cover-ups and other flaws better than gloss, and it touches up nicer.
If you want durable gloss on the walls of your wet rooms, kitchen, bathrooms, mudroom, and laundry room, consider toning it down with a satin or semi-gloss finish rather than high-gloss.
Q: Do I need to prime the walls before I paint a different color?
A: I highly recommend it. I always use a primer before painting, even if the wall has been painted several times. This wall preparation adds depth to the paint. Always use a primer bonder when painting over an enamel wall with flat paint. Flat paint doesn't stick well to glossy films and can cause big messes down the road. Also, primer is always a good idea when going from a dark color to light or pastel. Primer can also be tinted to the new wall color. Generally, primer is less expensive than regular paint, and it takes at least a few coats of paint to cover a dark wall.
Top of the line, more expensive paint is worth the extra money, but good paint is only as good as the prep work. You get the most for your time and money when you combine good paint with good patching, repair, primer, and application.
Q: What is the best way to paint a ceiling, and should I do that before the walls?
A: Start painting a ceiling on the edges. Using a good-quality paintbrush loaded with a good dose of paint, cut about two inches of paint around the edges and corners of the ceiling. Then, switch to a roller.
Get a four- or five-foot extension pole for the roller. Starting at a corner, paint in sections about three feet square. As you paint each section, roll a W and a couple of X's rather than trying to paint straight lines. This will leave a more even coat of paint on the ceiling. Always overlap one stroke over the last one you rolled. This will ensure that you don't miss any spots.
Whenever you're painting, start at the top. Paint the ceiling first, then the walls. Then do the windows and doors. Paint the baseboards last. This way, any spills or splatters won't land on a freshly painted surface.
Important note about popcorn ceilings: If your house was built before 1978, it is likely asbestos and/or lead was used to create the finish. Before removing or painting a popcorn ceiling, get it tested. If it contains asbestos or lead, hire a certified EPA lead paint certified contractor to do the work for you. Find a testing professional and contractor at cfpub.epa.gov/flpp/searchrrp_firm.htm.
An Arizona home building and remodeling industry expert since 1988, Rosie Romero is the host of the syndicated Saturday morning Rosie on the House radio broadcast, heard locally from 10-11 a.m. on KNST-AM (790) in Tucson. Ask Rosie on the House your homeowner questions by emailing info@rosieonthehouse.com or call (888) 767-4348.