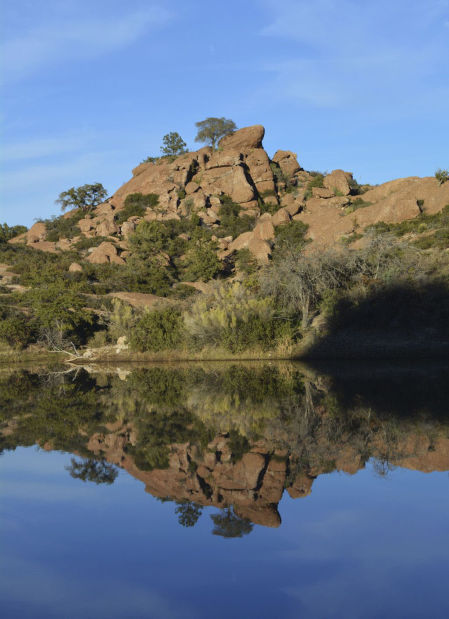 The Oak Flat campground area that will be destroyed by a proposed copper mine has been added to the National Register of Historic Places, based in part on the site's spiritual ties to Western Apache tribes.
But the listing of the site, about 100 miles north of Tucson, has prompted outrage from Rep. Paul Gosar, R-Ariz., who insists it has no special significance to Native Americans.
Gosar backed legislation to privatize Oak Flat and surrounding lands, paving the way for the mine. He recently condemned the "bogus" designation from the National Park Service. The NPS deemed the "Chi'chil Bildagoteel" district, which includes Oak Flat, to be a "traditional cultural property," following a nomination from the U.S. Forest Service in consultation with the San Carlos Apache tribe.
Reps. Gosar and Ann Kirkpatrick, D-Ariz., repeatedly asked the National Park Service to withdraw the nomination.
"Rep. Gosar believes this deceptive behavior points to collaboration between environmental groups, hell-bent on sabotaging a mining project, and the Park Service," Steven Smith, Gosar's communications director, said in an email last week.
But a tribal historian with the Yavapai-Apache Nation — one of the many Arizona tribes opposed to mining at Oak Flat — said lawmakers are both overreacting to the listing and are "ignorant" of the area's significance.
The historic designation won't stop efforts to mine the rich copper deposit beneath Oak Flat, said Apache Elder Vincent Randall, 75. The Yavapai-Apache Nation, comprising two distinct people, is in the Verde Valley, near Sedona.
"It doesn't have any teeth," Randall said. "It's a victory maybe in that more people will understand this is a special place.
"But as far as the designation, it's not stopping the mine."
The listing means that during the pre-mining environmental-review process, stakeholders will have to thoroughly evaluate the impact on the historic site, which could add delays to the mine's timeline, said David Johnson, heritage manager for the U.S. Forest Service's Southwestern region.
"They have to consider and disclose the effects, but it doesn't stop it," he said.
The designation is important from a public-relations standpoint, said Curt Shannon, Arizona policy analyst for the Access Fund, a land-preservation group. Mine supporters have repeatedly denied the importance of Oak Flat, and that's harder to do now, he said.
"There will be a lot more public opinion opposed to this, as a result of the designation," he said.
Resolution Copper Mining LLC respects both viewpoints regarding whether the site is sacred, spokesman Bill Tanner said in an email. Resolution is jointly owned by U.K.-based Rio Tinto Group and Australia-based BHP Billiton Ltd.
But he said the mine's economic benefits are also worth consideration.
"We have also heard from many Native American employees and contractors that work with Resolution Copper, who have told us of the desperate need for economic development and jobs in the Copper Triangle," he said.
SACRED SITE
Legislators who say the site isn't sacred are ill-informed, Randall said. Oak Flat is considered one of the sources of Ga'an, or Mountain Spirits, for the Apache people. It's also the place of origin for the Apache group known as Dilzhe'e, from which a number of today's Apache clans are descended, Randall said.
Gosar and Kirkpatrick objected to the redaction of specific location details in Oak Flat's nomination for the National Register, saying it made it harder for citizens to find and object to the nomination.
But Randall said the specific locations of holy places are a closely guarded secret — even among Native Americans. On the Yavapai-Apache reservation, Apache elders ask that members only speak of those sites in their own language, so tribal members without close ties to their heritage don't know exactly where they are, he said.
Elders fear if word got out, tourists, souvenir seekers or "crystal people and vortex people" would flock to sacred sites and inadvertently destroy them, Randall said.
"Our elders have said if we share some of these most holy places, it gets desecrated," he said. "That puts us out of harmony with our creator."
Tribes in Arizona and New Mexico have submitted letters to Congress and the Obama administration objecting to legislation that turned over 2,400 acres of the Tonto National Forest — including Oak Flat — to Resolution Copper, in exchange for 5,300 acres Resolution owns.
Those writing in protest of the land swap, first proposed in Congress in 2005, included the Yavapai-Apache Nation, the Fort McDowell Yavapai tribe, the San Carlos Apache, White Mountain Apache and Jicarilla Apache, and Tucson's closest tribes, the Tohono O'odham Nation and Pascua Yaqui. The Inter-Tribal Council of Arizona sent letters of opposition, representing its 20 member tribes.
"Sir, I can not begin to express what this land means to the Yavapai People. It simply transcends words," Clinton Pattea, then-president of the Fort McDowell Yavapai tribe, wrote in a letter to President Obama, objecting to a 2009 version of the land swap.
After nearly a decade of failing to pass the land swap on its own, lawmakers, including Sen. John McCain, R-Ariz., quietly added the provision into a must-pass, military spending bill at the end of 2014 — a move strongly condemned by mine opponents and Native American tribes.
SAN CARLOS APACHE
Resolution Copper's proposed mining method — block-cave mining — will extract a huge amount of rock from underneath Oak Flat, eventually resulting in a 2-mile-wide crater as the surface collapses into the underground void, Resolution says.
Members of the San Carlos Apache tribe are camped out at Oak Flat in protest of the mine. San Carlos Apache leaders say the tribe's spiritual beings live within the Oak Flat, Ga'an Canyon and the Queen Creek area. The Apache collect medicinal plants and acorns there, and conduct ceremonies including the Sunrise Ceremony, honoring girls entering womanhood.
Gosar's office points to an opinion piece published last year by a former historian for the San Carlos Apache tribe arguing Oak Flat was not considered sacred until recent years.
"There has not been a long history of ceremonial or cultural activities such as Sunrise or Holy Ground ceremonies taking place at Oak Flat," Dale Miles, former tribal historian for the San Carlos Apache, wrote for The Arizona Republic.
The Apache are not a monolithic group, especially in San Carlos, where Apache from various clans were brought forcibly in the 19th century, said Scott Wood, who retired last year as the Tonto National Forest's archaeologist and heritage program manager. He spent 40 years at the Tonto National Forest, often working at Oak Flat.
"It's true you could find an Apache from San Carlos who says, 'Oak Flat has no meaning to my family,'" Wood said, "but as long as it has significance to some portion of that group, and that significance is recognized by the tribal government and by their appropriate religious practitioners, then it's there."
ARCHaEOLOGICAL RECORD
But Oak Flat's religious significance isn't the only reason why it qualifies as a traditional cultural site, Wood said.
"It's got enough in the way of regular archaeological resources out there, particularly Apache archaeological resources, that it's eligible for National Register, anyway," he said.
Forest Service and other archaeological surveys have uncovered evidence of Apache occupations from the 19th century, such as early villages, small agricultural settlements, rock shelters and roasting pits for processing agave, as well as relics from prehistoric occupation by the Hohokam people.
"It was very clear in the evidence it was eligible for the National Register," Johnson said.