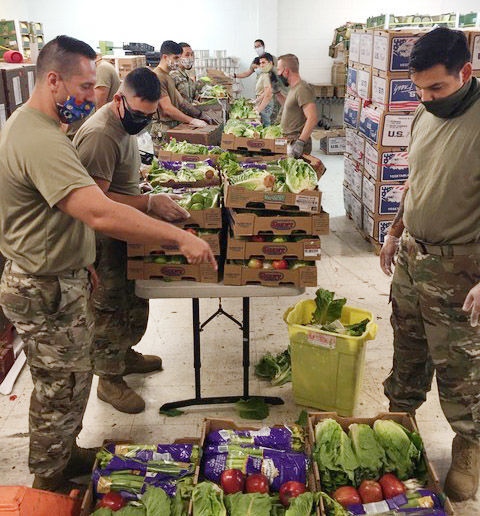 For a core group of 24 volunteers with The 3000 Club Tucson, giving time and energy is all about sharing, caring and neighbors helping neighbors — while ultimately reducing waste.
Named for 3,000 members in Tucson and Phoenix who kicked off the nonprofit with an investment of $100 each to start a small food bank in Nogales and divert truckloads of unused produce from rotting in landfills, The 3000 Club eventually seeded its flagship program, Market On the Move.
The program distributed more than 5 million pounds of produce from various locations around Tucson last year and shared over 2 million pounds with the Nogales Community Food Bank. It expects that number to skyrocket due to the COVID-19 pandemic, according to Pam Boyer, executive director of the club.
"We help fill food banks with fresh produce and it is in abundance since so many universities and schools have been closed and there has been less demand from restaurants. Americans love to give and farmers are incredibly generous in this country and in Mexico, where we get more than 70% of our produce. We take a little lesser quality of produce than supermarkets and can move it directly into folks' hands and to smaller food banks, food pantries and feeding programs," said Boyer.
For a $10 donation, visitors to Market On the Move, or MOM, typically receive up to 60 pounds of produce and items such as dairy and other staples at pop-up locations citywide several days a week.
To help reduce the spread of COVID-19, MOM has discontinued off-site distribution and is offering weekly prepackaged boxes that contain 60 pounds of produce and dairy. The items are available on a drive-through basis from 6:30 a.m. to 9 a.m. every Saturday at The 3000 Club Tucson, 4515 E. 22nd St.
Boyer said each box holds the ingredients for about 20 dinners. She credits partnerships with small local and regional community food banks for sharing resources. The organization also partners with the University of Arizona and the Ishkashitaa Refugee Network to educate the public about different methods for preserving and preparing food.
"We try to rescue food that might be a little ripe or undersized: There is nothing better than cutting into a really ripe tomato that has just come off the vine. Farmers and growers just want their food to get to folks so that it can be eaten," said Boyer.
The organization is not limited to food, but also accepts donations of computers, electronics, household good and medical supplies.
"Our main mission is that nothing useful goes to the landfill," Boyer said.
Computer and electronics recycling, refurbishing, and distribution shifted into overdrive when school went online during the spring. Children with proven financial need are able to purchase a computer for $20, depending on availability; and the program has partnered with several local charter and public schools to provide computers for low-income students.
Volunteer Chuck Nelson, who is retired from IBM, works 40 hours weekly to help put computers in the hands of students.
"I am very fond of that particular program. These computers come in used and I like to put them back into service at least one more time," said Nelson.
Nelson is grateful to the many businesses and individuals for the donations that make the program possible.
"We have great donors giving us equipment to work with and we do the best we can with what we have. No one here is a genius with all the answers, but we work together to come up with ideas and as a group we are making a difference," Nelson said.
Veteran volunteer Moni Ammon, who works about 60 hours weekly, seconded that sentiment.
She emphasized that recycling and reusing are priorities and said computers that can't be refurbished are dissembled for usable parts and precious metals, while unusable produce is used to feed stock of small local farmers and composted.
Ammon said the organization is grateful for any donations, but doesn't accept "pets, kids or anything toxic."
"For everything else, we try to find a home. No one will go hungry or without clothes and other things they need if we have our way. We help homeless people, people who are down on their luck and anyone we can with whatever we have available," Ammon said.
Volunteer Pam Parry said that she finds working with fellow volunteers and customers alike particularly inspiring.
"Every Saturday we have more than one customer that gets a box of food for their $10 donation and they also give money to pay for the people behind them or for people in need. It is wonderful. It just shows you that there are lots of good people left in the world, so when you go home and watch the news, this kind of balances things out," Parry said.
Photos: City of Tucson provides free masks to residents throughout city
Mask Handout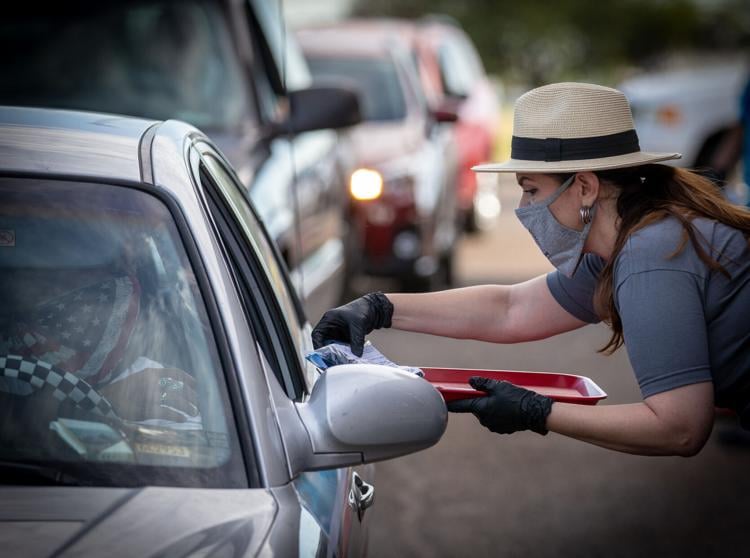 Mask Handout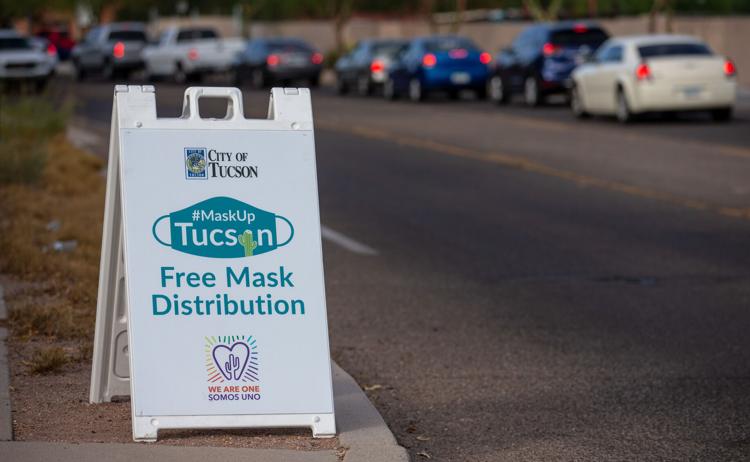 Mask Handout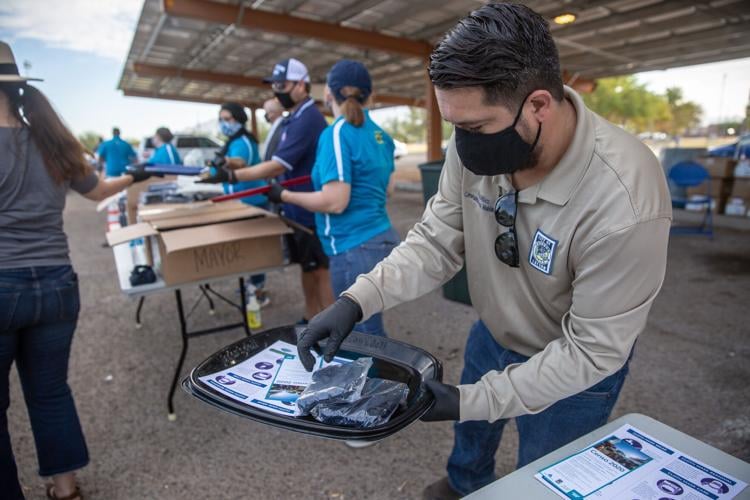 Mask Handout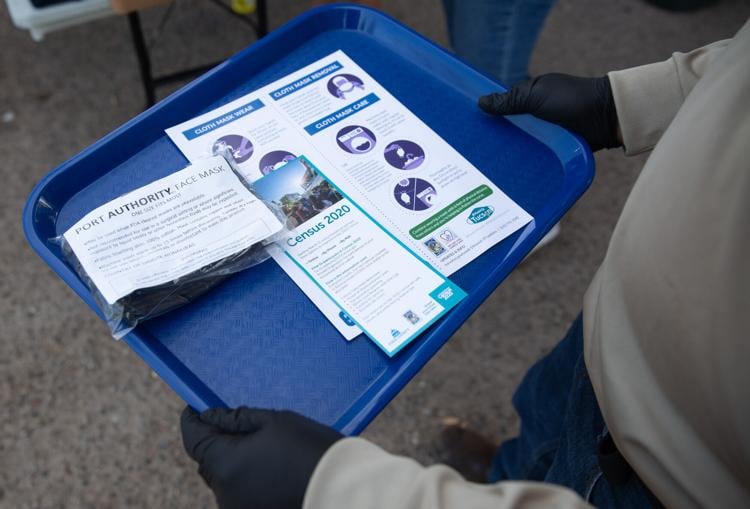 Mask Handout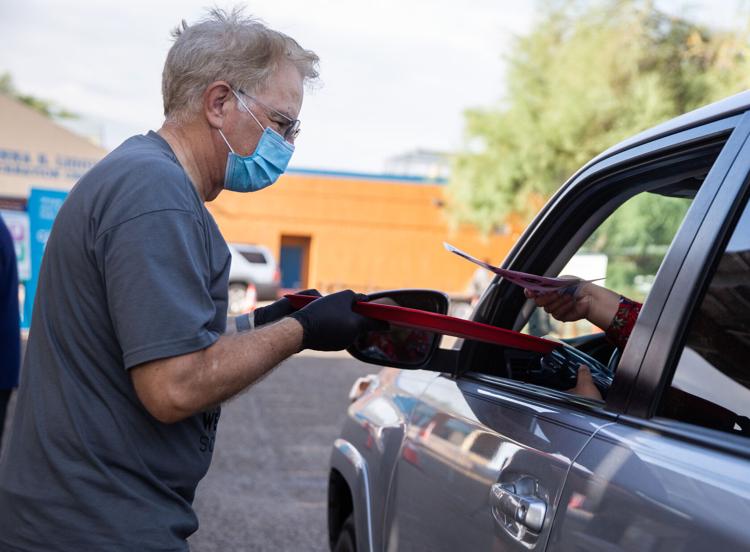 Mask Handout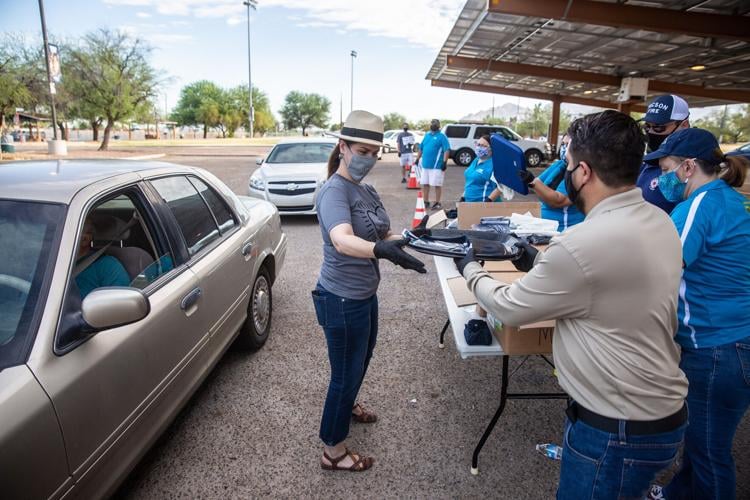 Mask Handout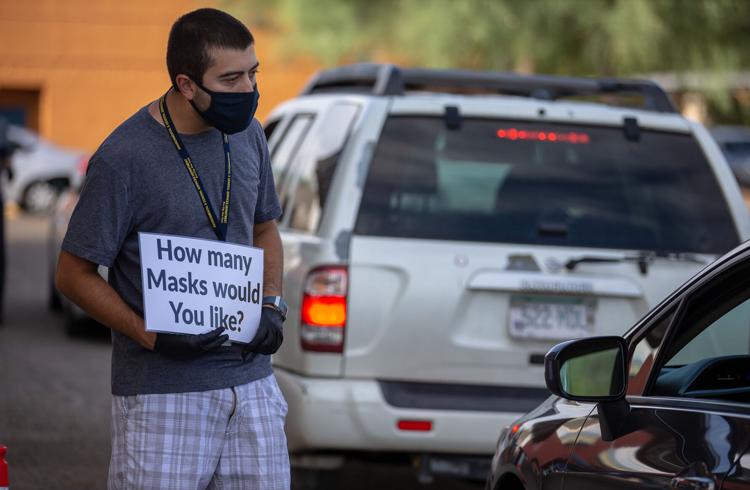 Mask Handout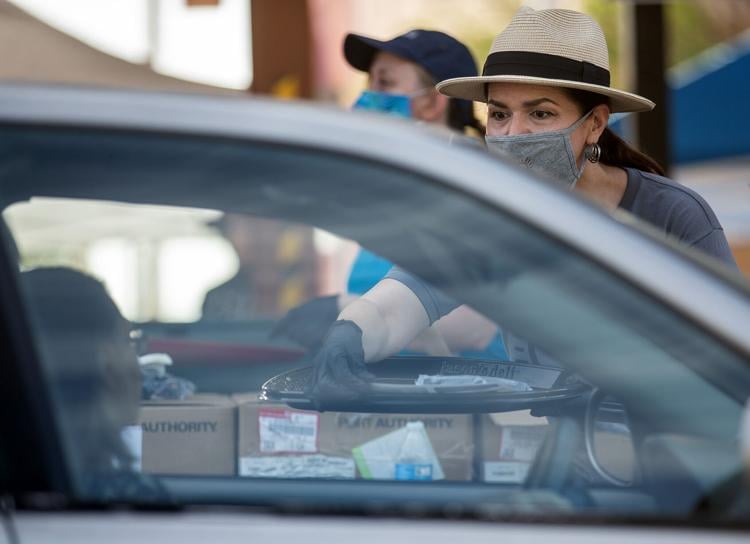 Mask Handout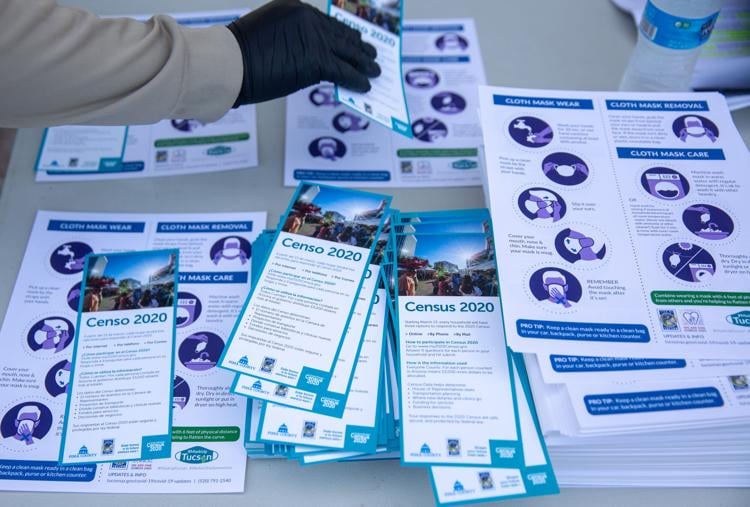 Mask Handout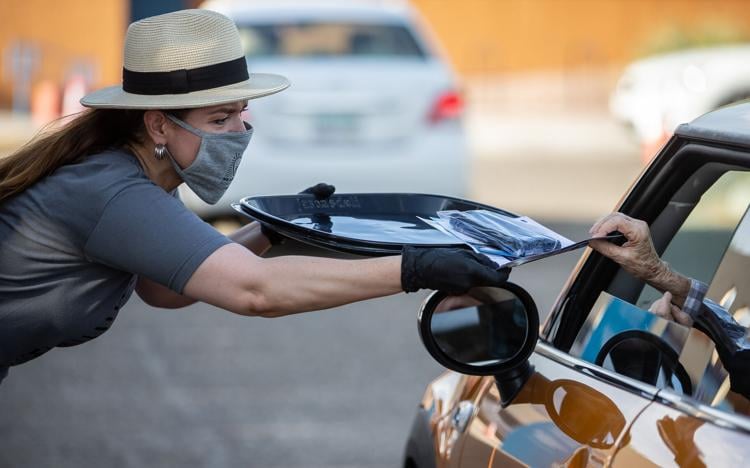 Mask Handout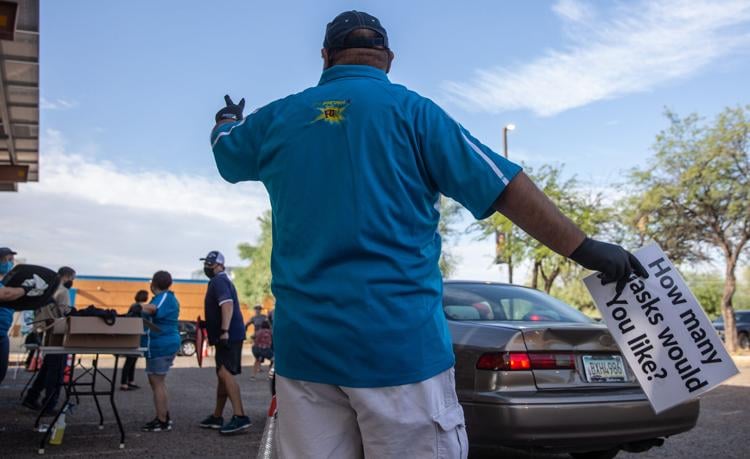 Tucson sees surge in vehicle, motorcycle fatalities despite virus-related decrease in traffic
Tucson's streets have been less busy but more deadly during the coronavirus pandemic, police data shows.
Fatal car and motorcycle crashes have more than tripled so far this year compared to last year despite less traffic on the roads, Tucson Police Department statistics show.
Eighteen drivers and passengers have died so far this year in vehicle crashes other than motorcycles, compared to five such deaths in the same period last year, the data show.
Motorcycle fatalities, which are recorded separately, also have spiked within city limits to 17 deaths this year compared to five this time last year.
Traffic deaths were down slightly last year in Tucson from the previous year.
Meanwhile, pedestrian deaths have declined to 13 so far this year compared to 17 last year. And one bicyclist has died, compared to zero at this point in 2019.
Wildfires such as the Bighorn Fire north of Tucson leave the ground charred and unable to absorb water, which can increase flood risks. "Even …
Nearly a dozen U.S.states have seen death rates rise in lighter traffic, according to the nonprofit National Safety Council, though the increase has not been statewide in Arizona.
The Tucson trend came as a surprise to police Capt. Diana Duffy, the department's traffic safety coordinator.
"I think we all expected accidents to decrease and deaths to decrease," Duffy said in an interview. "Instead collisions are down and fatalities are up."
It turns out that when streets are empty, some drivers tend to get lead feet.
"Excessive speed" was the top factor in most of the recent road deaths, Duffy said.
Impairment also was a factor in some cases, she said, and noted a national survey that found a 200% surge in alcohol sales this past spring.
TPD is aiming to curb the death toll by assigning motorcycle officers to patrol near crash-prone intersections, Duffy said.
It's hard to say how much lighter Tucson traffic has become, though it "absolutely" is occurring, said Blake Olofson, a traffic engineer at City Hall.
A precise count would be expensive and impractical because a full-scale count typically is done once a year, he said.
But some trends emerged in the limited research that exists, a joint study between the city and the University of Arizona that used location data from smart phones to assess Tucson's traffic capacity.
The research showed a noticeable decrease in traffic on Tucson streets when various stay-at-home orders were in place from around mid-March through mid-May.
The trend to higher traffic fatality rates does not extend to roads policed by the Pima County Sheriff's Department or by Arizona state troopers, those agencies said.
Fatal crashes on county roads stand at 18 so far this year, about the same as last year, officials said.
Meanwhile, the Arizona Department of Public Safety, which polices state highways, has seen a steep decline in fatalities. The death toll so far this year is 160 compared to 200 in 2019, officials said.
At least 11 states from coast to coast have seen spikes in traffic deaths, the National Safety Council said.
The council released a preliminary estimate last month based on April data from all 50 states showing a 36% spike in fatality rate per miles, as the number of miles driven dropped 40%.
In a statement on the safety council's website, the group's president and CEO urged drivers to be civic-minded in the era of COVID19.
"Right now, in the midst of a global pandemic, we should take it as our civic duty to drive safely," Lorraine M. Martin said.
"If we won't do it for ourselves we should do it for our first responders, our law enforcement and our health-care workers who are rightly focused on coronavirus patients and should not be overwhelmed by preventable car crashes."
Six sites throughout Tucson handed out masks to residents as a part of the citywide #MaskUpTucson campaign. Each site, located in a respective…