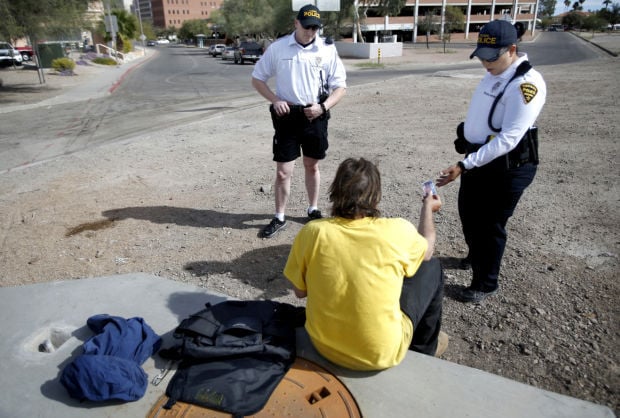 Tucson police and the Border Patrol are violating constitutional rights as they enforce SB 1070, the ACLU of Arizona said Monday.
The two agencies are violating the Fourth Amendment rights of Southern Arizonans by detaining them for more than an hour to conduct immigration checks, the ACLU said in a pair of letters sent to TPD and the Border Patrol's parent agency.
The allegations come from the ACLU's review of 110 traffic stops by Tucson police between June 2014 and December 2015, obtained through a public-records request, the ACLU said in a news release Monday.
The majority of the stops lasted longer than one hour and more than 75 percent of the reviewed cases had "clear or potential constitutional problems," the ACLU said. The U.S. Supreme Court ruled that a traffic stop that lasted eight minutes longer than required to address the basis for the stop was a violation of the Constitution.
Although TPD has made "significant progress" in recent years by revising its policies, the guidance to officers "must be improved substantially," the ACLU said.
With regard to the Border Patrol, the ACLU requested the Department of Homeland Security investigate "improper" Border Patrol involvement in local law enforcement in Southern Arizona.
SB 1070 requires local police to check the immigration status of anyone they stop if they become suspicious that person may be in the country illegally.
Among the alleged constitutional violations were two people who TPD stopped for speeding and detained for about 90 minutes when they said they were "Dreamers," or people who were brought to the United States illegally by their parents when they were children and are allowed to stay in the country if they meet certain requirements.
The Border Patrol responded to the scene but declined to take them into custody, the ACLU said.
In another case, a driver with a suspended license was held for an hour after Tucson police said the driver was in the country illegally. The Border Patrol responded to the scene and determined the driver was a U.S. citizen, the ACLU said.
"TPD's own records confirm what Tucson community members have been saying for years: in many cases officers are going out of their way to transfer people to Border Patrol, regardless of the delay that results or the fact that SB 1070 does not — and cannot — authorize prolonged detention," James Lyall, a staff attorney with the ACLU of Arizona, said in the news release.
In response to the ACLU's letter, TPD Chief Chris Magnus said in a statement that he plans "to give thoughtful consideration to the issues raised in the letter with an eye toward identifying any opportunities to improve our training, policies, and practices."
Magnus said information provided by ACLU in the letter "will be of value in our evolving efforts to retain and further strengthen a trusting relationship with all members of the community, as we endeavor to fairly enforce the law."
Magnus said TPD had already scheduled a meeting next week with the ACLU staff and community members to "discuss our efforts moving forward."
In response to an inquiry from the Star about the ACLU letter, the DHS said in a statement that it is reviewing the letter and "U.S. Customs and Border Protection continues to focus its enforcement resources in adherence to Secretary Johnson's priorities for immigration enforcement, focusing its resources on public and national threats."