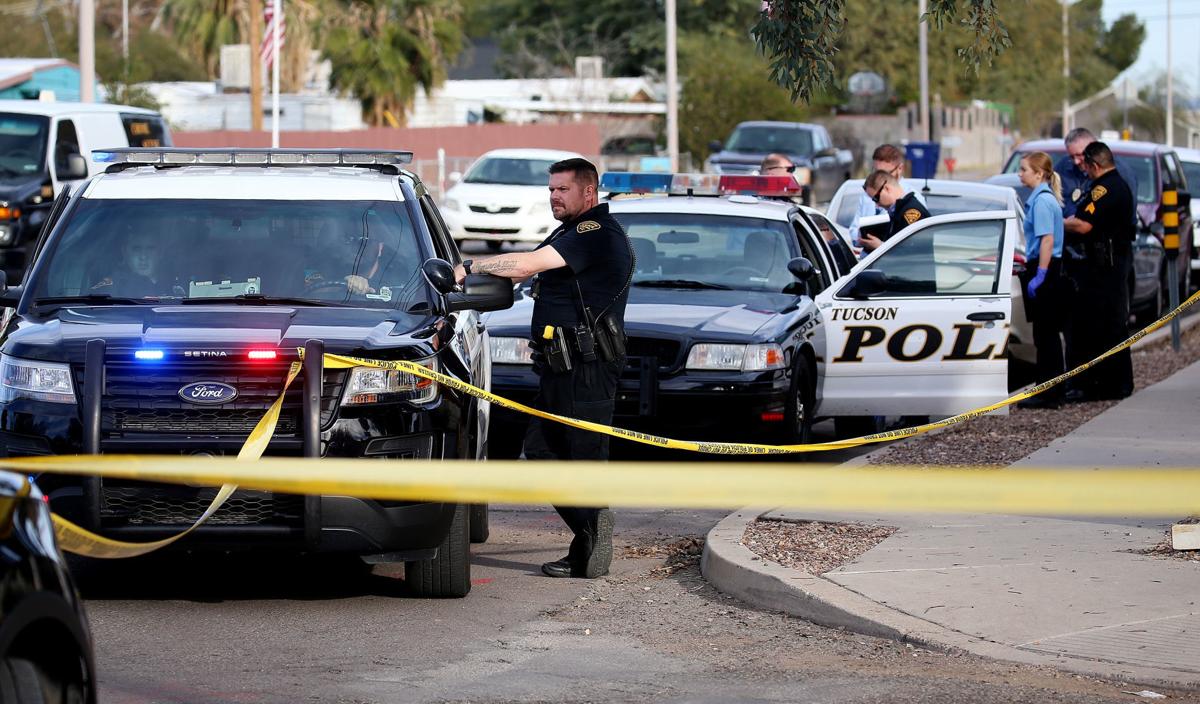 Amid a backlash, Tucson Mayor Regina Romero will ask the City Council on Tuesday to review a recently approved ordinance on recording police.
The discussion is in response to backlash from community members and from rapper Ice Cube after the ordinance went viral on social media posts saying the ordinance makes it illegal to record police.
Romero cited misinformation in her decision to call for further review of the ordinance, which is designed to restrict people's ability to interfere in a crime scene.
"I am going to recommend to Mayor and Council that we receive more community feedback, consider additional language, and bring the ordinance back for further review," Romero said Monday.
Romero sent City Manager Michael Ortega a memo asking to designate 20 minutes in Tuesday's study session to discuss the ordinance.
"After hearing feedback from the community, it is important that we discuss and review what actions this ordinance prohibits and, just as important, what it does not prohibit," the memo said.
The ordinance recognizes that the "public has a clear right to free speech and to record police activities that take place in public." It also recognized that recording police activity and "engaging in constitutionally protected speech alone" is not prohibited, meaning it does not make it illegal to record police.
How it works
The ordinance prohibits people from entering police-restricted areas and says police officers can restrict people from entering crime scenes or areas immediately surrounding where police are working or investigating. It makes it illegal for people to interfere with police enforcement activity and investigations by "knowingly engaging in conduct that materially inhibits, obstructs and hinders or delays" a police officer or community service officer in their official work, the ordinance says.
"The interference could involve crossing into an area that makes the situation unsafe for the officer, those involved in the contact, or other members of the public," Tucson City Attorney Mike Rankin said in an email.
The ordinance says it's illegal for someone to be in a restricted area without permission of a police officer.
Such an offense, a Class 2 misdemeanor, is punishable by a maximum $750 fine, and allows Tucson police to arrest those who refuse to stay outside crime scene boundaries while filming at police calls.
Police or community service officers are allowed to establish the boundaries of a restricted area by using physical barriers, caution tape or telling people that an area is restricted for police activity, the ordinance says.
"Boundaries could be changed based on the conduct of the individuals involved, but this is unlikely once they are set," Rankin said.
He said the distance people will have to stay back "depends on their level of interference or obstructive behavior, so it is not the same for every situation."
"In most circumstances where no one is hindering or obstructing a police activity, no 'do not cross line' or boundary is ever set," Rankin said.
Has it been enforced?
No arrests have been made since the ordinance passed April 21. People who have tried to interfere with police work have "heeded the warnings they have been given" and no arrests have been necessary, Rankin said. He was not able to specify how often people have been warned of the new law.
"As with many new statutes, ordinances, or as we have seen recently, executive orders, a large part of what we work towards is educating the public," said Lt. Colin King, Tucson Police Department chief of staff. "We make sure the individual or group has the information necessary to understand that they are potentially violating the law and provide information on how to avoid further doing so."
Is it overly broad?
Rankin said the ordinance is less broad than similar ones in other cities. He said Tucson city officials examined similar ordinances when drafting Tucson's, including those in Phoenix, Yuma and Mesa, none of which expressly state that people have the right to record police activity.
"TPD officers have been specifically trained in the use of this ordinance," Rankin added.
Legal experts say the law as it stands is constitutional, as long as it's properly applied.
"On its face, the new ordinance seems to respect First Amendment doctrine, which protects recording of police activity in a public space," Toni M. Massaro, University of Arizona College of Law professor and dean emerita, said in an email. "It limits all conduct that might interfere unduly with legitimate police efforts to secure a crime scene, preserve order, and protect public safety. It is not aimed at speech or recordings of police per se."
Massaro said the ordinance will need to be applied neutrally and "not to suppress the gathering of information about police activity."
"It is a balance of the relevant individual rights and police duties," she said.
Paul Gattone, a civil rights lawyer in Tucson, said while the ordinance is constitutional, the language, in his opinion, is too broad and can be abused by police.
"My concern is it gives police full discretion to set this boundary," he said.
He's also concerned the ordinance will deter people from filming officers. But Gattone's first concern was with how the City Council passed the law — rushed and without community input.
The city reached out to the ACLU of Arizona for input on the ordinance but ACLU staff was not able to review the ordinance until after it was passed, the ACLU of Arizona said in a letter to the mayor and council.
"While the Tucson City Ordinance No. 11746 is problematic and raises constitutional questions, it's important for the residents of Tucson to remember that they still have the right to record or photograph police carrying out their duties. We urge anyone who has been restricted from doing so to contact the ACLU of Arizona.
"It is imperative that Tucsonans be given a clear opportunity to comment on such an important matter impacting their First Amendment rights, especially as people across the country, including Tucson, are exercising their right to protest to demand police accountability and an end to police violence."
What is the intent?
The ordinance was adopted in response to a nationwide trend where people show up at crime scenes to record police, looking to create conflicts they can post online for profit.
"The intent is to allow police to conduct their lawful duties without interference or obstruction that makes this difficult, dangerous or impossible," Rankin said.
In one instance locally, a man approached two officers, one of them female, as they guarded the perimeter of a crime scene. When asked to move back, he launched an X-rated tirade, shouting the B-word, the C-word, the F-word and other obscenities for about 20 minutes as his camera rolled.
Romero on Monday emphasized the importance of the public's right to hold police accountable.
"The fear that our black brothers and sisters feel during their interactions with law enforcement is very real," Romero said. "The ability to record members of our Police Department is a critical mechanism for public accountability, and in many instances, the only way injustices and abuses have been exposed across the country."
City Council member Lane Santa Cruz echoed Romero's statement, saying government officials need to be accountable to the people they represent.
"I will always support and encourage the recording of not only police but also when you're talking to your elected representative," she said. "It's important and it needs to happen."
She said the ordinance was passed with the caveat that it would be reviewed to see if it addressed the issue it was meant to and to examine possible unintended consequences .