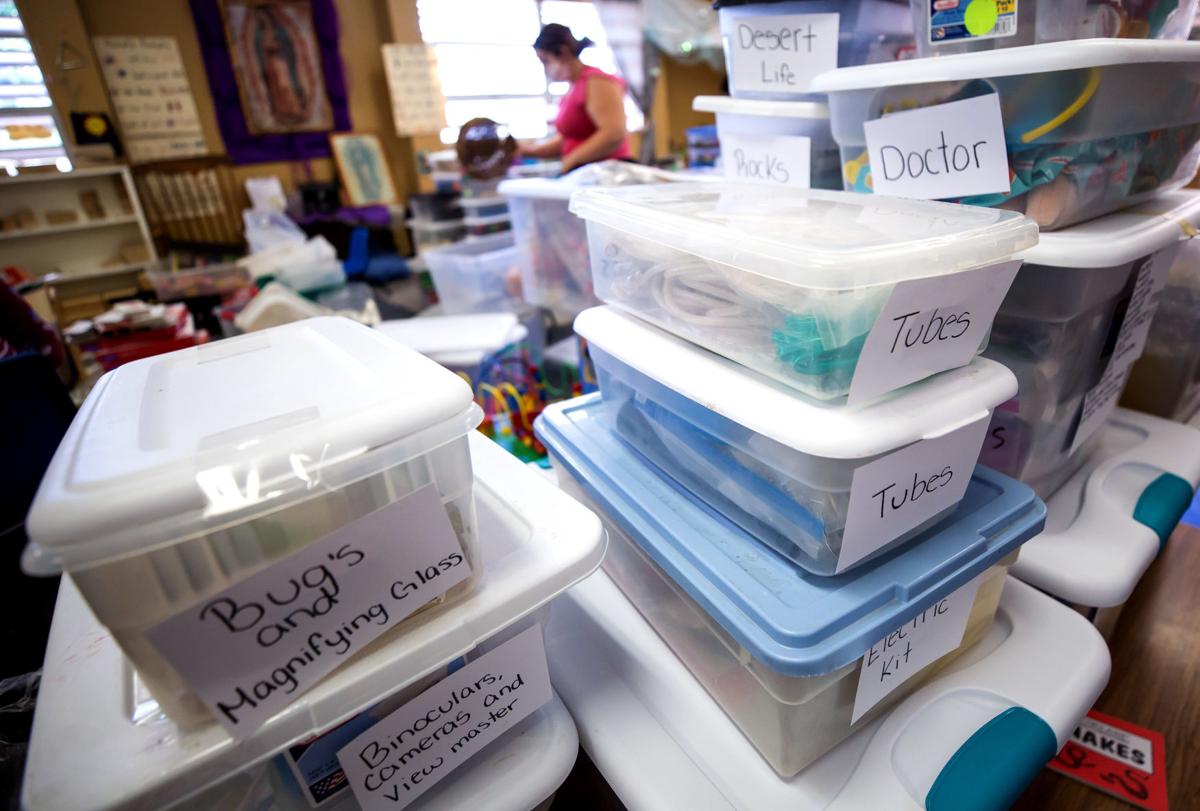 Less than one-third of Arizona's preschools and child care centers are open as the industry struggles to survive the coronavirus pandemic.
That's "terrifying" to Michelle Saint Hilarie, whose job with the statewide Child & Family Resources agency now involves ongoing conversations about how to keep child care alive during the pandemic — and still operating afterward.
Although Gov. Doug Ducey has called for Arizona to gradually reopen after the March 17 shutdown, requests for child care remain low. Hilarie, the agency's senior program director, worries that as the weeks keep passing, more centers and schools will collapse.
There are approximately 2,500 licensed child care centers, preschools and in-home providers in Arizona, and roughly 800 are open. In Pima County, 352 are open, and 255 are still closed.
Those that are operating and following the Centers for Disease Control guidelines are limiting classroom groupings to no more than 10, including teachers, which means they are operating far below their previous capacity.
That's not a business model that can last for long, since costs for many of Arizona's schools and centers are largely covered by tuition.
Long-term closure became Emily McCrea's nightmare within weeks of the March shutdown, when Ducey ordered the closure of all-but-essential businesses and urged people to stay home to stop the spread of COVID-19.
McCrea's Downtown Community School, which she opened in 2012, had 27 children and six employees at the time. Her plan for 2021 was to move her popular school to a larger space, or combine efforts with another school.
When the health crisis started, those plans were devastated. Only a handful of families told her they might still bring in their children and McCrea, like many, closed.
She applied for federal aid but did not receive it. With the fear of a recession looming, she decided to sell the property at 614 S. Meyer Ave.
"Most of us are very fragile operations, and that's really been highlighted in all this," she said. McCrea's school was supported almost entirely by tuition, as well as the $15,000 or so it was able to raise each year through fundraising.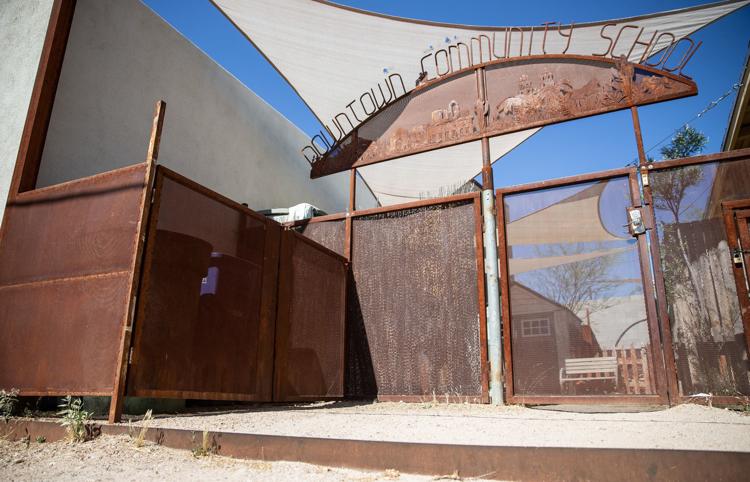 "Our country doesn't recognize that child care is as important as we, the providers, know it is," she said. "Those of us who have created these schools from nothing, know it's but a labor of love."
"Child care is the backbone"
While a lot of families are opting to stay home for now, other factors are stressing the industry, too. Many child-care workers are not returning because of the health risks, and most make more collecting unemployment than they have ever earned in their field.
These issues are what Michelle Crow, Southern Arizona director for the Children's Action Alliance, hopes might be the catalyst for real change.
Child-care jobs are demanding and now also risky and so, she asks, isn't it time to start better compensating the teachers and workers?
"There is just no question that child care is the backbone of anything related to Arizona's reopening strategy," she said. "It's hard to recruit minimum-wage workers back to work during a health crisis."
What has helped the industry so far, Crow said, is Ducey's order requiring the state's Department of Economic Security to keep reimbursing providers serving DES-eligible children the rates they were receiving in January for each child, whether the center is open or not.
Ducey also used funding from the $88 million Arizona received from the federal Coronavirus Aid, Relief, and Economic Security (CARES) Act to start Arizona Enrichment Centers so health-care workers, first responders and other essential employees can receive free child care at existing preschools and centers.
Child-care workers have now been added to that list and can receive free care for their children if they are working, said Barbie Prinster, program manager for the Arizona Early Childhood Education Association. The policy is scheduled to be in place until the end of July.
To help further, Crow has been coordinating meetings between local providers and their city of Tucson ward representatives.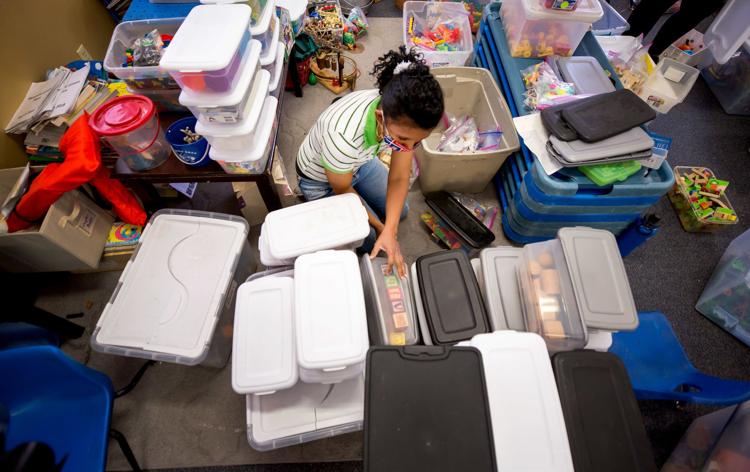 "The situation is serious enough and complicated enough that it is really going to take a multi-jurisdictional effort to save child care," she said.
Tucson's Ward 6 councilman, Steve Kozachik, said the city is planning to put up to $10 million of its CARES Act money into a Community Foundation of Southern Arizona fund to help businesses and nonprofits. Eligibility has not yet been determined, but he wants it to include pre-schools and child care centers.
"Will it work?"
There's practically a new staff on board at Herencia Guadalupana Lab Schools after eight longtime employees told director Ernestina Fuentes they are not returning because of health risks.
Fuentes, who founded the school at 6855 S. Mark Road, is also not sure how many of the 50 enrolled families will actually return when it reopens June 2.
"We are rearranging our space and clearing things out in order to meet the CDC guidelines," she said. "Will it work? I have no idea, but this is what we're going to try."
Uncertainty is typical right now, said Hilarie with Child & Family Resources. More time needs to go by to see how many Arizonans need child care, she said, and how many schools and centers reopen.
Schools and centers that are reopening are carrying out many similar practices recommended by the CDC.
These include staggered drop-offs and pickups, temperature checks in a staffed tent or at the school gate, no parents allowed on campus, and an immediate hand scrub upon arrival. Some schools are closing earlier each day so the staff can thoroughly clean before the next day.
Workers are also using masks around other adults, and sometimes with children as well. They are wearing gloves, sometimes smocks, and the children are being required to have several changes of clothing available to help reduce contamination risks.
Emily Rebro, the Pima County Health Department's child-care liaison, is focused on helping the centers and schools with these details by getting them cleaning supplies, hand sanitizers and protective items such as masks and gloves or putting them in touch with vendors who can. Centers and schools operating as enrichment centers can get supplies through the state.
Calls to providers around the county uncovered a variety of plans.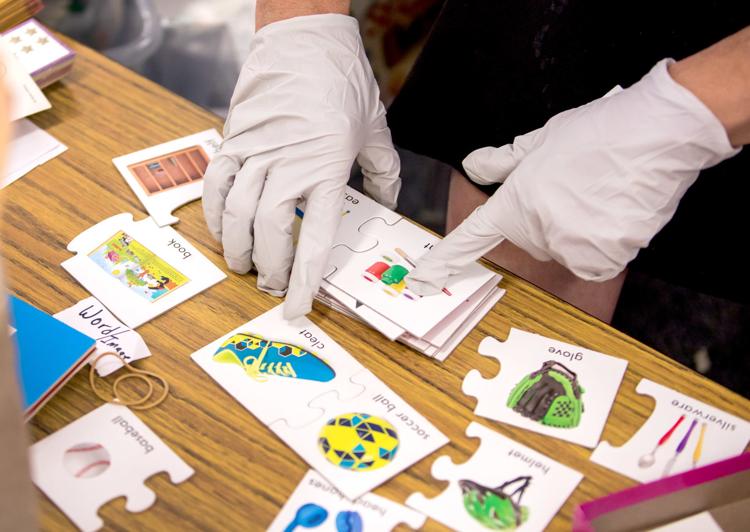 The YMCA of Southern Arizona provided essential-worker care for eight weeks, but that ended Friday. The organization will open two of its child-care centers this week, said marketing director Lauren Burgoyne, with a capacity of only 30 to 40 children total between the YMCA Holsclaw Child Family Care Center, 222 N. Church Ave., and the Mulcahy/City YMCA Child Care Centers, 5085 S. Nogales Highway.
They are accepting returning families as well as new ones, she said. There's no waiting list yet. The YMCA also plans to open its summer camp for between 200 to 300 children, far below the 1,000-plus children it typically serves.
Second Street Children's School, 2430 E. Second St., aims to reopen in mid-July for a modified version of its summer program. Its 10-month school year begins Aug. 3.
"We haven't had to reduce the enrollment because we already had low child-to-teacher ratios, but the way we are arranging the groups of children, and teachers will be different," said director Jenny Barber Douglas.
"The groups will have the same kids and the same teachers all day. We are trying to be as creative as possible to utilize every space in our school and outside space."
Tucson's Adventure Schools, which includes two preschools at 5757 E. Pima St., is reopening after weeks of cleaning and reorganizing.
"As of Tuesday, we're opening up to everyone who was enrolled previously," said owner MaryAnn Penczar. It has added an additional preschool classroom to keep group sizes down to CDC recommendations, she said, and anything that can't be easily sanitized has been removed.
"Torn on the whole matter"
Many parents with children at Robin Stirling-Kottabi's Sandbox Early Childhood Learning Center work in health care or behavioral health, and they were hoping for her to keep the school open when the pandemic hit.
"I had parents say, 'If you close, I have to close my clinic,' " she said. The school, at 2701 N. Swan Road, is operating at about 20% capacity, a steep drop from the 175 students it had in March.
She said the school is getting calls from people looking for child care but is not taking new families for now.
"It was hard enough to have the staff stay on with all of the unknowns of the coronavirus," she said. "We decided to just keep the students that we have now."
The decision of whether to take a child back to child care or preschool, and risk possible infection, has been an agonizing one for many Tucson parents.
"Parents are calling and texting because they are frightened so I sent out a letter and told them how we're trying to keep it safe," said Fuentes of Herencia Guadalupana Lab Schools. "The impact (of COVID-19) on families and children is dire."
For Mary Bond, a single mom, work pressures and a personal loss meant she needed to put her toddler back in child care after initially keeping her home.
"It's a wonderful family, and that's why I felt comfortable bringing her back," Bond said of the home-based care she utilizes. "It's a very small setting."
There are two other children attending part time, she said, so it's a good mix of adult attention and playing with other children.
When the pandemic hit, Katie Marwitz's 3-year-old daughter was attending Northminster Christian School at 2450 E. Fort Lowell Road.
The school, which has been closed, is reopening June 1, and Marwitz is conflicted about her family's decision to keep her daughter home.
"I'm so torn on the whole matter," said Marwitz, who also has a 1-year-old child. "I would love to send her back. She gets so much out of it."
She also wants to support the school her family has grown to love and looks forward to having both children attend together one day.
"We adore the teachers and other families there," she said. "We just hope everyone stays safe in all this."