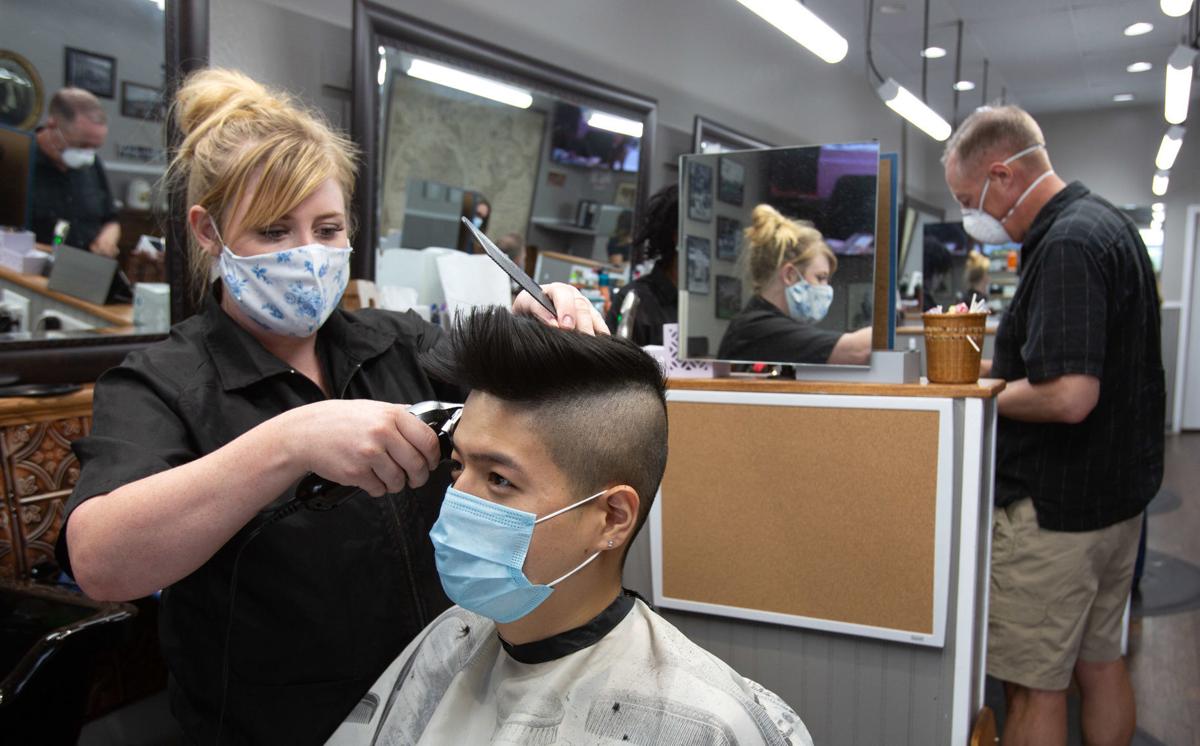 Many Tucson barbers and stylists are now back behind the chair, this time wearing face masks and with new procedures to keep clients and themselves healthy and protect against the spread of the coronavirus.
If you're headed to the salon to finally have your roots touched up or to the barber to fix that DIY "coronacut," you can expect lots more hand- washing or glove-wearing, waiting in your car for your appointment time, leaving guests at home and having your temperature checked, just a few of the new policies local businesses have put in place.
"Safety is very, very important to me. I'm taking this thing very seriously," says Dustin Eckhoff, who has been a barber for more than 15 years and helps manage CDO Barbershop, which reopened Friday. "My wife is a nurse and she's kind of been furloughed right now because the hospital is slow, but she works with lots of nurses who are on the COVID unit and so this thing is very serious in my opinion, so we're going to do everything we can to keep people safe."
Gov. Doug Ducey announced on Monday that salons and barbershops could get back to work on Friday, offering services as long as they "establish and implement protocols and best practices for businesses to address COVID-19," according to an executive order.
Those best practices include face masks for employees and customers, only taking appointments and following other protocols from state and federal agencies like the Arizona Department of Health Services and the federal Centers for Disease Control and Prevention.
"These are recommendations and guidance. Businesses know best how to implement them in order to ensure the safety of their employees and customers," Patrick Ptak, a spokesman for the governor's office, said in an email.
Eckhoff, like many other salon and barbershop owners and employees, says they are doing all they can to adhere to those guidelines and are going even further when possible.
"There's a couple of areas where they've kind of left it up to people's discretion in a way," Eckhoff says. "Like for instance, it says 'encourage clients to wear masks' and then it says 'when possible,' and there's a couple of things like that."
CDO Barbershop is requiring employees and customers to wear a face masks, which also means that they are not currently offering services like beard trims and face shaves.
"We would rather err on the side of safety and that's hard to do because the No. 1 thing you want to do in your industry is make your customers happy," Eckhoff says.
"I know some customers aren't going to want to wear masks. Some customers are going to want to have their beard trimmed or their face shaved and that's the hardest thing."
But Eckhoff said the health and safety of everyone coming into the shop outweighs disappointing some customers.
"Our biggest concern is trying to make sure everybody's safe. We really want to go above and beyond to make sure that nobody coming into our establishment is getting sick," he said.
"I cheated a little on March 7. My son is a barber." said Carl Arnal, a customer at CDO Barbershop. "I started panicking when they talked about (reopening) in the middle of May."
"I will definitely enjoy this one'" Arnal said after settling into the barber's chair.)
"EMOTIONAL ROLLER COASTER"
Jessica Robinson-Kimes, a stylist and owner of Mingle Salon and Spa, is opening on Monday and said the last few weeks have been an "emotional roller coaster."
She said she first felt anger and sadness when she had to close a business she's worked so hard to build in the first place. Then came acceptance, followed by the rush to get things up and running again.
"We're excited to get back to work. But we just want our clients to really know we're taking all the procedures that we can to keep you safe, but you also have to remember we have families, too. We need to stay safe," she says. "You know it's not all about the clients, it's about us, too. I need to stay healthy for my children and I don't want to take that home to them. I have an 83-year-old grandmother who lives next door to me. I can't get her sick."
Anyone coming into the salon will have their temperature checked. She plans to ask clients if they've had any symptoms, or been around anyone who has, and to wear a face mask. She is making sure that stylists do not double-book services so less than 10 people will be in the salon at a time. Also she wants appointments spread out to allow enough time for areas and tools to be disinfected.
She's also requiring clients to buy their own cape to prevent spreading any germs and to avoid using disposable capes, which she'll sell at cost, from $5 to $10.
"They can wash it at home and then bring it back with them for their next appointment," she says. "It really concerns me to have all that plastic go into the landfill. We're already overfilling it and (disposable capes) are just going to make it worse."
The salon has six team members who work in a 2,000-square-foot space. Two of them work in private suites to do lash extensions and facials and nobody is allowed to wait in the waiting area, so there won't be more than eight people on the salon floor at any time.
"I just really hope the clients and everybody are patient with us, even people who don't agree we should be open," Robinson-Kimes, says. "We have families to feed, too. ... We still have to pay our bills, our landlords are not letting us off the hook. We still have to pay for our spaces and all that stuff and we're doing as much as we can to protect people.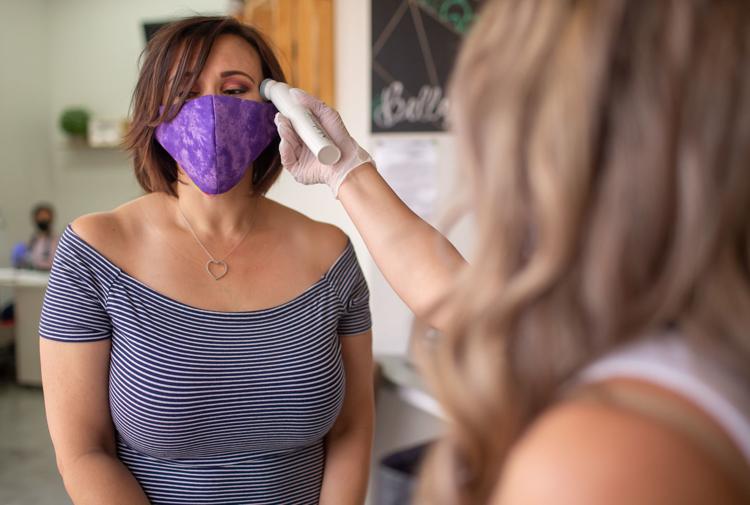 "Honestly, I really think you're at less risk, at least in my salon where we have enough space, than you are at a grocery store. The last couple weeks I've been seeing the grocery store parking lots and they're packed. ... There's hundreds of people in there and a lot of them aren't wearing masks and the whole 6-feet thing is not going down in Walmart."
Irma Arias is also prioritizing safety above everything else at the two locations of Bellazza Beauty Bar that she owns. She takes great pride in being overly prepared for any situation. Her salons are well-stocked with disinfectant and cleaning supplies, and there are temperature checks. Clients will have to wear masks and gloves. And her team will be in face shields.
"From what I hear, the masks don't protect very well unless they're filtered and we couldn't find any filtered masks so our best option was the shields," she says.
Bellazza started off slowly, with only eight of 36 stylists returning to work on Friday. More will be phased in over time.
"We don't want to put anybody at risk, especially our guests or our employees because safety is our No. 1 priority," she says. "That's why we're only allowing a certain amount of stylists to come back and we're also going to have all these precautions because we don't know what the outcome is going to be in a few weeks, so we don't want to be responsible for anybody else getting sick."
She's also asking her clients to sign a waiver when they come in for services.
"If, for some reason, they get sick somewhere else and they think they got the virus at our salon, we want to make sure that they don't blame the salon because we're taking all the precautions necessary," she says.
"It's weird that there are fewer people," Caroline Stelmach, a Bellaza customer, said Friday, adding that the new procedures implemented at the salon made her feel safer.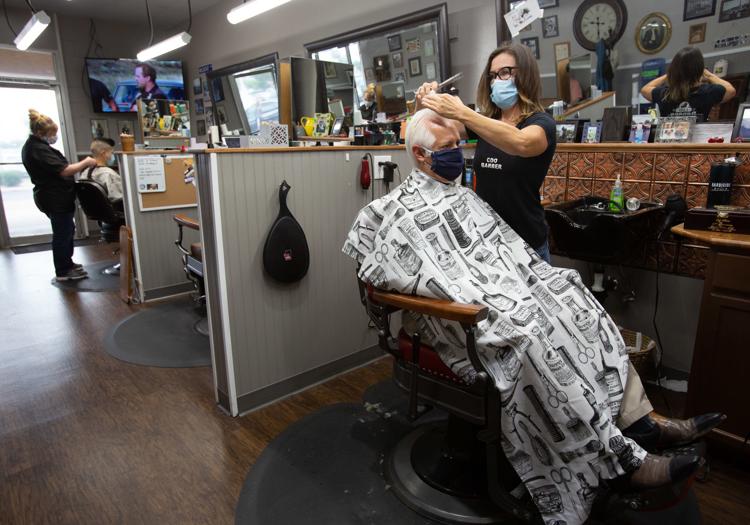 Stylist Emilee Refre at Willow Salon says the salon chose to wait until Monday to reopen to have extra time to deep clean and set up a new contactless payment system to avoid handling cash and checks. The salon is scheduling staff to work different shifts to reduce the amount of people inside at one time and everyone will be in face masks.
She's excited and nervous about going back to work.
"I had seen a few articles of college students going out and kind of not practicing social distancing and over at our salon I feel like that's a majority of our clients. So I'm a little worried that other people weren't being careful," she says.(
Like other salons, Willow let its staff decide whether they were ready to return to work or not. Refre ultimately decided it was best to come back to reconnect with her clients.
"When we have our appointments, it's more of a therapy session than it is just getting your hair done," she says. "Personally, I've had family members commit suicide and I've been reading a bunch of stuff about how suicide rates are higher and all these things and I know it sounds really silly but something as simple as getting your hair done and getting to vent about something, I know it makes someone feel a lot better.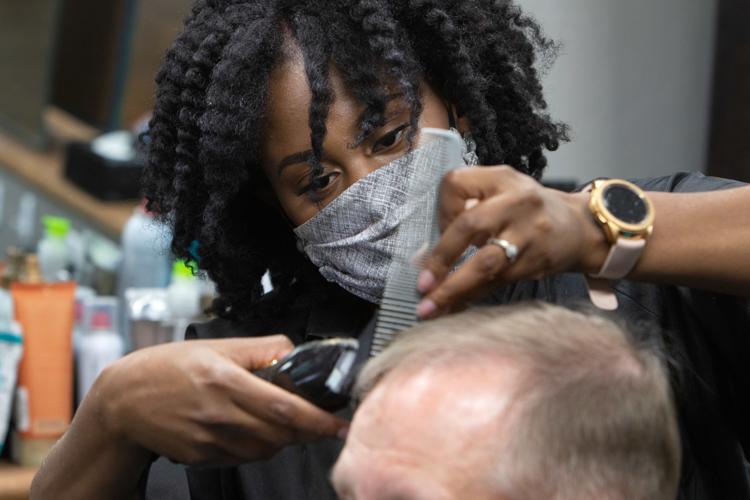 "I was nervous about the sickness, but I figured going back and seeing my guests would still be an opportunity to kind of help people feel better about the situation and just have someone to talk to."
Star Photo Editor Rick Wiley and photographer Josh Galemore contributed to this story.