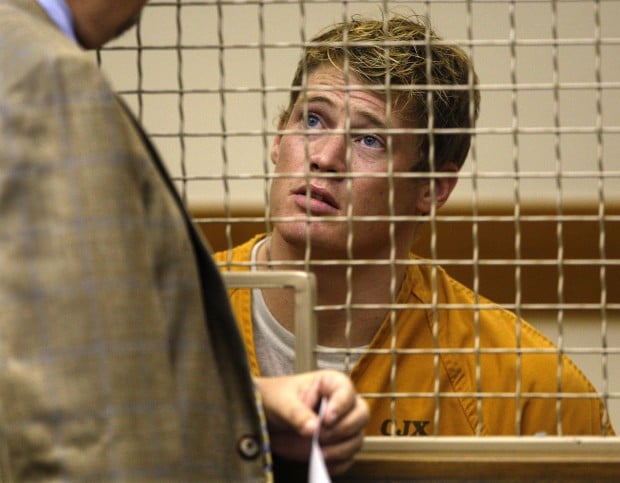 The tragic story of a decorated soldier accused of a brutal murder came to an end in Sahuarita last week.
John Wylie Needham, 26, was free on $1 million bail in connection with the September 2008 beating death of his girlfriend, aspiring model Jacqwelyn Villagomez, in California.
He died at his mother's home in Sahuarita where he had been recovering from surgery for wounds received in battle.
"I have been through hell," his mother, Cynthia Northcross, said Friday. "I haven't even had a chance to grieve."
On Thursday, the family held a private ceremony for Needham in Tucson.
Northcross said her son had surgery at a Tucson hospital recently and a visiting nurse was providing care for him at her home.
The mother said she found her son unconscious on Feb. 19 and began cardiopulmonary resuscitation, but could not revive him.
A cause of death has not been determined.
Needham was a member of an infantry special-operations unit - nicknamed the Lethal Warriors - and was deployed to Iraq in 2006.
That unit was documented by journalists, including those for the Web site Salon.com and The Gazette of Colorado Springs, after soldiers returned to Fort Carson near Colorado Springs and some were charged with committing violent crimes. The Army at that time was accused of failing to treat their combat stress.
The crimes included robberies, stabbings, beatings, domestic violence, shootings, attempted murders and homicides, The Gazette reported.
The unit suffered heavy casualties in Iraq and soldiers' lives were filled with roadside bombs and carnage, according to the series.
Needham, who received a Purple Heart, was wounded by a grenade and suffered a brain injury, and shrapnel in his legs and back, says a Salon.com piece. The article also says Needham suffered mentally and tried to commit suicide. He was sent home and received treatment at Walter Reed Army Medical Center, and when he arrived at Fort Carson Needham was punished, rather than treated for his mental issues, news accounts say.
In July 2008, Needham received an honorable discharge and partial disability, but his benefits did not provide for full access to mental-health treatment, according to news reports.
He moved to California, and on Sept. 1, 2008, Orange County sheriff's deputies responded to his home after a 911 report of a fight.
When deputies arrived at the condominium they found Needham naked and combative, a news release from the Orange County District Attorney's Office said.
Deputies zapped Needham with a Taser and found Villagomez severely beaten and barely breathing. She was transported by paramedics to a hospital, where she was pronounced dead, according to deputies.
A pretrial hearing was set for March 19 on the murder case in Orange County Superior Court, but now the case will be dismissed, said Susan Schroeder, public affairs counsel for the District Attorney's Office.
"My life has changed from all this tragedy," said Sarah Sevino, 23, Villagomez's foster sister who lives in Lake Forest, Calif. "We have to use this as an experience to change our lives, better our lives," she said, explaining that she and other family members are turning their anger into positive actions.
She and her younger sister both speak out against domestic violence and volunteer for a support group that works with abused women and children.
Villagomez was a high-school track star in hurdles, loved to act, sing and dance, and her goal was to become a model. After high school, she moved out to pursue her dreams, and she worked as a waitress and landed some modeling jobs, Sevino said.
She said her family lost close contact with Villagomez months before her death, but said Villagomez and Needham met at a party three months before she died.
"This horrible tragedy has made me such an angry person. This is not me. I need to let go of this anger," Sevino said. "His (Needham's) family also has lost a son. I don't know how I feel about his death.
"But my heart goes out to his family," she said. "We are all victims in this situation."