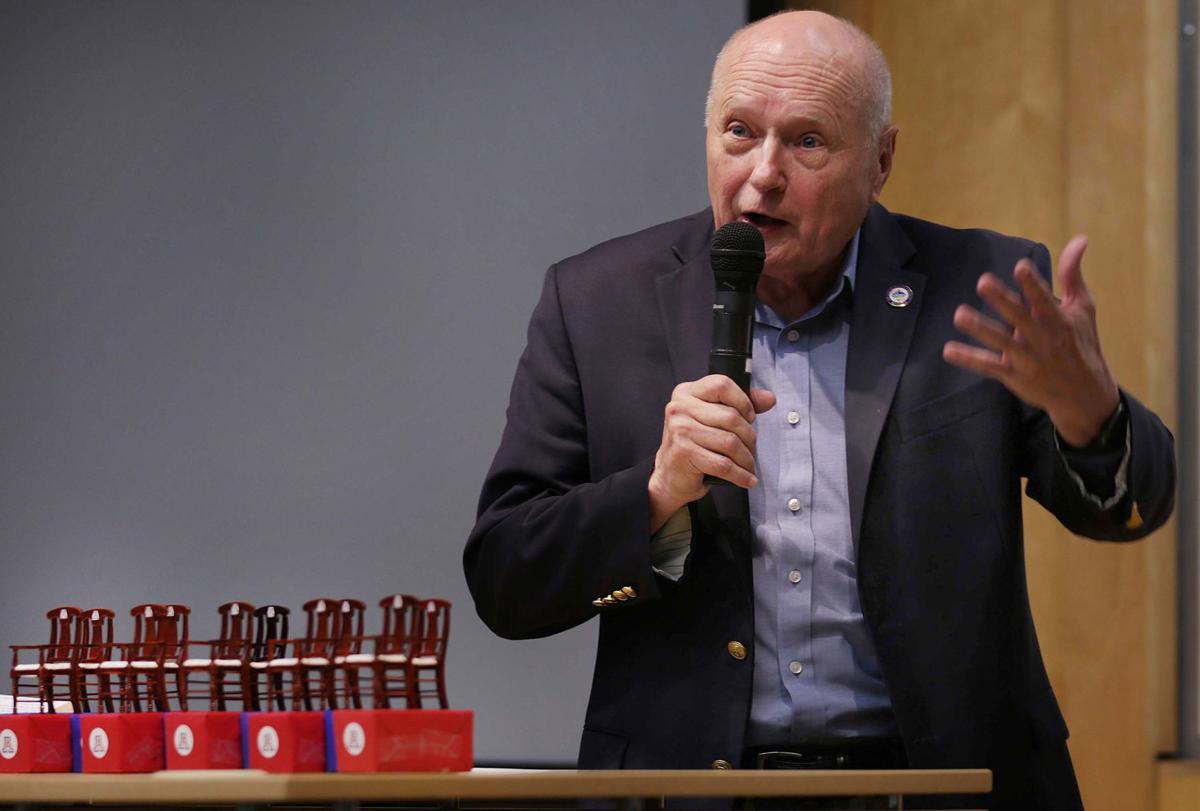 The University of Arizona College of Optical Sciences announced Friday it has received a $20 million endowment, the largest of its kind in UA history.
Given by James Wyant, the founding dean of the college and business entrepreneur and his family, the Distinguished Endowed Chair in Optical Sciences Fund will be used to create 10 endowed chairs, which are research positions funded by proceeds from the endowment gift.
The money will allow the college to hire top faculty members to advance research , said optical sciences Dean Thomas Koch at a news conference announcing the gift.
UA President Robert Robbins said Wyant's leadership and vision played a big role in making the college as successful as it is today and said the endowment, bearing Wyant's name, will push the college to even greater things.
"(We have) a lot of gratitude and love for what you've done for this college and this university," Robbins said of Wyant at the news conference.
Previously, Wyant has given other gifts to the college, notably a $10 million endowment in 2013 to help create scholarships for 30 first-year optical sciences graduate students.
Wyant said he felt that he owed the UA for being so good to him during his time as a professor and dean and allowing him to work part time for 13 years to grow a company he started while at the UA. In return, he has continued to give back to students and faculty with his gifts.
Wyant started several successful Tucson-based businesses in optics, including WYKO Corp. and 4D Technology Corp.
"I really felt that we needed more faculty," Wyant said. "While the faculty we have is superb, no doubt about that, I truly feel that this is the best optics program in the world, the field of optics and photonics is really expanding right now, and if we want to remain the top program in the world, we have to have more faculty."
The College of Optical Sciences has been steadily growing since it was established in 1964 and has awarded more than 2,800 degrees to students in that time. Koch, who has been the college dean since 2012, said this gift is an example of what a close community the college has.
"It's a community of people committed to excellence in education and excellence in research and supporting each other, and I don't think we could have a more outstanding example of that than Jim and his family," Koch said.
Wyant joined the UA as an assistant professor of optical sciences in 1974. In 1999, he was named director of the Optical Sciences Center. He became founding dean as he led the transition of the center to a college in 2005, the UA says.
Koch said the endowed chairs will be used to grow the college by bringing on new professors who are leaders in the field, and those 10 positions represents a 30 percent increase in the size of the college. There will be two chairs added each year for five years.
"I'm personally incredibly excited about what is before us. I have this vision of explorers," Koch said. "We've got a mandate now to go out there, and the applications of what we can do in optics and photonics, it's exploding. ... We have the privilege and responsibility to play a huge role in that."
A new optics research building that is planned for campus also will help realize this vision, Koch said.
While this is the largest endowment in UA history, Wyant said there is also an opportunity for other donors to match those funds.
A separate endowment will be created with $1.5 million of the original gift, and other donors can give $500,000 to create additional named endowed faculty chairs. Koch said the hope is to use that matching program to raise the total of new endowed chairs from 10 to 13 in the next five years.
"For a half-million dollars you can have a chair with your name on it, too," Wyant joked.
Wyant also pointed out the money he is donating came from businesses he started in Tucson. He encouraged other faculty members and graduates to do the same and take advantage of the "fantastic opportunity" Tucson has for optical sciences.
"I hope that this $20 million will not only make the College of Optical Sciences better, but I hope it makes the whole community better, with more optics companies in Tucson," Wyant said.
Marissa Heffernan is a NASA Space Grant intern at the Star. Contact her at mheffernan@tucson.com or 573-4164.