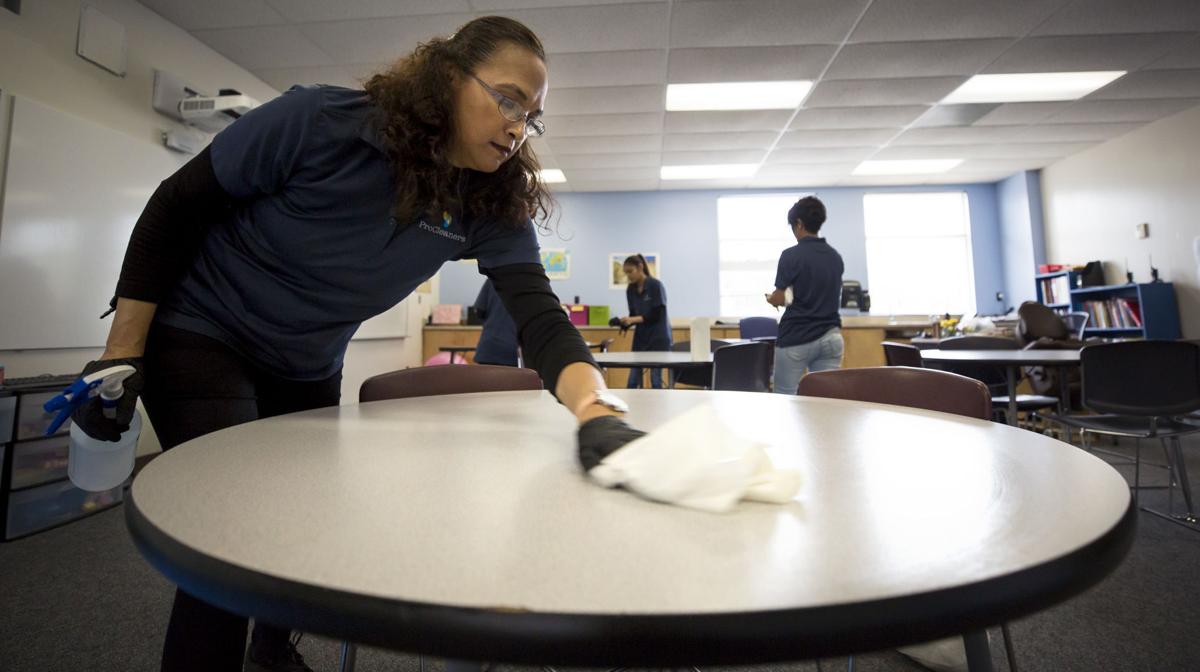 Despite nearly 1,000 known cases of COVID-19 in Tucson-area schools, local Health Department officials continue to recommend classrooms stay open because the transmission rate on K-12 campuses continues to be much lower than the community as a whole.
The transmission rate inside schools is about 2.8%, according to county data. The number of cases in schools is growing — from 924 to 997 over just three days this week — but the vast majority of them are being contracted outside of schools.
When the Pima County Health Department recommended schools open for hybrid in-person learning at the end of September, COVID-19 numbers were improving. Today, many of the public-health data points are back in the red, including the number of coronavirus cases in the community, the percentage of tests coming back positive and the diminishing hospital capacity.
But mitigation in schools seems to be working. Requiring masks, social-distancing and contact tracing to help fight the spread of the virus is in large part keeping COVID-19 outbreaks out of schools, says Brian Eller, the county Health Department's school liason.
"Evidence is showing that in-school transmission is really low, primarily because of the mitigation that schools are enacting at their sites," he says. "When they're choosing to wear masks, when they're choosing to socially distance at their sites, it's going to have the natural consequence of reduced rates of transmission. So that factor is a huge reason for why we're saying that we want to support hybrid."
Among the 924 COVID-19 cases in schools reported to the public-health agency from August to Dec. 1, there were 19 outbreaks involving 72 cases.
An outbreak is two or more cases that are epidemiologically linked — laboratory-confirmed cases within a 14-day period among individuals who do not share a household and are not close contacts of each other in another setting outside of school.
Those numbers give Pima County schools a 7.8% transmission rate, but the majority of those cases are related to high school sports. Of the 72 cases involved in transmission on a school campus, 46 were associated with athletic activities such as football or cheerleading.
The Health Department has been adamant that contact sports are problematic right now, Eller says.
"This is going to cause more outbreaks in our classrooms, and that's evident from the data that we have on that," he said.
Most Tucson schools stopped high school football last week following a strong recommendation from the Pima County Health Department. Two private schools, Salpointe Catholic and Pusch Ridge, chose to continue sports despite the warnings.
There have been 26 coronavirus cases, as of Dec. 1, associated with transmission in a classroom setting. And some of those cases came from instances where people weren't following the safety protocols, either from staffers or students socializing and not social-distancing, or from special education classes where social-distancing and mask-wearing isn't always possible depending on students' needs.
Further, in about half of the outbreaks there was only one person who became infected through on-campus transmission, which is in large part due to good mitigation measures.
"Even when those outbreaks occur, we're catching the positive case enough in advance to where the people who are exposed are sent home to quarantine in a timely manner to contain the virus," Eller says. "And then they're testing positive when they're already in quarantine."
For months, local health officials and school leaders have been asking the public to wear masks and social-distance, and this ask is only heightened as the health metrics that allowed schools to open become more dire.
"The last thing that we need to do as a preventative measure — the very last thing — is shut down our schools," Eller says. "That should be the absolute last option on the table. We should be taking away all the other options before that: The bars need to get closed down; the gyms should close back down, the restaurants. From a public-health approach, that's the correct way to do it."
"The problem isn't the schools," he said. "So why would we shut down something that isn't part of the problem. The problem is all these other social settings. … It doesn't make sense to shut down something that's working."
Despite transmission in schools being low, the number of cases and people being asked to quarantine due to potential exposure is growing. And some teachers are still nervous about being in the classroom, especially those who are older or have health complications.
Marana Education Association President Sandy Faulk says that many teachers she has spoken to are concerned about the rising numbers.
"Some have asked why we are not going back to remote but appreciate that our district is committed to follow the metrics from Pima County Health Department," she said.
In Amphitheater, a survey conducted by the Amphi Education Association with 369 staff responses, found that nearly 57% of respondents want to return to remote-only teaching. Another 16% wanted to keep hybrid classrooms, but with changes to the current model.
The association president, Lisa Millard, says that while teachers are still concerned about safety, many feel that the protocols in place are working. The bigger concern now is that as numbers grow, some families are choosing to keep their kids home, which is affecting learning, she says.
"People are afraid to come because there's been a case reported at school," she said.
Families deciding to keep their children home from in-person hybrid learning factored into the Sunnyside district's decision to return to remote-only learning.
Tucson's second-largest district was also struggling with another challenge to keeping schools open — staffing shortages due to the numbers of people quarantining.
Sahuarita Unified returned its high schools to fully remote for at least the rest of the semester, citing staffing issues and absenteeism, along with the rising number of cases in the community.
And Vail's Esmond Station recently closed for two weeks because too many staffers were in quarantine to keep the school open.
Staffing is another reason why officials are pleading with the community to follow virus safety protocols, says Pima County Schools Superintendent Dustin Williams.
"Please do whatever you can to mitigate the spread so we can keep the schools open for the kids' sake," he says.
"The ask to the community is help improve the numbers because the last thing we want to do is go back to full remote," Williams said. "That's just going in the wrong direction completely. You can't put the schools back in full remote and keep bars and restaurants open. That makes no sense."
Photos: Back-to-school in Tucson during the pandemic
"Mustang Stampede"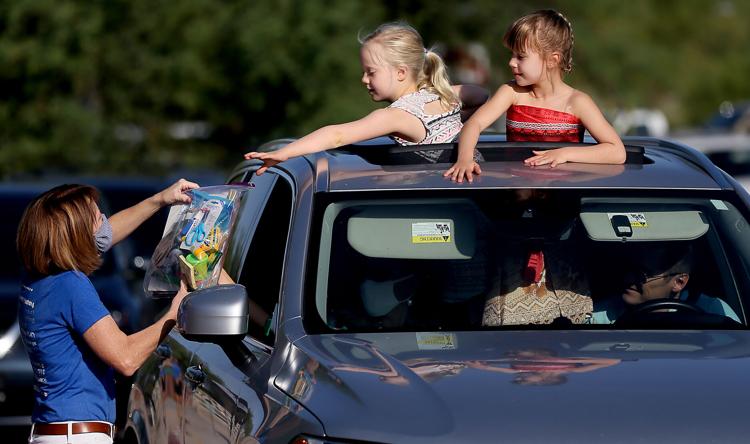 First Day of School, John B. Wright Elementary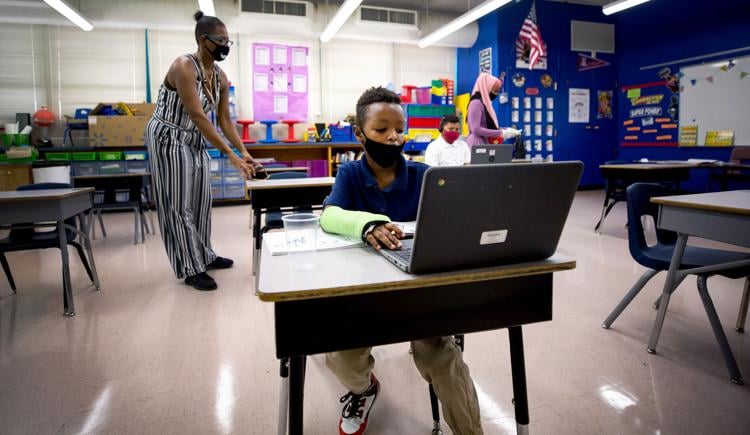 "Mustang Stampede"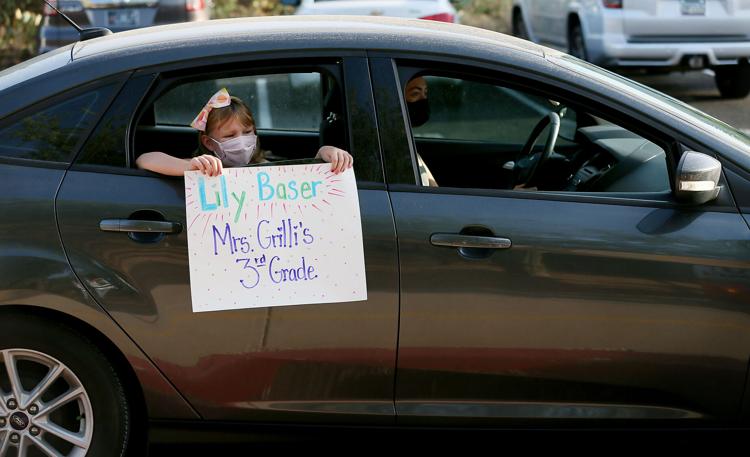 "Mustang Stampede"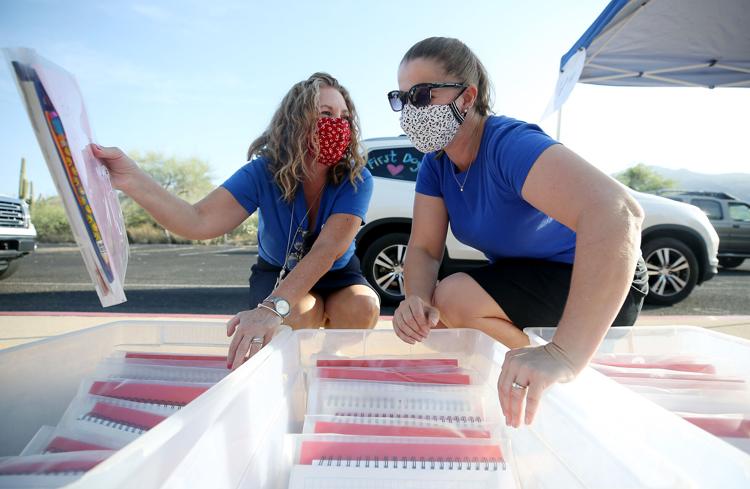 "Mustang Stampede"
"Mustang Stampede"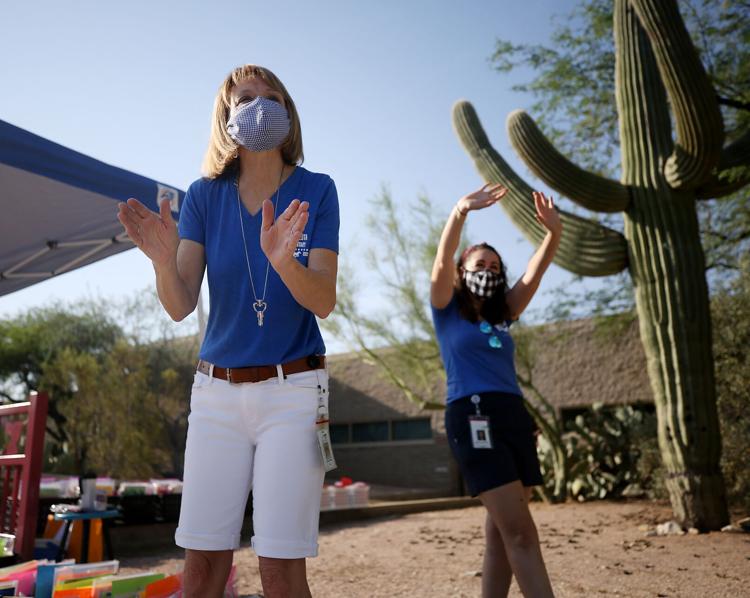 "Mustang Stampede"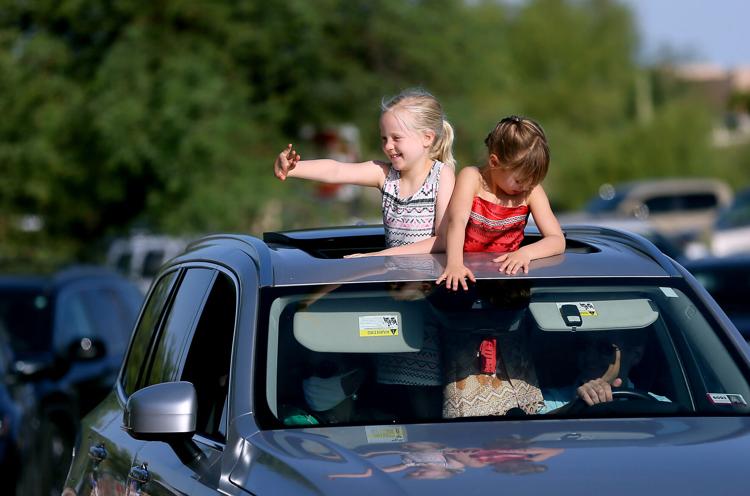 "Mustang Stampede"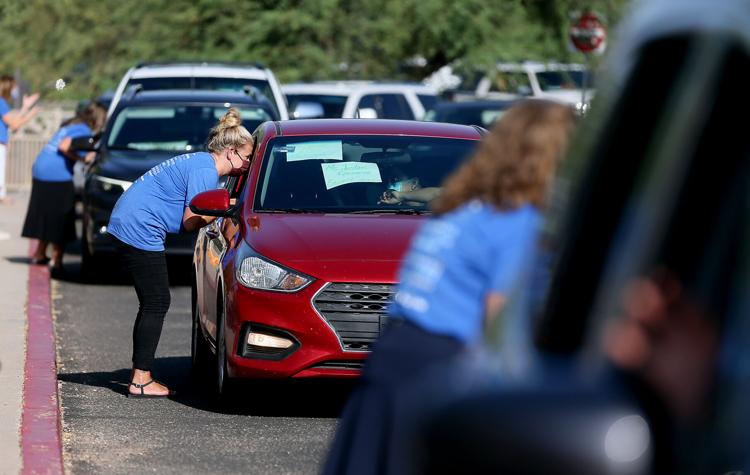 "Mustang Stampede"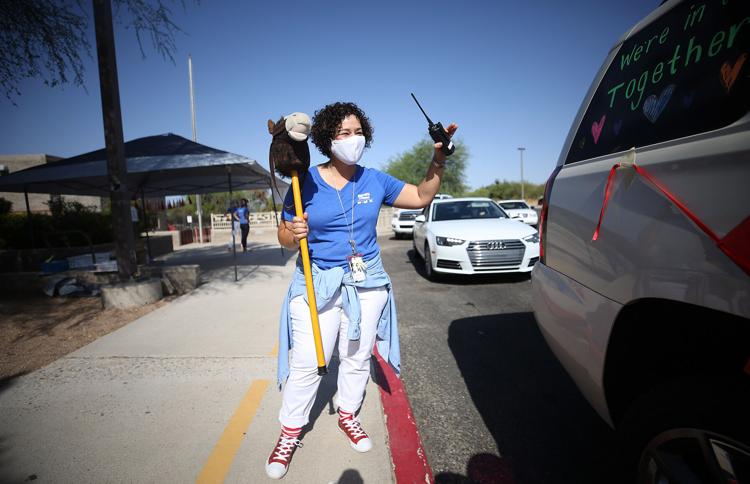 First Day of School, John B. Wright Elementary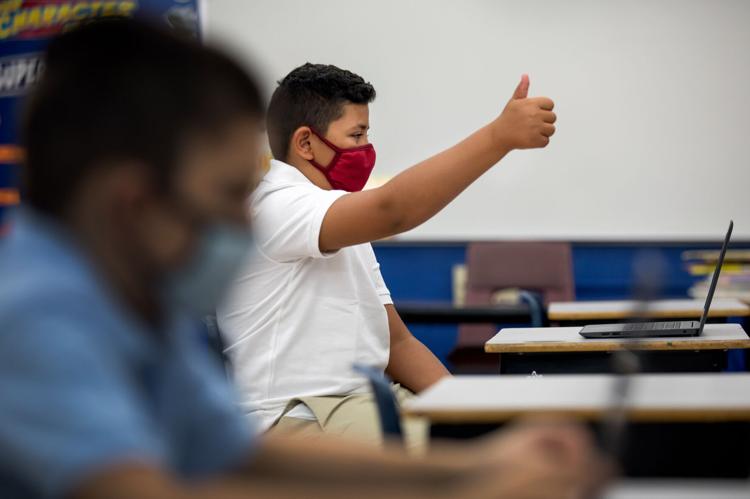 First Day of School, John B. Wright Elementary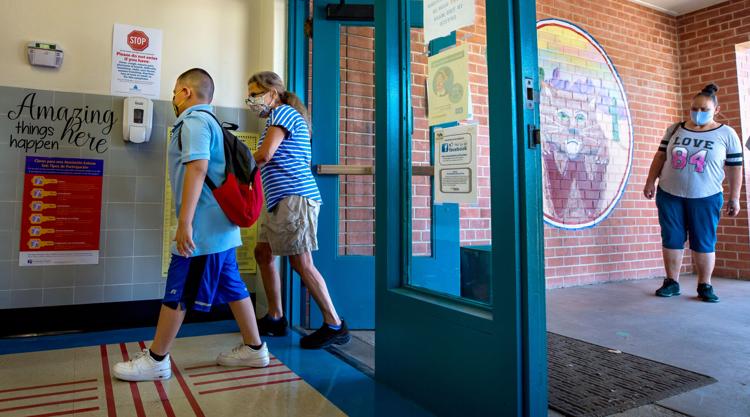 First Day of School, John B. Wright Elementary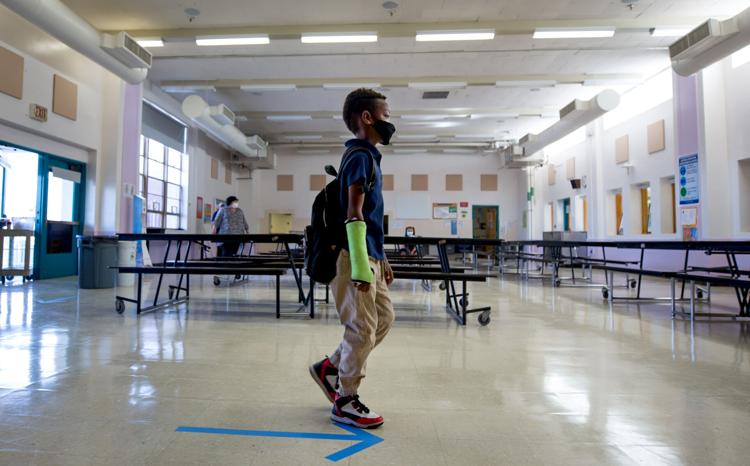 Contact reporter Danyelle Khmara at dkhmara@tucson.com or 573-4223. On Twitter: @DanyelleKhmara