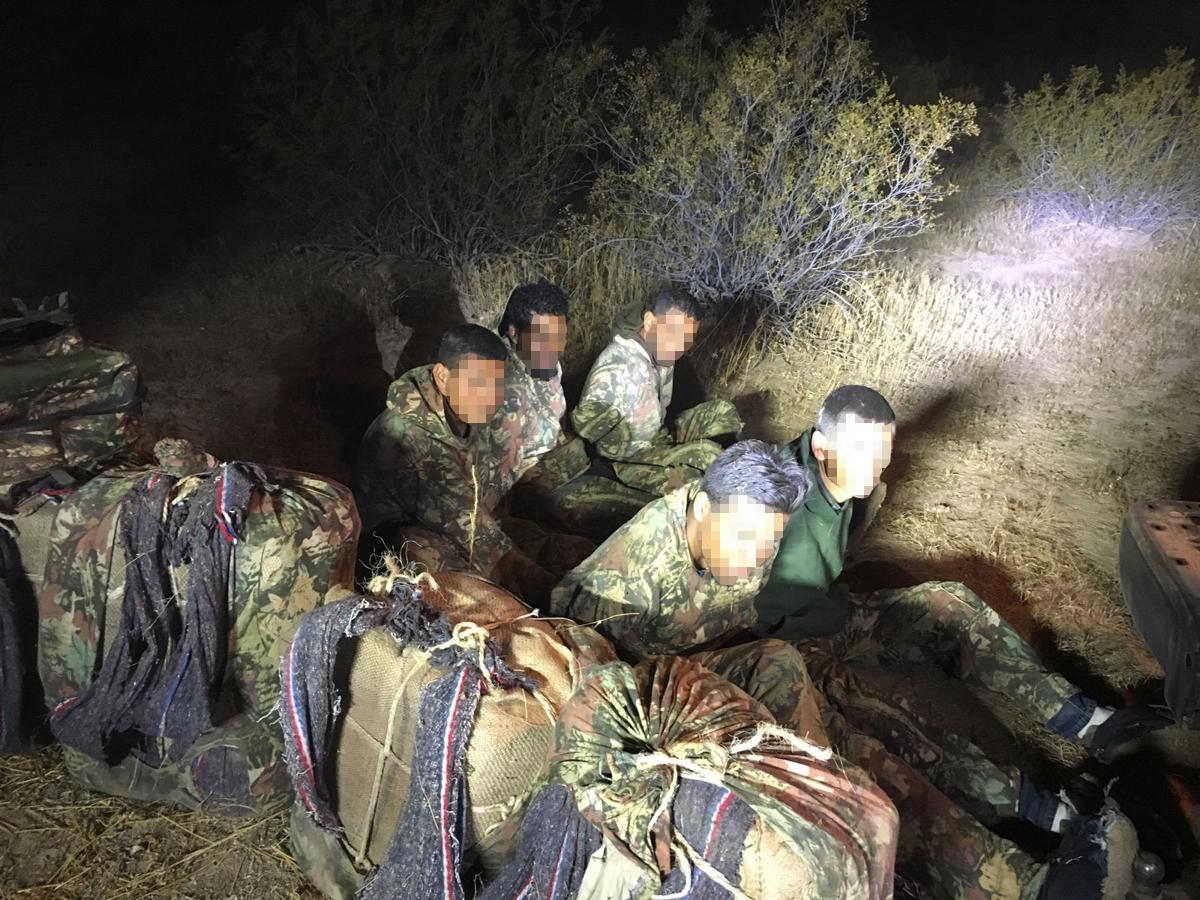 Prison terms for drug smugglers vary drastically depending on where arrests are made, federal data show.
Courts in the District of Arizona hand down far shorter sentences on average than in other districts, particularly in the Southern District of Texas where defense lawyers say federal prosecutors draw a harder line with plea offers.
Arizona's federal courts issued 10 times more prison sentences for conspiracy to smuggle drugs, one of the most-common charges used along the length of the border, than South Texas courts in fiscal 2017.
But average prison terms for conspiracy charges were nearly eight times longer in South Texas than in Arizona, according to federal data compiled by the Transactional Records Access Clearinghouse at Syracuse University, which has a longstanding public records request with the Department of Justice and other agencies.
Conspiracy charges often are filed against marijuana backpackers, scouts and high-ranking members of smuggling organizations, court records show. In Arizona, the average sentence where conspiracy was the lead charge was 12 months for 1,240 cases, compared with a 92-month average for 121 cases in South Texas, according to clearinghouse data for fiscal 2017.
Court records show another common charge, possession with intent to distribute, usually involves someone caught with drugs in their vehicle at a port of entry, checkpoint, or during a highway stop. In Arizona, the average sentence was 20 months for 760 cases, while South Texas saw a 63-month average for 800 cases in fiscal 2017, clearinghouse data show.
The U.S. Sentencing Commission rolled together a dozen drug-smuggling charges and found the average sentence in Arizona's federal courts was 28 months in fiscal 2016, compared with 57 months in South Texas.
The Southern District of California primarily uses a third charge, importation of controlled substances, with an average sentence of 35 months for 740 cases in fiscal 2017, clearinghouse data show.
When asked about the sentencing disparity, Marjorie Meyers, the federal public defender in the Southern District of Texas, said, "The simplest answer is the prosecutorial bargaining and charging practices."
Defendants in Arizona "get good deals," but federal prosecutors in South Texas often are uninterested in bargaining, she said.
backpacker cases
When a Border Patrol agent spotted men hauling backpacks on the Tohono O'odham Reservation in April 2016, agents arrested two men and seized 11 backpacks of marijuana weighing a total of 245 pounds, federal court records show.
About 1,000 miles to the southeast and two months earlier, agents saw seven marijuana backpackers near a water channel in Brownsville, Texas. Agents arrested three men and seized 345 pounds of marijuana.
In the Arizona case, Evelio Hernandez Perez and Jose Antonio Ayala Claros were sentenced to six months in prison. In the Texas case, Cesar Rodriguez Diaz was sentenced to 60 months, while Willy Garcia Velasquez and Juan Sanchez Barron each were sentenced to 30 months.
Numerous factors affect the length of a prison sentence, such as the defendant's criminal history, their cooperation with authorities and the type and weight of the drug involved, according to arguments at sentencing hearings in U.S. District Court in Tucson and interviews with seven defense lawyers in Arizona and Texas and a federal judge in Tucson.
Court records show the Arizona backpacker case differed from the Texas case in at least one important respect: Federal prosecutors agreed to let the men in the Arizona case plead guilty to smuggling the 22 pounds of marijuana in the backpack each one carried, while the men in the Texas case pleaded guilty to smuggling the entire 345-pound load.
Defense lawyers in Tucson said backpackers often plead guilty to the amount in their backpack, rather than the amount carried by the group. Their counterparts in South Texas said they rarely see such offers from prosecutors.
The reason marijuana backpackers in Arizona often are charged with the amount each one carried can be traced back to a 9th U.S. Circuit Court of Appeals ruling in 2000.
In that case, Chief Judge Raner C. Collins of Tucson ruled marijuana backpackers arrested near Nogales were engaged in separate criminal enterprises, rather than a single conspiracy to move the entire load across the border.
The 9th Circuit judges agreed, noting the defendants were led by a guide, did not know one another before the smuggling attempt and each defendant only was responsible for one backpack.
Backpacker cases are some of the most-common smuggling cases handled by the federal courts in Southern Arizona, Collins said in an interview last week. Because of the high volume of those cases, backpackers with no criminal history often are offered six-month plea deals.
Collins pointed out short sentences are reserved for backpackers carrying relatively small loads, rather than smugglers hauling big loads.
A case from last week shows a years-long sentence for large-scale marijuana smuggling, as well as the complex arguments hashed out before judges decide on a sentence length.
Last Monday, federal Judge Rosemary Marquez sentenced Omar Cordova Grijalva, 24, to 46 months in prison after he pleaded guilty to driving a pickup truck loaded with 2,000 pounds of marijuana in May.
Court records show Border Patrol agents stationed in Sonoita spotted Cordova, who drove across a field and crashed into a drainage wall. He ran away, but a dog unit caught him about a mile from the crash site.
Defense lawyer Deirdre Mokos argued Cordova was eligible for a "safety valve" adjustment, which is offered to defendants who have little to no criminal history and did not use a weapon, among other factors. She asked for a sentence of no longer than 30 months.
Cordova planned to find better-paying work in the United States, but he was threatened by smugglers and told he must drive the marijuana load, Mokos wrote in a sentencing memorandum.
After crossing the border, Cordova fled from an unmarked Border Patrol vehicle because he feared the vehicle belonged to a "rip crew" that would harm him, Mokos wrote.
Federal prosecutor Heather Siegele said Cordova should face a mandatory minimum sentence of 60 months in prison.
Cordova was driving a load worth $1 million at wholesale prices, far more than the loads hauled by backpackers, Siegele wrote in a sentencing memo. Only a trusted member of a drug-trafficking organization would be chosen to smuggle such a valuable load.
Marquez overruled Siegele's objection and applied the safety valve adjustment, pointing to Cordova's lack of criminal history.
Court records and dozens of sentencing hearings in Tucson's federal courts show federal prosecutors agreeing to lower sentences when defendants are minor participants or have no criminal history.
In contrast with federal courts in Arizona, many documents that show legal arguments and negotiations in smuggling cases are sealed in South Texas' federal courts and unavailable to the public. Defense lawyers declined to comment on specific cases.
The Arizona Daily Star contacted U.S. attorney's offices in each of the five border districts, but none provided answers to the Star's questions. The sentencing commission would not provide on-the-record answers.
Arizona is the only district in the country without an appointed, acting, or interim U.S. attorney to oversee plea policies, as the Star reported Jan. 19. Average sentences in Arizona could rise or fall depending on who President Trump nominates to fill the vacant position in Arizona.
Sentences also could grow longer, depending on how the new U.S. attorney applies Attorney General Jeff Sessions' directives to more aggressively prosecute drug-related crimes.
Several defense lawyers in Texas said they suspected the high volume of cocaine smuggling in Texas was behind the disparity in sentencing with Arizona and other districts. Cocaine smuggling generally carries higher sentences than marijuana smuggling, and U.S. Customs and Border Protection statistics show South Texas and Southern California see far more cocaine than Arizona.
However, the district with the highest levels of cocaine smuggling, Southern California, had similar average sentences to the district with the lowest levels of cocaine smuggling, West Texas, according to CBP statistics and clearinghouse data.
Get local news delivered to your inbox!
Subscribe to our Daily Headlines newsletter.