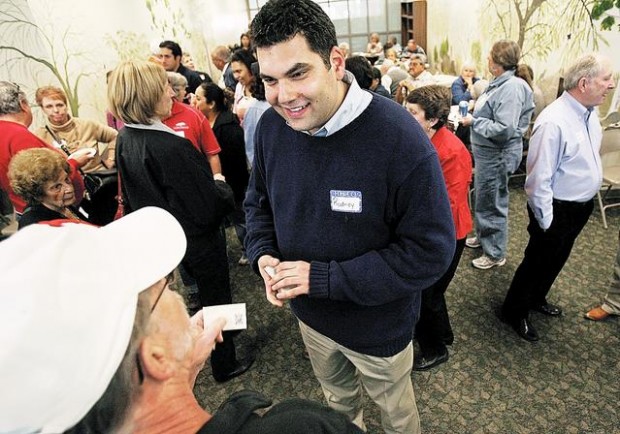 The new Ward 2 city councilman, Rodney Glassman, has been in office for about six weeks, replacing former Councilwoman Carol West. Here's a glimpse of Glassman and a look at what East Side residents can expect from the new councilman.
Rodney Glassman, at age 29, holds five degrees from the University of Arizona, including a doctorate in arid lands resource science and a juris doctorate from the university's James E. Rogers College of Law.
"I come from a family of lifelong learners. I love the University of Arizona, and as I have been afforded various opportunities professionally, such as working for (U.S. Rep. Raúl) Grijalva or running a family business or working for KB Home, I have earned degrees relevant to my work," Glassman said.
Glassman said that as a child, he dreamed of becoming an entertainer or an attorney. With his law degree completed, and frequent opportunities to sing the national anthem at UA basketball games or friends' weddings, those dreams are becoming a reality.
"Things are turning out quite well," he said. "I just love this community."
What are your favorite hobbies?
Singing and ice hockey. Glassman, a former Arizona Icecat, just started playing again in a league at the Tucson Convention Center after recovering from a back injury.
What can East Side residents expect from your office during this term?
"They can expect an open door, and they can expect a team of individuals that are responsive to their needs and willing to do our best to help make sure that they are receiving quality services from the city of Tucson," Glassman said.
"And in addition to being responsive, they can also expect a team that desires their help."
Glassman said that in addition to West's former staff members — Kathy Dixon, Marilyn Kalthoff and Amanda McCline — he has added two new council administrative assistants to his office, Tracy Neish and Katie Bolger.
"We have a wonderful team ready to serve the neighborhoods," he said.
You said a priority for your first six months is to listen to neighborhood leaders. What are you hearing so far?
"What we're hearing to a great extent in Ward 2 is that they want us to continue providing the services that Carol West was providing," he said.
They also are hearing about "meat-and-potatoes issues" such as traffic congestion, pothole repairs and concerns about community and personal safety.
Glassman said that in keeping with West's traditions, his staffers are planning to hold a landfill and recycling tour in April. He also will hold a public meeting at 7 p.m. Feb. 28 at the East Side City Hall, 7575 E. Speedway. The topic will be public safety in Ward 2, and the guests will include Tucson Police Chief Richard Miranda, Tucson Fire Chief Dan Newburn and Pima County Attorney Barbara LaWall.
What is one of your highest priorities now that you are in office?
Glassman said one of his first objectives already is under way: He wants to see new city ordinances mandating environmentally conscious construction in new homes and new business developments.
This would include gray-water systems to recycle used bath and laundry water, as well as solar water-heating systems in new homes. Glassman also wants rainwater-harvesting systems to be required in new commercial developments.
"Based on a motion that I made at the council meeting, an advisory group has been formed, including environmentalists, developers and neighborhood leaders," he said.
Glassman hopes to see three new ordinances in place by late summer.
"We're setting the bar for new development in Tucson," he said.
Speaking of water, do you support the idea of a regional water authority?
"I support regionalism whenever it's in the best interest of the entire community," Glassman said. "As a member of the Tucson City Council, my first priority is to ensure that our elected leadership can determine Tucson's water future."
Two of Tucson's greatest assets are its water rights and its water-delivery system, he said.
In other words: "I would want to ensure that the Tucson City Council stays in the driver's seat, because that's my responsibility to those who elected me."
During your campaign, you said helping children would be one of your top priorities if you were elected. What can East Side residents expect to see from your office when it comes to issues related to children?
On his first day in office, Glassman said, he paid a visit to Sahuaro High School Principal Sam Giangardella.
"I went in and said, 'What can I do to help you?' " Glassman said. "And he said, 'You can help by helping us get to know our neighbors better.' "
Glassman said he plans to hold round-table discussions, and one area of focus will be relationship between the schools and the business community.
The councilman also told Giangardella about his idea of opening school grounds to the community after classes let out and on weekends, so families could use the playgrounds and grassy areas for recreation.
On average in cities nationwide, Glassman said, there are 10 acres of park space for every 1,000 residents. In Tucson, the average is 6 acres, and Ward 2 has the second-lowest acreage of parks citywide.
"The city hasn't demonstrated a long-standing commitment to recreational activities," Glassman said.
Opening up neighborhood schoolyards as community playgrounds is one way he hopes to ease that problem, he said.