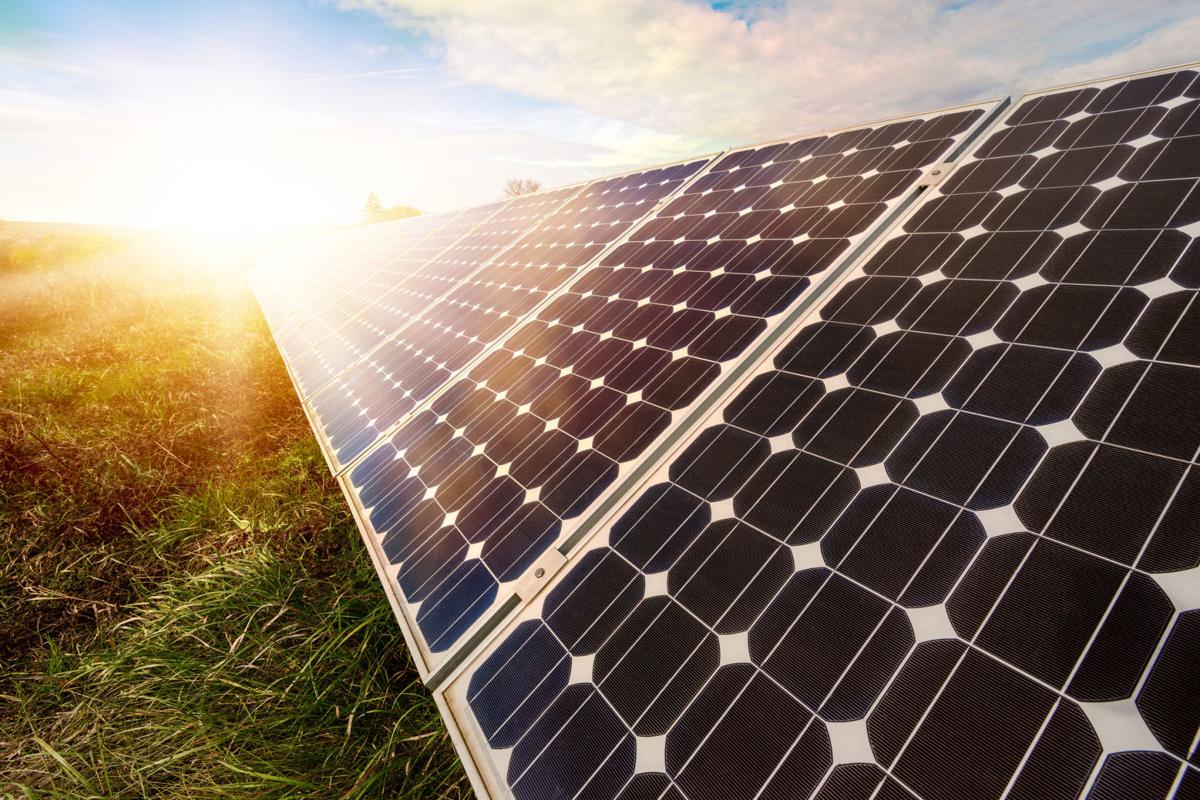 It ultimately may not matter if Arizonans vote in November to require that utilities generate more of their electricity from renewable sources.
Gov. Doug Ducey acknowledges that he signed legislation earlier this year with the specific intent of allowing utilities to ignore the mandate proposed in Proposition 127 by paying a minimal fine.
The goal of protecting ratepayers outweighs any voter-approved constitutional provision, he told Capitol Media Services on Friday.
"What I want to do is make sure we've got affordable, accessible energy," Ducey said. "I don't think when we have these mandates at the ballot box it gives the flexibility to our entrepreneurs and innovators to bring those solutions to the marketplace."
Ducey's statement mirrors the claims being made by Arizonans for Affordable Energy, the committee financed by the state's largest utility, Arizona Public Service, which is leading the fight against Proposition 127.
The initiative would put a requirement that utilities get 50 percent of their energy from renewable sources by 2030 into the Arizona Constitution.
The law Ducey signed would not — and could not — legally override a constitutional mandate. Only another public vote could alter or repeal it.
But the law, which took effect in August, spells out that any violation of a constitutional provision on renewable energy would be only a civil violation. Moreover, it makes the penalty a one-time fine that could be as much as $5,000 — or as little as $100 — and effectively allows utilities to ignore any voter-approved mandate by paying the penalty.
APS spokeswoman Jenna Rowell said Friday that no decision has been made whether her company would choose to pay the fine rather than comply with what voters approve.
But APS lobbyist Rodney Ross, in testifying for the new law his company helped craft, acknowledged the utility wants the option of ignoring Proposition 127 if it passes.
"If that scenario were to take place, we would engage in a collaborative process with our regulators, with state lawmakers, with affected stakeholders, and together come to a decision regarding what the best course of action is to protect the state, the economy and its ratepayers," Ross said.
Joe Barrios, a spokesman for Tucson Electric Power and UniSource, both of which also oppose the initiative, said the companies "will try to" comply.
"It remains to be seen whether we would be able to do that," Barrios said, adding that the measure presents "some very real operational challenges."
The admission by both Ducey and the APS lobbyist about creating an escape clause for utilities to ignore Proposition 127 comes as both sides in the campaign are spending millions of dollars.
Currently, the Arizona Corporation Commission decides how much energy each regulated utility must generate from renewable sources. The standard, last altered in 2006, requires 15 percent by 2025.
Prop 127 not only would constitutionally set that at 50 percent by 2030, but would spell out that neither nuclear nor existing hydroelectric power could count toward that goal.
As of mid-August, the anti-127 campaign had already spent $10.4 million, much of that in an effort to knock the initiative off the ballot. All of that cash came from Pinnacle West Capital Corp., the parent company of APS.
Proponents, operating under the banner of Clean Energy for a Healthy Arizona, listed $8.8 million in expenditures. All of its cash comes from NextGen Climate Action, a political action committee run by California billionaire Tom Steyer.
The next reports, which will cover the extensive and expensive media campaign now being waged by both sides, are not due until next month.
Both sides have produced their own reports about what voter approval would mean to consumers.
Proponents are relying heavily on a study by the Natural Resources Defense Council, which concluded that average electric bills would be $3 a month less if the state enacts the 50 percent renewable mandate by 2030, and $5 a month less by 2040.
That's based in part on the assumption that, absent Prop 127, utilities will meet future demands by building new gas-fired generators which will require they purchase a steady supply of fuel. And history has shown that the price can fluctuate wildly.
By contrast, the council says the cost of solar is dropping.
It does acknowledge that solar, by definition, is available only in daylight hours. But the study includes a presumption there will be not only battery storage but also some "flexible use of (existing) gas turbines and power plants."
The campaign against Prop 127 relies heavily on a study produced for APS by the Seidman Research Institute at Arizona State University, which campaign spokesman Matthew Benson said is based on an analysis of the bills of the utility's current customers.
It says the average price of electricity will go from 13.6 cents a kilowatt hour to more than 29 cents. The study says that the average residential bill will go from $1,658 a year to $3,594.
Benson acknowledged the higher figure is based in part on the presumption that Prop 127's passage will result in the closing of the Palo Verde Nuclear Generating Station.
TEP also says Prop 127 would raise rates, but nowhere near the APS projections. Instead, the company figures residential customers would pay at least an extra $500 a year, with a $3,400 increase for the average business.
In a nearly identical statement in opposition, UniSource figures a $650 increase for residential customers and $3,400 for business.
Also key to the debate is the claim by proponents that shutting down fossil-fuel-powered plants will improve public health. They cite reports by the American Lung Association, which rates Tucson a D for air pollution and gives an F to Phoenix, Yuma and Flagstaff.
But a study by NERA Economic Consulting commissioned by APS says the initiative "cannot be expected to improve reported levels of ozone pollution in areas where most Arizonans live." That's because much more of the chemical, which can irritate lungs and eyes, is produced from everything from wildfires to vehicle emissions.
Opponents also contend that if the concern is air pollution, Prop 127 would have allowed nuclear power to be counted toward the goal, as nuclear has no smokestack emissions.
But pro-Prop 127 campaign consultant Bill Scheel said there are health effects from nuclear power, adding there is a link between high rates of cancer in communities in and around Northern Arizona where uranium is mined.
Ducey sides with Prop 127 opponents on these issues.
"I do not want to see hard-working taxpayers and families in our state have their energy rates hiked for a reason that will not improve the environment in our state," he said.