Christina-Taylor Green had big plans for her life, so now her childhood friends do too.
Canyon Del Oro High School senior Jamie Stone has already enrolled at the University of Arizona and is training to become an emergency medical technician as she prepares to enlist in the National Guard — all on her way to a possible career as a first responder like the ones who fought to save her childhood friend's life nine years ago today.
"I try to live my best life for her," Jamie said. "I think about her all the time."
Fellow CDO senior Serenity Hammrich wants to study to become a nurse so she can help people and finally come to grips with what happened to her best friend.
"When I lost Christina-Taylor, it was very hard for me, and it's still hard for me today," Serenity said, her voice cracking with emotion. "I really work to push myself to be the person she would want me to be and experience all the things she can't because she's gone."
Bound by a tragedy in Tucson
Christina-Taylor was the youngest of six people killed in the Jan. 8, 2011, mass shooting that targeted then-Congresswoman Gabrielle Giffords.
The 9-year-old third-grader was waiting in line to see Giffords at a "Congress On Your Corner" event in the Safeway parking lot near West Ina and North Oracle roads when she was shot.
Also killed were Dorothy Morris, 76; U.S. District Judge John M. Roll, 63; Phyllis Schneck, 79; Dorwan Stoddard, 76; and Gabe Zimmerman, 30. Thirteen people were wounded, including Giffords, who was shot in the head.
On the first anniversary of the shooting, Jamie and Serenity gave a speech about their friend during a memorial at the UA's Centennial Hall.
Later that year, the two 10-year-olds were invited to a special Flag Day ceremony in Baltimore, where they spoke about Christina-Taylor and helped sew threads from the original Star-Spangled Banner into an American flag that flew over Ground Zero in New York after the Sept. 11, 2001, terrorist attacks.
The same flag was flown at the funeral for Christina-Taylor, who was born on 9/11.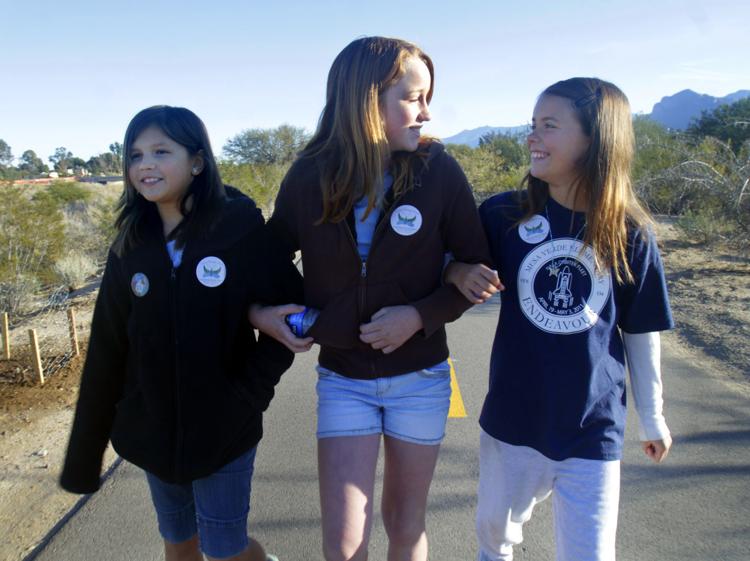 Fast friends and a lifetime of memories
Serenity met Christina-Taylor on her first day of first grade at Mesa Verde Elementary School.
"She walked up to me on the playground and asked to be my friend," Serenity said.
They would chase butterflies and pick clovers and lay on the grass together, watching the clouds go by. Christina-Taylor introduced her to soccer.
Even after nine years, Serenity said everything still reminds her of her friend.
"She's just with me all the time," she said.
Jamie said her friendship with Christina-Taylor began on the school bus on their way to kindergarten at Mesa Verde.
The girls bonded over play dates, sleepovers and karaoke.
"She always said that she wanted to be a professional baseball player and some sort of politician," Jamie said. "She knew what she wanted. She had big goals and dreams."
On one of their most memorable outings, Jamie's mom, Paige Stone, took them hiking in Sabino Canyon. Stone said the girls packed picnic lunches and their bathing suits so they could spend hours splashing in the water and exploring the desert.
Stone still uses a picture from that day as the screensaver on her computer. She believes losing a friend at such a young age changed the trajectory of her daughter's life.
"I think it's influenced her. It's definitely influenced me," Paige Stone said. "I think she's carried the torch. It's made her a stronger person and made her a more driven person."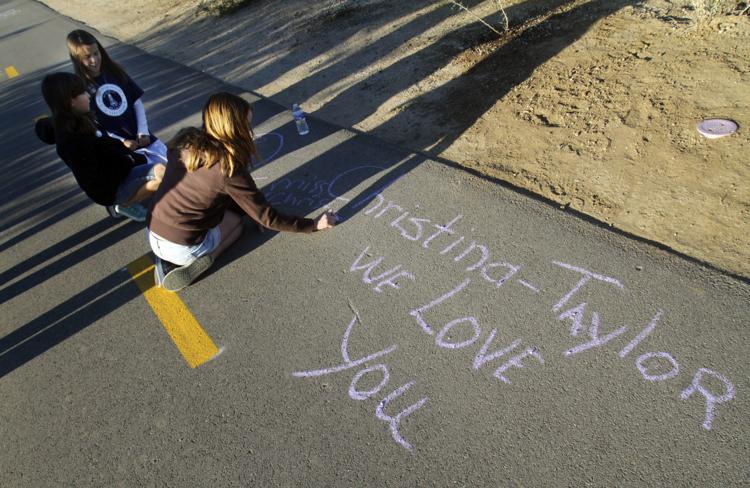 Stars of Hope for other stricken communities
Jamie and Christina-Taylor also served together on the student council at Mesa Verde.
Jamie is now the senior class vice president at CDO. On Friday, she will join about 65 of her fellow student council members from CDO, Mesa Verde and Cross Middle School for a special remembrance at the elementary school near North La Cañada Drive and West Magee Road.
From noon to 1:30 p.m., the students will paint wooden stars in honor of Christina-Taylor and the other victims of the Tucson shooting. The event is sponsored by Stars of Hope, a national healing arts organization that supports communities after tragedies.
Stars of Hope also will be on hand Saturday morning at Christina-Taylor Green Linear Park, where Moms Demand Action will host a Stroll and Roll event from 9 a.m. to noon along the Loop trail near North Shannon and West Magee roads.
Roxanna Green, Christina-Taylor's mother, said the stars that are painted with hopeful messages on Friday and Saturday will be displayed sometime in the future in another community that is recovering from a traumatic event.
Saving lives and seeking closure
Serenity plans to be there on both days, just as she has for so many remembrances and charitable events in Christina-Taylor's name. She said her family remains close with the Greens, and they all see each other almost every weekend.
After graduation, Serenity plans to study nursing at either the UA or Pima Community College because she said she wants to "help keep someone else from losing their best friend."
She's also looking for answers.
Serenity remembers people telling her back in 2011 that her best friend died after being shot, but she never really understood.
"It wasn't enough for me," she said. "I feel like I still need closure with her death."
Jamie and her mom don't have much contact with the Green family these days, but they try to do something to remember Christina-Taylor each year, either on Jan. 8 or Sept. 11.
Sometimes they leave flowers at the angel sculpture at James D. Kriegh Park in Oro Valley, where Christina-Taylor played Little League baseball.
But Jamie said she thinks about her childhood friend the most during milestone moments in her own life, like middle school graduation or her 16th birthday. She knows Christina-Taylor will be on her mind this spring, when she receives her diploma from CDO.
The 18-year-old said her friend from elementary school is the reason she wants to pursue a career as a paramedic, possibly with an air ambulance crew. When something terrible happens, she wants to be one of the first ones on scene to help those in need — a caring face amid the chaos.
"I like to think Christina had someone like that," she said.
2011 Tucson mass shooting victims 
Get local news delivered to your inbox!
Subscribe to our Daily Headlines newsletter.