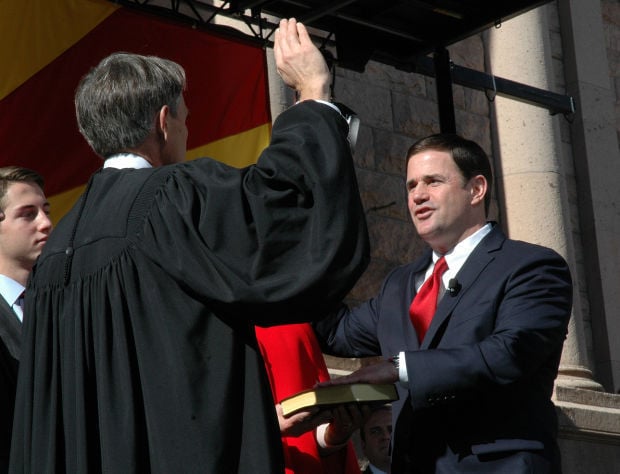 PHOENIX — Gov. Doug Ducey signed legislation Wednesday that will let him name two more justices to what has been a five-judge panel.
The governor said having seven justices will put Arizona on par with states that have a similar or smaller population, including Nevada, Colorado, Washington and Wisconsin. He said more justices will lead to more efficiency, and denied he's "packing" the court.
Ducey's move came despite unanimous opposition of sitting justices on the court.
"Additional justices are not required by the court's caseload," Chief Justice Scott Bales wrote to Ducey earlier this month. "And an expansion of the court (whatever people may otherwise think of its merits) is not warranted when other court-related needs are underfunded."
Ducey, in a letter explaining his decision, rejected that contention.
"Some have said this bill is unnecessary, and that the court can handle its caseload just fine," the governor said. "But I believe you'll hear a different story from the businesses and individuals facing litigation, who are in need of certainty."
Glenn Hamer, president of the Arizona Chamber of Commerce and Industry, said the issue is not that there's a delay in issuing rulings with a five-member court.
Instead, Hamer believes that a court with seven members will review more lower court rulings in civil cases, and issue more written opinions.
"When we talk about the certainty, the more written decisions that the court provides, the greater the understanding is of what the rules of the road are for business cases," Hamer said.
As to charges he is "packing" the court, Ducey responded, "that's just wrong."
He pointed out this is different than the federal system, where a president picks whoever he or she wants, subject only to Senate confirmation.
Instead, governors are required to make their selection from a list of applicants who have been screened and nominated by a special commission.
What Ducey did not say, though, is that the public members of that commission — two-thirds of the panel — are gubernatorial appointees, with the balance appointed by the State Bar of Arizona.
While some public members are holdovers from prior administrations, Ducey has named three of the 10 public members and has the opportunity to immediately name four more to succeed commissioners whose terms have expired.
The two new slots for Supreme Court justices will mean Ducey choices will be in three of the seven positions.
Earlier this year he tapped Clint Bolick, an attorney from the libertarian-oriented Goldwater Institute.
Rep. J.D. Mesnard, R-Chandler, who sponsored the new law, said "I'm a strong believer in spreading power out, not concentrating power in the hands of a few. More minds is better than fewer minds."
Sen. Steve Farley, D-Tucson, told colleagues this is not some innocent effort to hear more voices. "The only reason why you would add justices to the court is to pack the court for political reasons," he said.
"This is the executive making a power grab over the judiciary," Farley said.
Justices are paid $155,000 a year, plus a package of fringe and retirement benefits that probably brings the cost close to $200,000. Each justice has a judicial assistant and two law clerks who also are paid.
Ducey derided suggestions that expanding the court is at odds with his stated goal of streamlining and simplifying state government.