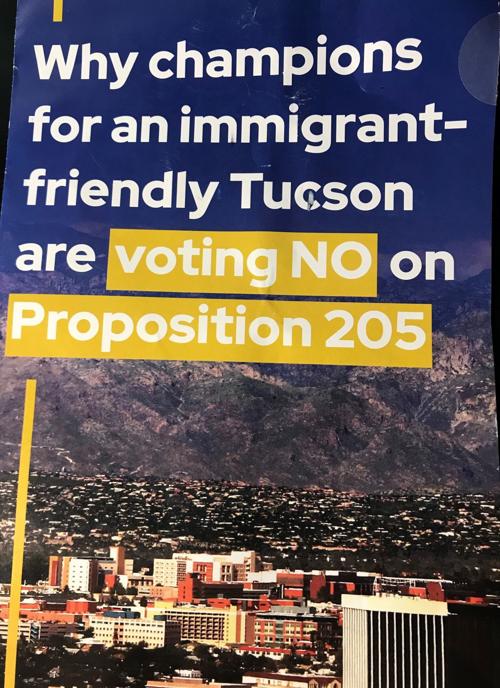 Opponents of Prop. 205, the ballot measure that would make Tucson the state's first "sanctuary city," have raised more than $335,000 to fight the measure, campaign finance reports show.
The initiative would add protections for some victims of crime and prohibit certain collaborations between the city and federal agencies, among other provisions.
Phoenix-based Arizonans for Public Safety has raised the bulk of the opposition funding, $255,000.
Much of it comes from large donations from Tucson business owners and residents.
Humberto Lopez, president of HSL Properties, Fletcher McCusker, co-founder of UAVenture Capital, Bruce Halle Jr., Discount Tire chairman and the Jim Click Automotive Team each gave the group $25,000, the reports show.
About $35,000 of the total donations to the group came from donors living in the Phoenix metropolitan area.
The group has spent more than $205,000, mostly on 30-second television ads, according to filings with the city of Tucson and the Federal Communications Commission. The group also spent $33,730 last week on phone calls to Tucson households and $15,000 with a Virginia-based polling group.
Arizonans for Public Safety did not respond to a request for comment.
A second group, Tucson-based No on 205, listed $80,000 in donations, according to reports filed with the city.
The Arizona Association of Realtors gave the group $50,000, and the Southern Arizona Leadership Council donated $10,000, while the Committee for Economic Prosperity PAC gave the group an additional $20,000. The latter PAC, according to records with the Arizona Secretary of State's Office, has received a majority of its funding from the Tucson Metropolitan Chamber of Commerce.
The campaign finance reports filed with the city are not entirely up to date, listing donations until the end of September.
While No on 205 has not disclosed how it is spending its money, its glossy mailers have been arriving in Tucson mailboxes since last week.
A third group opposed to the measure, Citizens for a Safe & Prosperous Tucson, has raised a little over $540. That figure reflects a nearly $400 loan from the group's treasurer.
The group supporting Prop. 205, the People's Defense Initiative, has raised about $17,000, mostly from small donations and the sale of T-shirts, reports show. However, Zaira Livier, the director and co-founder of the People's Defense Initiative, estimates that the figure is closer to $130,000 when in-kind donations are factored into the total calculation.
The People's Defense Initiative launched its effort at the beginning of the year, collecting more than 18,000 signatures to qualify for the ballot.