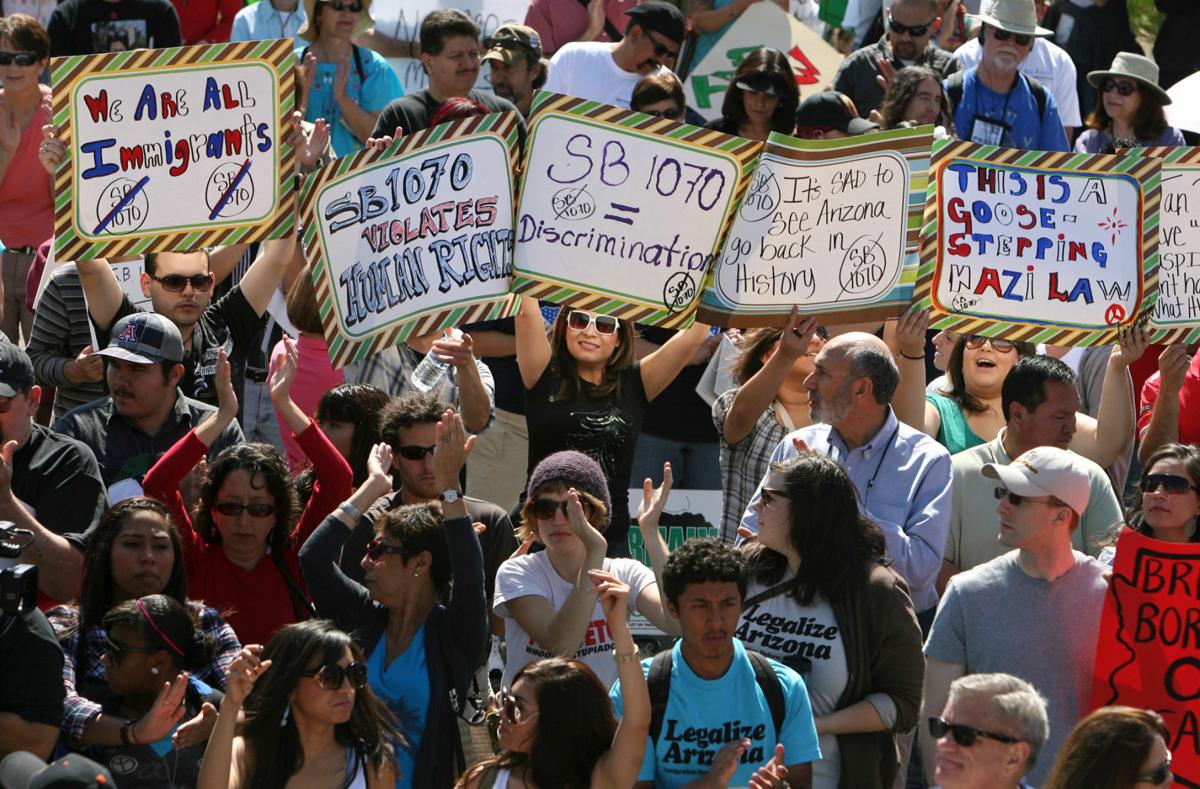 A local group is hoping to change Tucson from an "immigrant-welcoming city" to Arizona's first sanctuary city through a petition drive launching today.
"If the time is not now, then when? If it's not Tucson, then where?" asked Zaira Livier, executive director of the People's Defense Initiative, which is launching its effort Saturday, Jan. 12.
The Tucson Families Free and Together initiative would put the force of law behind many guidelines already in place here about circumstances under which police can ask about immigration status. It would also add protections for some victims of crime and prohibit certain collaborations between city and federal agencies, among other measures.
The campaign effort is to "build what somebody might call sanctuary for all, to build a Tucson that is a safe place for everybody to thrive," Livier said.
While the city has made some changes to internal policy, she said, her group wants to ensure it remains even if there's a change in leadership, and to give it some teeth.
The petition drive needs to collect 9,241 signatures by July 5 to put it on the November ballot. Livier said the group's goal is to gather at least 20,000 signatures by the first week of June.
State Sen. John Kavanagh, a Republican from Fountain Hills and a proponent of enforcing federal immigration laws, said this week he will file a complaint if the measure passes and he finds that it violates Arizona law.
The role of SB 1070
There's no universal definition of what makes a sanctuary city. The National Immigrant Legal Resource Center, based in San Francisco, describes it as a place that limits how local law enforcement can cooperate with federal immigration officers.
Based on that definition, the center has identified more than 600 cities and counties and five states, including California, that have policies "that disentangle local authorities from federal immigration enforcement."
The Center for Immigration Studies, a think tank that supports restricting immigration, defines sanctuary cities as those that "have laws, ordinances, regulations, resolutions, policies or other practices that obstruct immigration enforcement and shield criminals from ICE" (Immigration and Customs Enforcement).
In 2010, Arizona passed what was then the strictest immigration-related state law in the country, known as SB 1070. While most provisions were struck down by the U.S. Supreme Court, one section stood. It requires local police officers to check a person's immigration status while enforcing other laws if they suspect a person might be in the country illegally.
As long as that law exists, no Arizona city will be able to disengage from federal immigration authorities to the extent that a city in Massachusetts or California will be able to, said Billy Peard, a Tucson-based American Civil Liberties Union lawyer who helped draft the petition.
But under Arizona law, he added, "Cities and towns are not required to walk hand in hand with federal immigration authorities in everything they do."
What the effort seeks to do, Peard said, is to provide clarity as to what police have to do under state law.
"Sanctuary has no legal meaning, neither in state law nor in this proposed ordinance," Peard said. "If you want to call that sanctuary, call it sanctuary. If you want to call it immigrant-friendly, call it immigrant-friendly. I think it's simply wise governance to clarify what police can and cannot do, under circumstances where state law is silent."
The Tucson mayor's office and police officials said they were reviewing the petition and could not comment.
Tucson an "Immigrant-welcoming city"
After the passage of SB 1070, the City Council declared Tucson an immigrant-welcoming city in 2012, a stance it restated in 2016.
Over time, the Tucson Police Department has also modified its general orders. For instance, officers are now instructed to not make witnesses and victims of crime the focus of immigration inquiries. Also, juveniles should not be asked about their immigration status without a parent, guardian or attorney present.
In 2016, the Arizona Attorney General's Office issued a nonbinding opinion that reminded officers they couldn't prolong a stop for the sole purpose of an immigration status inquiry.
But the initiative takes it further. It would, for instance, prohibit officers from asking about immigration status in schools, hospitals, churches and state or local court buildings. There's also a "cause of action" clause through which a Tucson resident could challenge the city if it believes it's in violation of the ordinance. The penalty would be a fine between $500 and $5,000.
If it were to make it to the ballot and pass, it's likely the ordinance would immediately put Tucson in the crosshairs of the state and federal governments.
Since taking office, President Trump has gone after sanctuary jurisdictions, threatening, without success, to block their federal funding.
In 2016, the Arizona Legislature tried to pass a bill that would have taken away state tax money from any city shown to be a sanctuary city.
And the following year, the Phoenix Police Department was the target of a complaint from legislator Kavanagh, in part because of a provision in its policy that banned immigration inquiries on school grounds.
The department's policy resembles that of Tucson, Mesa and the Maricopa County Sheriff's Office, The Associated Press reported.
In the Phoenix case, the Attorney General's Office concluded that the policy overall was not in violation of state law. "The reality is the City Council took a vote to not become a sanctuary city and the city has adopted policies which are entirely consistent with SB 1070," the AP quoted Attorney General Mark Brnovich as saying. He also called Phoenix's policy of welcoming migrants more rhetorical than real.
Kavanagh disagreed with that decision and said if Tucson's initiative were to pass and go beyond what SB 1070 allows, he will file another complaint.
"It sounds like they are trying to evade SB 1070," he said, adding, "If I get a second shot, I will hone my argument much better."
Sanctuary movement began here in 1980s
But the group behind the petition says it isn't afraid of bringing attention to Tucson. They hope the initiative will provide a platform for other municipalities in the state. A similar proposal was drafted in Flagstaff.
"We are absolutely sure that on the legal grounds we have what we need, we are not breaking any laws, we are not pushing against any federal policies, we won't have funds taken for us and our legal team is ready for that challenge," said Livier.
"Tucson has a long history of sanctuary — it's the place where it was born."
In the 1980s, a group of Tucsonans became the first to protect fleeing Central Americans whose asylum claims were being rejected by the U.S. government in what became known as the Sanctuary Movement.
"We believe our responsibility is to act now," Livier said. "We actually think this is a pretty sensible" proposal.