PHOENIX — The latest batch of votes counted Monday put Arizona's open U.S. Senate seat out of the reach of Republican Rep. Martha McSally and into the hands of Democratic Rep. Kyrsten Sinema.
Sinema will be the first Arizona Democrat in the U.S. Senate since 1994 and the first woman ever elected to represent the Grand Canyon State in that chamber. She won the seat being vacated by Republican Sen. Jeff Flake.
McSally conceded Monday and Sinema declared victory after new results showed the Democrat's lead statewide is now approaching 38,200 votes.
Sinema got another big boost from Pima County, where she is continuing to pick up four votes for every three for McSally.
And Sinema's vote edge in what is supposed to be Republican Maricopa County also stretched to 45,000 out of nearly 1.3 million votes tallied so far. That includes nearly 29,000 for Green Party contender Angela Green, who dropped out several days before Election Day.
There are now only about 175,000 votes left to be counted. Most of those — about 143,000 — are in Maricopa County, where the numbers from the early ballots that are still being counted have so far broken Sinema's way.
In fact, to make up Sinema's lead, McSally would have had to pick up close to three of each of the Maricopa County votes that remain to be counted for every two cast for the Democrat.
McSally, in a video released online, congratulated Sinema on her victory and the fact she will be the first woman the state has sent to the Senate.
"I wish her all success as she represents Arizona in the Senate," said McSally, 52, a Tucsonan who has represented a Southern Arizona congressional district in the U.S. House while Sinema has represented a Phoenix-area district.
"I'm grateful to all those who supported me in this journey. I'm inspired by Arizonans' spirit, and our state's best days are ahead of us," McSally continued.
The outcome of the race also means that this will be the first time in five decades that Arizona has sent more Democrats to Washington than Republicans. The last time was in 1967, when Democrat Carl Hayden was one of the state's two senators and two of the three House seats Arizona had at the time were held by Democrats.
With Ann Kirkpatrick taking the congressional seat that McSally gave up to run for the Senate, Arizona will have five Democrats in the U.S. House versus four Republicans. And even with Jon Kyl remaining in the Senate — or whomever Gov. Doug Ducey will appoint should Kyl quit in January — having Sinema as the other senator means a 6-5 delegation.
Sinema, in her speech Monday night to supporters, thanked McSally. But she also took a slap of sorts at the campaign McSally and her allies waged against her.
As long as I've served Arizona, I've worked to help others see our common humanity & find common ground. That's the same approach I'll take to representing our great state in the Senate, where I'll be an independent voice for all Arizonans.

Thank you, Arizona. Let's get to work. pic.twitter.com/iX6u6VQ9bQ

— Kyrsten Sinema (@kyrstensinema) November 13, 2018
"Arizonans had a choice between two very different ways forward, one focused on fear and party politics, and one focused on Arizona and the issues that matter to everyday families," she said.
"Arizona rejected what has become far too common in our country: name calling, petty personal attacks, doing and saying whatever it takes just to get elected. It's dangerous and it lessens who we are as a country," Sinema said.
The Associated Press reports the contest drew more than $90 million in spending, including more than $58 million by outside groups, according to Federal Election Commission reports, and attack ads by both sides clogged the airwaves for months.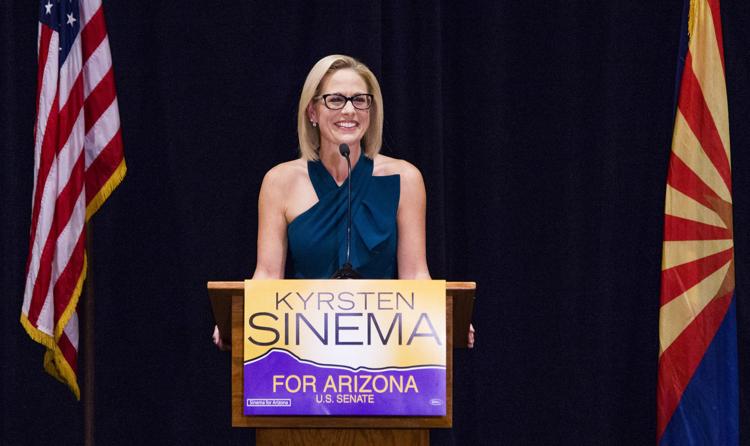 Much of the campaign waged by McSally and her allies was focused on who Sinema, now 42, was years ago when she was known for her protests against the war in Iraq. Those moves came back to haunt her in this year's race, linking her to a pamphlet that suggested U.S. soldiers were committing war crimes against civilians.
McSally even charged during the sole debate between the two that comments Sinema made in a radio interview amounted to "treason."
Sinema, meanwhile, condemned McSally's vote to repeal the Affordable Care Act.
The senator-elect has a law degree, worked as a social worker and was a political activist in her 20s.
Her first major campaign was an unsuccessful bid for the Legislature in 2002 under the Green Party banner. She came in fifth in the five-way race.
Two years later she was elected as a Democrat from a central Phoenix legislative district, often championing liberal causes.
There was a slow but deliberate shift to the center as Sinema eyed a tossup congressional seat created after the 2010 census, which she managed to win in 2012.
In her six years in Congress, Sinema built one of the most centrist records in the Democratic caucus.
To win the Senate seat, she needed to win votes from independents and cross-over Republicans, while McSally stressed her ties to President Trump.
In her victory speech Monday night, Sinema gave a nod to the late John McCain, saying she models herself after his independence.
McSally's loss may not mean the end of her political career.
The first female Air Force pilot in combat, she lost her first political outing in 2012 when she attempted to defeat Democrat Ron Barber. He had been appointed to the congressional seat that Gabrielle Giffords, his fellow Democrat, had to step away from after being shot.
But McSally came back two years later to take the seat from Barber.
And there may be a U.S. Senate seat open sooner rather than later.
After McCain's death this summer, Gov. Doug Ducey appointed Kyl, a former senator, to McCain's seat, where he can serve until the 2020 election.
But Kyl has hinted he might quit before then, giving Ducey a chance to appoint another replacement who, like McCain and Kyl, must be a Republican.