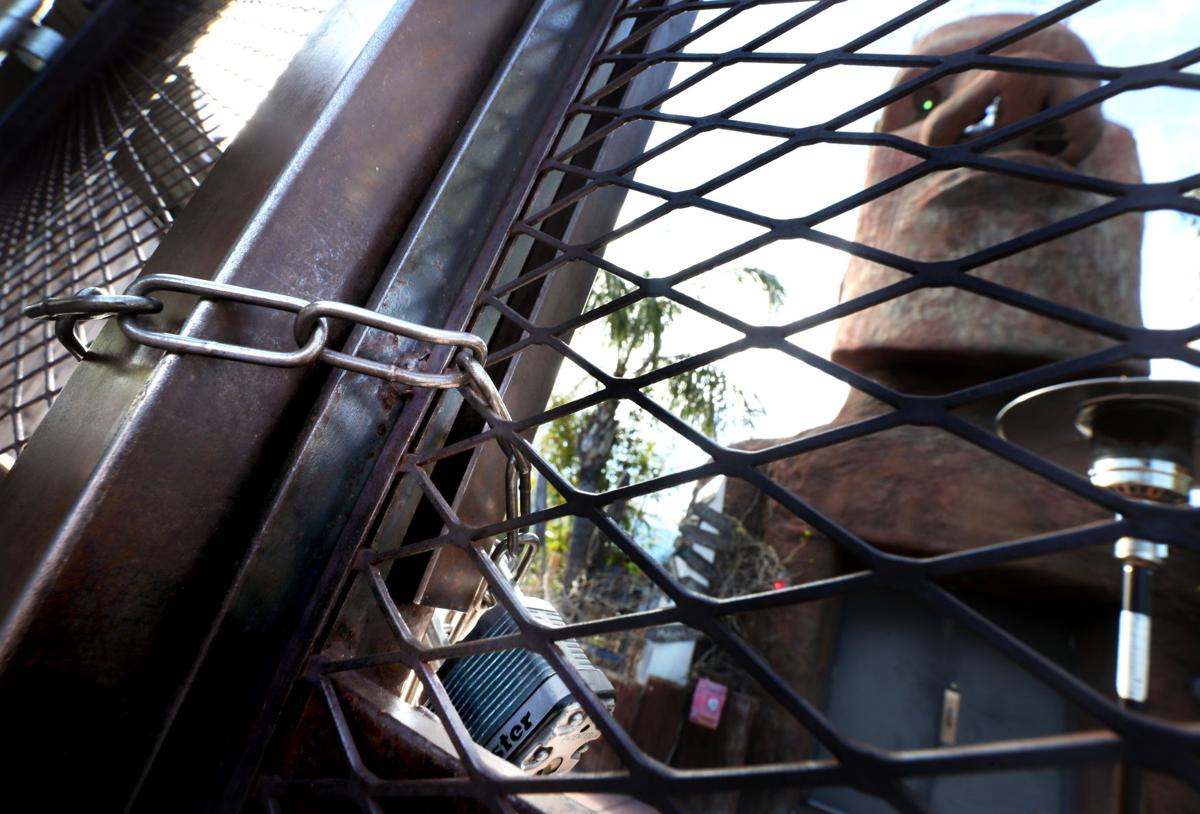 Editor's note: With our coronavirus coverage, the Star is not trying to alarm the public but to provide up-to-date information so you can make educated decisions about your health. Because of this, we've made all coverage related to COVID-19 free. Help us continue this important work by subscribing to the Star. Click here to see the latest coronavirus updates in Southern Arizona.   
Tucson Mayor Regina Romero on Tuesday declared a local emergency, ordering many businesses to close, limiting restaurants to drive-thru and takeout, and warning those that do not adhere to the new regulations that they can be criminally charged.
Her emergency proclamation, Romero's latest action to curb the spread of the coronavirus here, was released on the afternoon of St. Patrick's Day, one of the busiest drinking days of the year.
It ordered bars, theaters, museums, gyms, bowling alleys and other recreation and entertainment businesses to shut down as of 8 p.m. Tuesday and remain closed through the end of the month. Among the exceptions: grocery stores; pharmacies; food pantries; banks; or vendors located at universities, houses of worship, at care homes and the airport. It does not affect similar businesses outside of the city limits.
Businesses that violate the order can be charged with a Class 1 misdemeanor, although city representatives said they are not going to redirect law enforcement officers to monitor enforcement "at this time."
"My top priority, above all else, is to protect public health. This is a painful decision that I do not take lightly. Several restaurants have already stopped dine-in service and transitioned to all drive through and curb-side pickup," Romero said in a prepared statement.
"I want to reiterate that food being served by our restaurants is safe. It is the congregation of individuals in a dine-in setting that is unsafe. At this time, the best thing we can do is come together as a community and take care of each other. We're all in this together. We will get through this."
The move, decided after a meeting with city officials and business stakeholders, came on a celebratory holiday that local bar owners called one of the busiest of the year and one that gives them a little financial wiggle room to weather the summer slowdown.
"It is the No. 1 drinking day in the bar business, even before New Year's Eve," Lisa Yingling, who owns Mint Cocktails on East Grant Road, said about St. Patrick's Day.
Some bars had planned events to commemorate the holiday, including The Hut and other businesses along North Fourth Avenue, but had to call off the celebrations within minutes of the announcement.
While bar owners agreed with the move, they said they wished they would have been given a heads-up.
"If they would have given us any notice, I wouldn't have ordered stuff from my distributors. I wouldn't have bought a half a case of lemons and limes that are going to go bad and cream and whipping cream for drinks," Yingling said. "It's just unfortunate."
Crooked Tooth brewery's owners Ben and Julie Vernon started conversations with their 14 employees over the weekend about the very real possibility of a temporary business pause. The couple were even flirting with the idea of just shutting down on their own, but Julie Vernon said they had hoped the city would make it mandatory for everyone.
The move will have deep financial implications, she said, adding that the brewery could lose out on as much as $40,000 in sales over the two-week closure.
"This decision includes all of us," she said. "We are so interconnected with our community and the space that we hold here, so protecting our community and each other, I was actually relieved when the government mandated it. ... The longer that we go without revenue the harder it is to reopen."
Susan Compton, who has owned the Bay Horse Tavern since 1982, called the policy "discriminatory" by allowing some types of businesses to remain open.
Asked about the financial impact of the closure, she said she's most concerned about her employees, many of whom are single mothers concerned about how to feed their kids.
"What are they going to do? They can't afford this," she said.
Fred Ronstadt, executive director of the Fourth Avenue Merchants Association, said he was concerned that the city policy only applies to businesses within city limits and not throughout Pima County. The county's Health Department met Tuesday to discuss ways to keep local operations in business, while adhering to the 10-person limit, a county representative said.
"The reality is having this piecemeal uncoordinated policy is not healthy for anyone. Businesses within the city limits can't do business and businesses outside the city limits can," he said, adding that the policy has received a mixed bag of reactions from North Fourth Avenue businesses.
"We need to have coordinated policies that all the health care professionals are involved in crafting those policies."
Following the proclamation, the Tucson Metro Chamber of Commerce issued a statement supporting the decision, but advocating for Tucsonans to use takeout and delivery services from local restaurants, stating it "is in the best interests of the community, our restaurants and the employees that work in these establishments."
"Our local businesses and their employees depend on your business to pay their bills. The more unemployed workers created during this crisis, the longer it will take for our community to recover," the statement said. "There is no doubt that our community will recover, and we must be proactive to try to control the depth of recovery necessary."
The decision otherwise received support from a number of business leaders who privately met with Romero and Vice Mayor Paul Cunningham on Monday to discuss options regarding economic struggles.
Oro Valley Mayor Joe Winfield issued a formal proclamation Tuesday, declaring a town emergency and "a strong advisory — not a mandate — that restaurants and similar businesses enact measures to implement social distancing, and rely on the use of delivery and takeout service."
Marana Mayor Ed Honea on Tuesday afternoon also declared a state of emergency for the northwest-side town that is home to dozens of locally owned and national chain restaurants. Honea also issued an emergency proclamation calling on town restaurants, bars, libraries, clubs, gyms and other public places "where groups of 10 congregate" to take measures to implement social distancing. Earlier Tuesday, Honea said one idea could be to limit those facilities to half their capacity.
Marana's actions came in response to moves made by Romero and Phoenix city officials, none of whom reached out to Honea or Oro Valley or Sahuarita officials before Romero's early afternoon announcement, he said.
"I am amazed. I am just dumbfounded. I've known Regina Romero for 20 years. It's not like you can't take five minutes and make a call, but no heads up at all," a frustrated Honea said after learning about the declaration from a reporter about 20 minutes after it was made public.
In response, Romero said "COVID-19 is not waiting and neither can we."
"As the mayor of the city of Tucson, my top priority is protecting public health and we are acting swiftly to do just that," she said.
The announcement comes days after Romero announced several other city initiatives to limit the spread of COVID-19, a list that included not issuing future special event permits for groups of 50 or more and suspending Tucson Water shut-offs and late fees for customers who are delinquent on payments.
But Tuesday's emergency proclamation exhibited a ramped-up effort by Romero, who has the authority to govern the city by proclamation in times of "calamity or disaster" and "shall have the authority to impose all necessary regulations to preserve the peace and order of the city."
Her announcement also included the closing of service counters and lobbies in city buildings, and suspending evictions on city-owned public housing through the end of April. All trash, recycling, landfill and trash services will continue uninterrupted.
The decisions of Tucson and Phoenix to impose similar limitation came despite recommendations from Gov. Doug Ducey, a Republican, to adhere to 10-person limits. He said Tuesday in Tucson that he's "respecting local leaders' decisions" and that he's deferring to experts and recommendations to make decisions for the state.
"I'm asking for that guidance on what is the prudent decision," Ducey said . "We want to make certain that we've got a sense of urgency and we stay a step ahead of this. At the same time, we realize that the conditions on the ground are changing hourly. So, we can escalate and make decisions in the future that have not yet been made, we just want to be responsible and prudent."
The announcement otherwise received praise from U.S. Rep. Ann Kirkpatrick, D-Tucson, who commended Romero for her "leadership during these difficult times."
"This critical intervention and local mandate has been implemented to save lives and reduce the amount of harm in our Tucson community," Kirkpatrick said. "It's time for everyone to understand that we are entering a new phase here — the message from federal, state, and local governments to the American people needs to be the same: stay home."
Concerned about COVID-19?
Sign up now to get the most recent coronavirus headlines and other important local and national news sent to your email inbox daily.