After the latest round in a long-simmering political fight, tomato importers in Nogales and Rio Rico are leaving an industry worth hundreds of millions of dollars every year.
U.S. Department of Commerce officials recently sided with Florida tomato growers who claimed Mexican growers were dumping tomatoes to "destroy the domestic tomato industry."
The claim has yet to be proved, but many Santa Cruz County distributors who want to import tomatoes now must deposit hundreds of thousands of dollars with Customs and Border Protection.
The hefty deposits are based on a new 17.56% import duty that was set when the Commerce Department restarted an investigation into alleged dumping of Mexican tomatoes on May 7.
The situation has made some distributors say it's just not worth it and has thrown Mexican growers into turmoil.
Nogales-based Chamberlain Distributing cut its tomato season short and won't import tomatoes next season, said President Jaime Chamberlain.
"In 48 years, this is the first time Chamberlain Distributing will not import Mexico-grown tomatoes," he said.
Rio Rico-based Ciruli Brothers stopped importing tomatoes in mid-April in anticipation of the new duties and deposit requirements.
It has no plans to restart when the tomato season picks back up in the fall, said COO Chris Ciruli.
The deposit requirements are particularly difficult for smaller distributors, said Lance Jungmeyer, president of the Nogales-based Fresh Produce Association of the Americas. They now have two choices: give up importing tomatoes or join with "somebody who has deep pockets."
The decision to stop importing tomatoes means giving up a piece of a lucrative business. U.S. companies imported $1.9 billion worth of Mexico-grown fresh tomatoes in 2016. Distributors in Nogales and Rio Rico accounted for 42 percent of those imports, according to a 2018 University of Arizona study.
So far, retail tomato prices have gone up about 30% since May 7, Chamberlain said.
Retailers "bought the hype" of an impending tomato shortage and raised prices, he said. There is no shortage yet, "But there will be" when more companies realize how much they'll have to spend on the cash deposits.
The tomato business in Santa Cruz County is centered on rows of warehouses along Interstate 19 in Nogales and Rio Rico, where hundreds of workers buzz around on forklifts from October to May.
They unload millions of pounds of tomatoes from Mexico, along with a cornucopia of other fruits and vegetables, and send them to grocery stores throughout the United States.
Two warehouse workers told the Arizona Daily Star last week they and their colleagues are concerned about what will happen to their jobs if tomato imports dry up.
The one-stop career center in Nogales was not flooded with laid-off workers during a visit by the Star last week, but the tomato dispute could lengthen the county's seasonal spike in unemployment in the summer.
In Mexico, the tomato dispute threatens 400,000 agricultural jobs and 1 million jobs in logistics and support services, Graciela Marquez Colin, the Mexican secretary of economy, wrote in a March 12 letter to U.S. Commerce Secretary Wilbur Ross.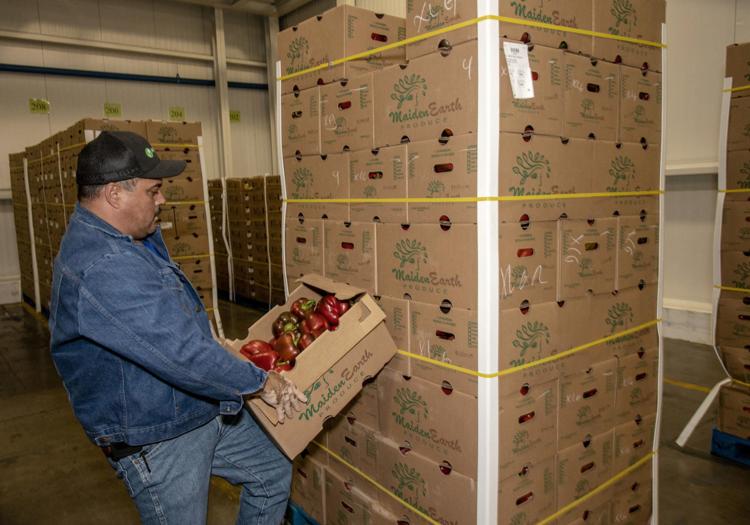 The Mexican government expects the new duties will cost Mexican exporters more than $350 million annually, according to a May 7 news release from Marquez's office.
To stave off the immediate impact of the dumping investigation, Mexican growers asked a judge in the U.S. Court of International Trade on May 9 to block the increased duties and deposit requirements.
They say they are being punished as if the Commerce Department already determined they were dumping tomatoes, even though the investigation hasn't concluded .
Mario Robles represents 190 growers in the Mexican state of Sinaloa, where tomatoes are such a large part of the economy they were for many years featured on license plates.
In a sworn declaration, he said one-fifth of growers are reducing their shipments to the United States and about one-quarter stopped shipping two months before the end of the season.
Alfredo Diaz, a representative of more than 250 growers throughout Mexico, wrote that nearly half of those who export to the United States do not have a bond in place.
Martin Ley, a longtime produce distributor in Mexico and Nogales, said the cash deposit requirements meant four out of every 10 contracts with growers in Mexico are being renegotiated. The other six contracts were canceled, he wrote.
"Tomatoes are a very perishable agricultural product. If not delivered now, they spoil," Ley wrote. "An hour counts in our business and a sale stopped now is lost forever. Every lost sale constitutes irreparable injury."
James B. Manson, a longtime customs broker in Nogales who handles imports for 12 of the largest Mexican tomato growers, wrote that imports of Mexican tomatoes used to come into the United States under a $50,000 continuous bond.
Now, some of his clients have to come up with $1 million in collateral to get a surety bond, which is more than they can afford, he wrote. As a result, one-third of his clients have stopped shipping tomatoes.
"From conversations with other customs brokers at the border, I understand that about one-third of Mexican growers have reduced volumes and the remaining two-thirds have stopped shipping," he wrote.
"Unfair trade laws"
While thousands of trucks brought tomatoes through the Mariposa Port of Entry in Nogales every year, growers in Florida watched their share of the U.S. market shrink.
Since NAFTA was implemented in the 1990s, Florida growers have claimed "unfair trade laws" allowed Mexican tomato growers to dump their product into the United States.
In an uneasy co-existence since 1996, the tomato industry has operated under what is known as the "tomato suspension agreement." The term refers to a suspended anti-dumping investigation from the early 1990s that indicated dumping was occurring.
The agreement, which has been revised several times, allowed Mexican tomatoes to be sold in the United States as long as their prices stayed above agreed-upon minimums.
In the most recent dispute, Florida growers led by the Florida Tomato Exchange said federal data showed prices of Mexico-grown cherry tomatoes in Chicago dipped below those agreed-upon minimums nearly every day in February 2018. The prices for Roma tomatoes also violated the agreement for several days that month in Baltimore, Los Angeles, Miami, New York and Philadelphia.
"President Trump has stated that strong implementation of U.S. unfair trade laws is essential for the economic survival of American companies, farmers and workers that are materially injured by dumped and subsidized imports," the exchange argued in a Nov. 14 letter to Ross.
The letter went on to say the Obama administration "demonstrated its lack of commitment to strong and effective enforcement of the unfair trade laws" when it avoided addressing a 2013 request from Florida growers to "face the fact that the suspension agreements were not working."
Mexican growers said they have been in "full compliance" with the agreement, trade court records show. The Commerce Department found 62 alleged violations, out of more than 50 billion transactions, since 2013. Most of the alleged violations involved mislabeled boxes, they said, and federal investigators reached "satisfactory outcomes."
In Nogales, Chamberlain cast doubt on the notion that Mexican tomatoes were being dumped. The Florida growers "have not presented any paperwork or invoices showing people are dumping," he said.
Ciruli said prices sometimes drop at the height of the season when production spikes, "But if it happened over the long-haul people wouldn't be in this business."
For now, the trade court case continues with no end in sight. Tomato growers in Mexico offered a new proposal last Wednesday. However, that proposal was rejected by the Florida growers.