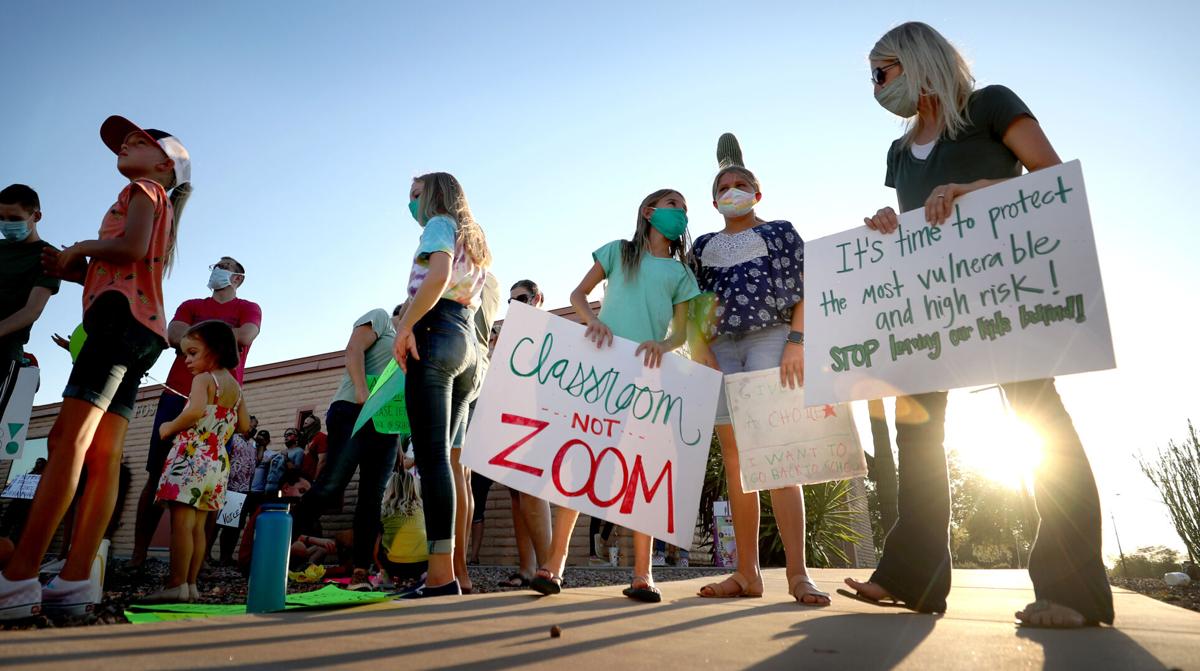 "Open our schools" and "parents need choices" were a few of the sign slogans at the protest outside the empty Marana Unified School District offices on Thursday evening.
On Sept. 3, nearly 100 adults and children called for schools to open for traditional classes, the same day the Arizona Department of Health Services announced that Pima County had reached the benchmarks to offer a hybrid model of learning, combining a mix of in-person and virtual instruction.
"This cannot be a long term solution," said Amy Millett, who started the newly-formed group, Parents Need Choices Pima County, and helped organize the protest. "We need to start getting kids back in the classroom."
Millett started the group after several friends reached out to her about emotional and mental-health struggles their kids are having.
A stay-at-home mother of five, Millett says remote learning for the first two weeks of the school year were rough for her four school-age children, who attend Marana Unified schools. But her kids are resilient and getting by, she said. She's protesting to be a voice for the parents whose kids are suffering from depression or who have special needs that make remote learning more difficult.
Many of the parents at the protest said their kids are struggling with anxiety or depression and that they miss school and don't like remote learning.
Marana, like all Tucson's major school districts, is offering in-person services for at-risk children and those who need a place to go during the day as required by Gov. Doug Ducey's executive order. These services amount to small numbers of children doing school online while being supervised by a monitor in a classroom.
For these parents, that's not enough. They want in-person learning with a teacher in the classroom, but the Pima County health department says the region isn't ready.
READY TO GET BACK TO NORMAL
While the state says Pima County is ready for hybrid instruction, which could include kids coming to school two days a week and doing remote learning from home the rest of the time, many of the parents protesting Thursday evening said though that would be better than nothing, they want their kids in school every day.
However, the state recommends that counties reach an even higher standard that has yet to be achieved locally to reopen fully for traditional in-person learning.
Parents Need Choices Pima County started a petition that has gained nearly 700 signatures in the last week, calling for the benchmarks to be adjusted and for kids to immediately return to in-person learning.
Some members of the group are also planning to take their protest directly to Pima County, which has its own set of metrics that go beyond the state's expectations, with a downtown protest planned for Sept. 8 at 4:30 p.m.
Millett says the county's metrics have tied the hands of the Marana schools superintendent. While she feels loyal to public schools, she may look for other options if her kids can't get back into the classroom with a teacher soon.
"As parents, we started to say, how can we make our voices heard?" Millett said. "This was one way that we decided that we could come out and tell Pima County that not everything is OK. We are struggling, and we are just surviving, and we are ready to get back in the classroom."
OPTIONS FOR TEACHERS 
Bringing students back to campus for traditional learning requires teachers to return as well. 
The Marana School District told teachers earlier this week that it might bring small groups of students onto campuses in the weeks leading up to fall break and that employees working remotely should prepare to return to campus unless they qualify for an accommodation under the Americans with Disabilities Act.
The district previously said it would resume in-person learning after fall break, with a return date of Oct. 19. That was a timeframe teachers could get behind, said Sandy Faulk, Marana Education Association president.
"Not because they're excited to be doing remote learning from home, and not because it's easy to teach remotely, but because it gives us time," Faulk told the district governing board.
The notice of an accelerated process, however, "was met with fear, anger and confusion," Faulk said, adding there is still a lot of work to do to both comply with the mitigation plan and to be safe.
Superintendent Dan Streeter said while much of the mitigation plan to return to schools is done, some of the fine details are still in the works. The district also needs the results of a parent survey out now, to see how many parents want to return and when. This will help the district figure out what kind of hybrid learning they need to implement to allow for social distancing, whether that means staggered days for cohorts of students or five-day in-person weeks, and how many teachers will be needed.
Teachers will be accommodated as feasible in prioritized tiers, for example teachers who live with someone who is high risk, those who are caring for children at home and, lastly, those who just aren't comfortable returning yet, said Assistant Superintendent Carolyn Dumler.
"There may still be some teachers who, on the basis of their job, could continue to work from home and Zoom remotely without it impacting, for example a speech pathologist, or perhaps a reading specialist, but a classroom teacher, possibly not," Dumler said. "There's a lot of different factors."
CONFLICTING GOALS CAUSE CONFUSION
The state's benchmarks include fewer than 10% of hospital visits being for COVID-like symptoms, fewer than 7% of tests conducted coming back positive in the past two weeks, and either a two-week decline in the number of cases or a case rate of fewer than 100 for every 100,000 residents.
The state, however, also urges school leaders to consult with local health departments as the best source of information on local coronavirus conditions.
Pima County has the same three benchmarks as the state, with an additional six, two of which are still concerning and have to do with testing and contact tracing capabilities, said Pima County Chief Medical Officer Dr. Francisco García.
Christy Bateman, a stay-at-home mother of five, says she doesn't understand why the county says the benchmarks haven't been met when the state says they have. She also feels that the risks of not being in school are greater than the risks of COVID-19.
Many of the protesters say that the county's benchmarks are unreasonable and don't account for the mental health and wellbeing of children.
Bateman says distance learning has been hard on her four school-age kids.
"They're straight-A students. They're in the gifted class, and I've had all of them say at some point that they hate school now, and those are things I've never heard them say before," she says.
Rebecca LaBounty, a single mother of five, has one high schooler in the Marana district and three younger children who have returned to in-person learning at Legacy Traditional, a charter school that welcomed back about 60% of it's student body on Aug. 24.
LaBounty says distance learning has been hard and has put pressure on her older kids to help out more. But now, her three who are at the charter school are "back to normal," she says.
"They're learning, and they're happy," she said. "My high schooler is still struggling. She's getting decent grades, but she's not learning anything."
LaBounty is fine with whatever safety precautions the schools take, but she doesn't think anything above regular safety precautions is necessary.
"Whatever it takes to get them back to school," she says. "I'm happy that they're going to wash their hands extra — that's always a good thing. I'm not worried about them wearing masks, but I'm fine with it. We'll play along."
"Mustang Stampede"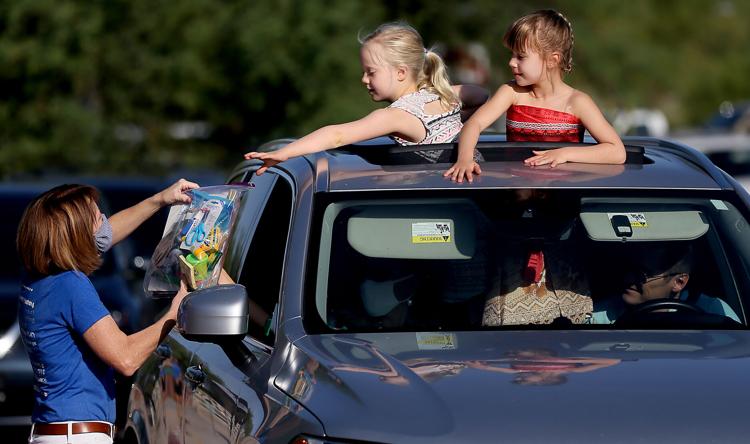 First Day of School, John B. Wright Elementary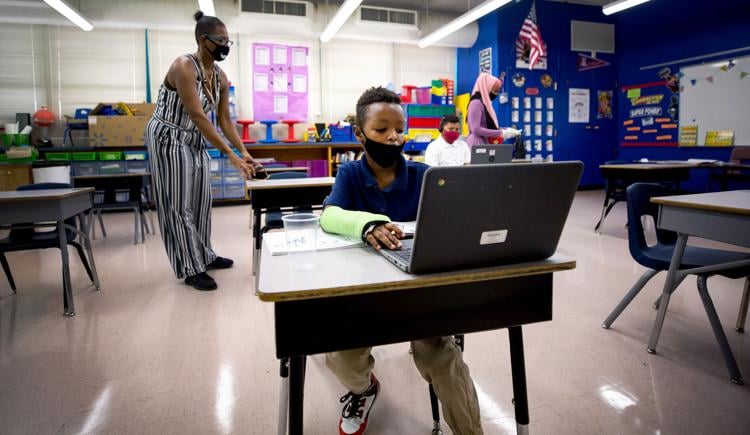 "Mustang Stampede"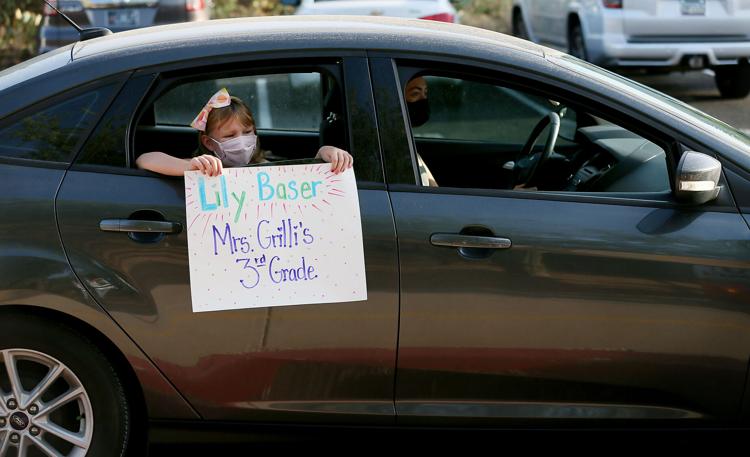 "Mustang Stampede"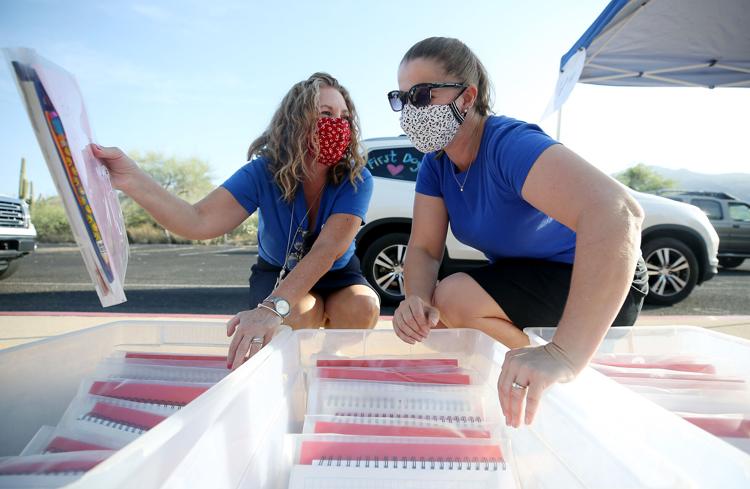 "Mustang Stampede"
"Mustang Stampede"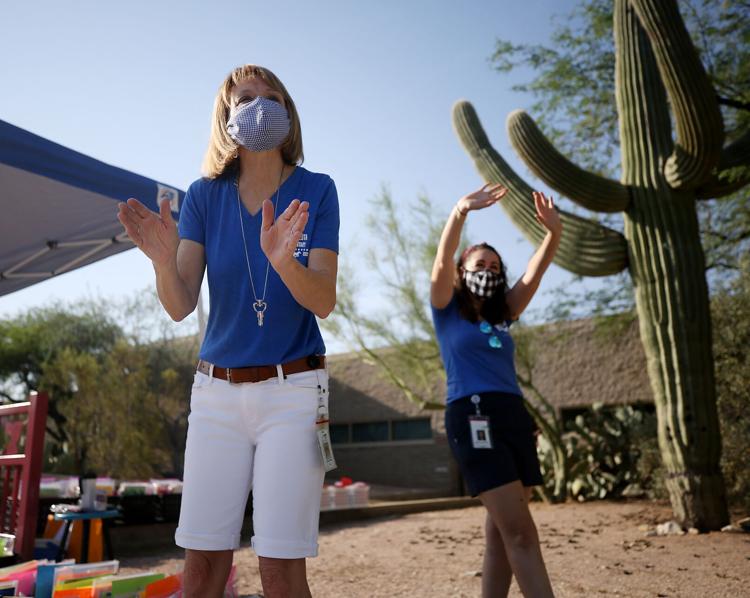 "Mustang Stampede"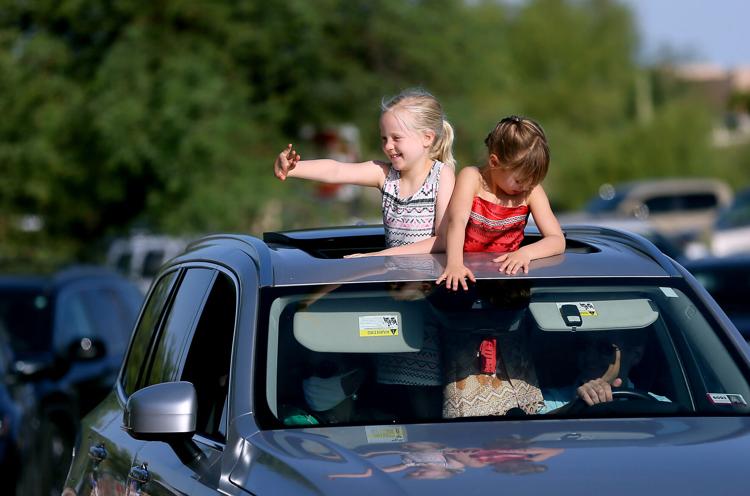 "Mustang Stampede"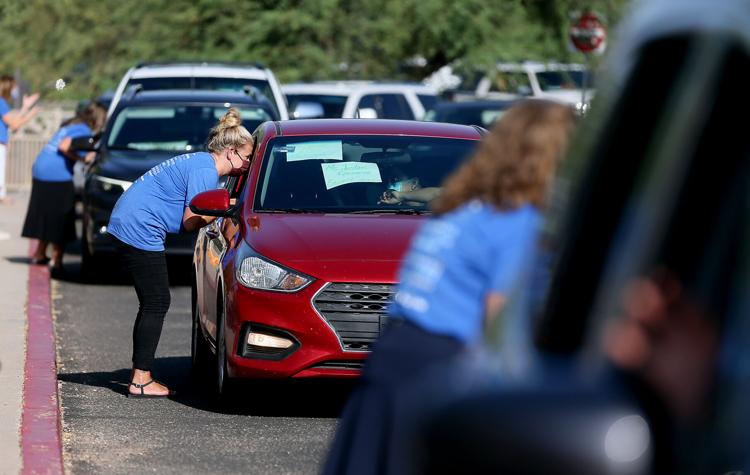 "Mustang Stampede"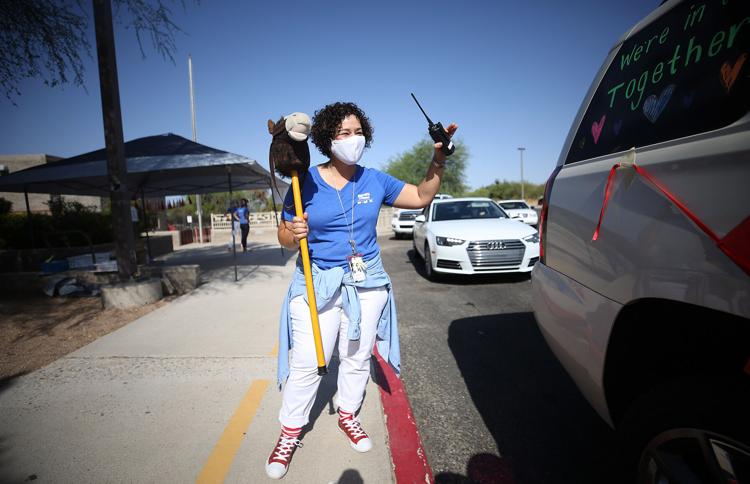 First Day of School, John B. Wright Elementary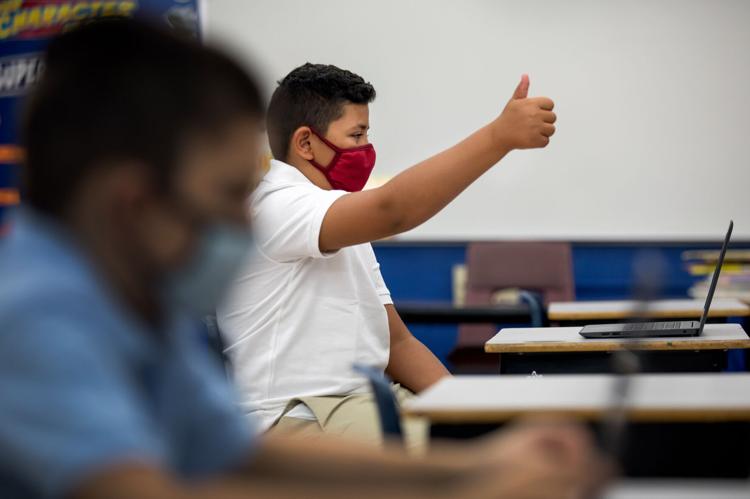 First Day of School, John B. Wright Elementary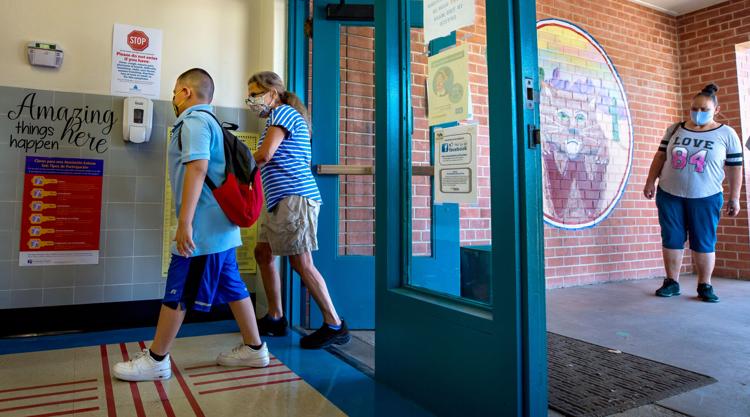 First Day of School, John B. Wright Elementary