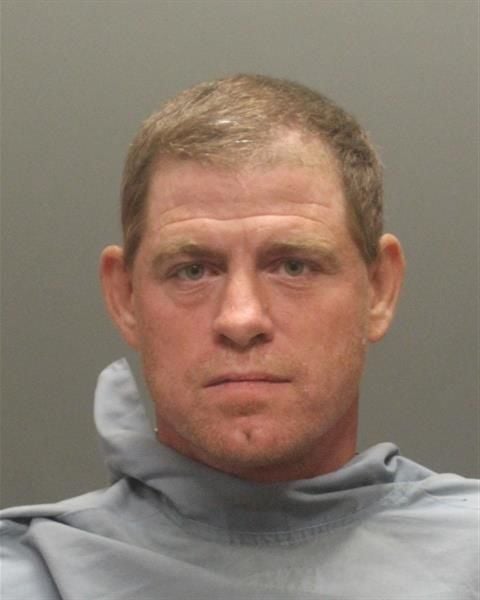 Pima County sheriff's deputies arrested a well-known pedophilia conspiracist Monday morning on charges related to stealing and damaging water tanks belonging to a humanitarian group.
Michael Lewis Arthur Meyer faces two felony counts of third-degree burglary as well as misdemeanor counts of theft and criminal damage.
Meyer is the same man who last summer ignited a fast-burning conspiracy theory that he had discovered a homeless camp for pedophiles on Tucson's southwest side, near Interstate 19 and West Valencia Road.
Meyer announced his alleged discovery on property belonging to Cemex in May 2018, but Tucson police investigated afterward and decided it was not a pedophile camp, as he claimed. After that, he became connected to the QAnon conspiracy campaign, which alleges a global conspiracy of sex traffickers, and patrolled the deserts around Marana and later Three Points, often broadcasting his desert walks via Facebook Live.
He also started the Veterans on Patrol homeless camp near Tucson's Santa Rita Park, which has since been shut down by city officials.
Various times in the last year, Meyer has videotaped himself emptying water from barrels left out by Humane Borders, accusing them of being part of a cross-border child-sex-trafficking conspiracy.
Joel Smith, who directs operations for the Tucson-based humanitarian group Humane Borders, said in the last few weeks, Meyer has stolen six water tanks put out for cross-border migrants walking in the deserts. Meyer often broadcasts himself interfering with the tanks, claiming they are part of an international child-trafficking conspiracy involving the Clintons, George Soros and others. 
Those incidents are what prompted this latest arrest, said Deputy James Allerton, spokesman for the Sheriff's Department.
On July 12, deputies responded to a call about Meyer removing a water station from private property at a Three Points-area home, Allerton said.
They began an investigation and obtained warrants for his arrest as a result of several similar incidents shown on video.
On Monday morning, Meyer went on Facebook Live and showed himself walking outside the fence of Robles Elementary School in Three Points, discussing smuggling routes and garbage in the desert.
Representatives of the Altar Valley school district called 911, superintendent David Dumon said, and responding deputies arrested Meyer on the new warrants.
Meyer is already on probation, having been arrested several times during the last year and once being accused of felony trespassing for an incident in which he and a group of others went into a vacant ranch house and videotaped themselves as they decided it had been used for child sex trafficking.