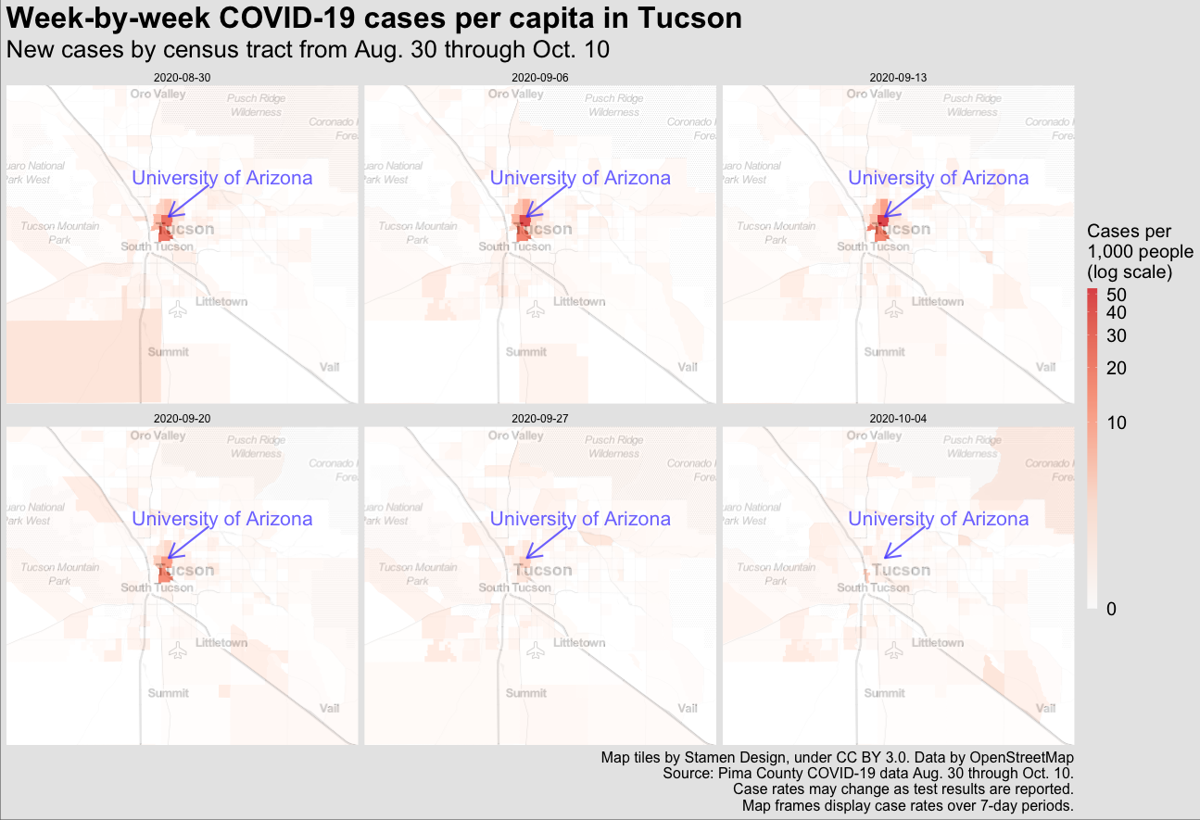 New COVID-19 cases continue on an upward trend in Arizona.
While the increase concerns public-health experts, the number of cases still hasn't rivaled the statewide peak of nearly 28,000 cases in the first week of July.
More recently, the number of cases increased by 20% to 5,771, while the number of tests conducted statewide remained flat from Oct. 4-10 to Oct.11-17, according to the Arizona Department of Health Services' chart of COVID-19 cases by date, as of Friday.
Lags in COVID-19 test reporting have been minimal in recent weeks. It normally takes up to seven days to report results, according to ADHS, although it has taken ever longer in the past.
The pandemic could get worse in a short amount of time, experts warn. It happened only a few months ago.
"Given the possibility of exponential growth, current conditions could deteriorate rapidly," Dr. Joe Gerald, an associate professor with the University of Arizona's Zuckerman College of Public Health, wrote in a report he published last week.
He pointed out that total new cases increased around 480% in four weeks, starting from the last week in May. And the case count from Oct.11-17 is higher than it was in the last week of May.
Gerald said that leads him to worry about the potential for overwhelming hospital capacity. As cases have increased statewide, so have COVID-19 hospitalizations.
"While adequate excess capacity remains, the safety margin is eroding," Gerald wrote in his report. "If current trends continue, Arizona is on track to experience a major resurgence during the Thanksgiving/Christmas/ New Year holiday season."
Deaths from COVID-19 have continued to show a downward trend, but they are a lagging indicator. Cases and hospitalizations will rise first.
"Because new case counts are increasing, mortality trends are expected to reverse by the end of the month," Gerald wrote.
Coronavirus trends in Pima County
Coronavirus metrics have been on a different trajectory in Pima County.
"We're doing better than most counties in the state of Arizona," said Dr. Francisco Garcia, the county's chief medical officer. "What's a little bit worrisome is that this number, the weekly cases per 100,000 (people), has been creeping up a little bit."
The number of cases slightly increased by about 8% from Oct. 4-10 to Oct.11-17, while the number of diagnostic tests conducted countywide slightly decreased, according to ADHS data, as of Friday.
The percent of positive diagnostic test results increased from 4% to 5% statewide and 3% to 4% countywide over the same timeframe.
Cases have remained relatively steady in Pima County since a spike in September that came from the University of Arizona.
Peaks in countywide COVID-19 hospitalizations showed up in the data four or five weeks later, Garcia said. And a small bump in deaths also trailed the September spike in cases.
"These are not young people that are being hospitalized," Garcia said. "These are people in those older demographic groups."
The county's epicenter for COVID-19 is longer so clear, which presents it's own problems.
"It's not geographically localized," Garcia said. "When I look at the map of cases during the last week there's just not the same kinds of orderly concentrations in a neighborhood or something that we can sort of take aggressive action on."
County health officials also haven't pinpointed any outbreaks from specific events, like President Trump's campaign stop, which hosted thousands of people near the Tucson airport.
While it's still too early to know if an outbreak occurred at the campaign stop, contact tracers are asking about it, among other events, Garcia said.
"The bad stuff that's going on in the Midwest, and to a certain extent in Maricopa County, those chickens are going to come home to roost here eventually," Garcia said. "So we need to be pretty vigilant. The good part is we have good hospital capacity, we have good infrastructure, we have good (personal protective equipment) out and available."