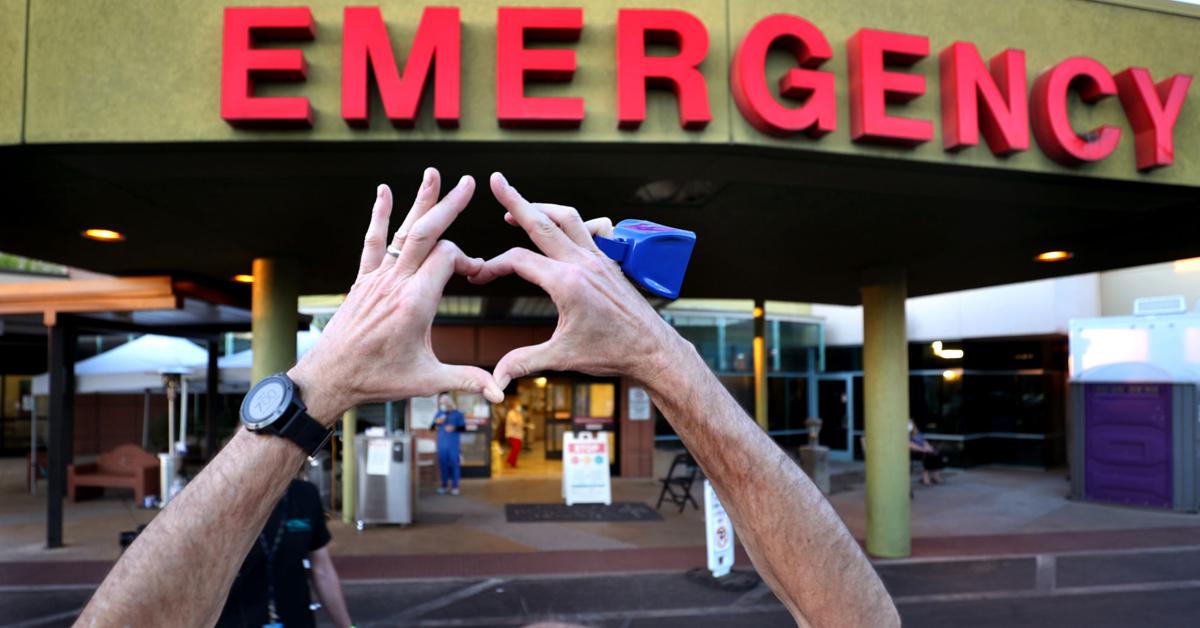 The number of new COVID-19 cases in Pima County has fallen in recent weeks from a high in mid-September.
New cases per 100,000 people dropped below 100, from about 117 to 57 from Sept. 13-19 to Sept. 20-26.
The weekly totals fell from 1,219 to 598 countywide, which is a 51% decrease, according to the Arizona Department of Health Services' chart of COVID-19 cases by date as of Friday.
The rate of cases per 100,000 people is a key metric the county uses to determining how rapidly the virus is spreading in the community. More than 100 cases per 100,000 people for two consecutive weeks raises a red flag.
New cases will likely stay below this benchmark for another week. So far, they totaled 508 from Sept. 27 to Oct. 3, a rate of about 47 cases per 100,000 people, however the county wants to eventually see less than 10.
It takes up to seven days for COVID-19 test results to trickle in, according to ADHS, although sometimes it takes longer.
"Things aren't too bad," said Dr. Joe Gerald, an associate professor with the University of Arizona's Zuckerman College of Public Health. "Our hospitals aren't overwhelmed. Case counts are kind of low. It's this very weird place where complacency is our biggest enemy right now. While we're doing well in the moment, we're not that far away from being back in some of those situations that we faced back in June."
Tracing the UA outbreak
The spike in cases in September was largely contained to areas in and around the UA campus.
Contact tracing determined that a lot of the cases traced back to off-campus apartments and on-campus dorms were associated with social activities at fraternity and sorority houses, said Dr. Francisco Garcia, the county's chief medical officer.
While officials know where the outbreak came from, it looks different depending on how you look at it on a map.
Take ZIP codes for example, Garcia said. "Right now 85719 lights up really big, bright red. Huge numbers. But if you look at the census tract, it's actually just one, two, maybe three census tracts."
Census tracts cover less area than ZIP codes on a map, so they show the outbreak more precisely.
This week, Pima County launched its own public-facing dashboard to allow the public to search coronavirus cases and deaths by ZIP code, census tract, municipality or school district. Cases and deaths can also be broken down by data, gender, age and ethnicity.
"Good, accessible data is the crux of public health and the decisions we make, and I encourage everyone in Pima County to use it to make the best decisions for yourself and your family as this pandemic continues," Health Department director Dr. Theresa Cullen said in a statement.
The tool will be used on the back-end for the county's contact tracing efforts, but it will ultimately free up staff from answering questions from the public regarding locations of cases, Garcia said.
The dashboard does omit some information, such as cases in tribal areas and any other areas that have less than 10 cases.
It also maps and ranks areas, like ZIP codes and census tracts, by raw totals, instead of showing the COVID-19 deaths and cases per capita for an area's population.
Per capita rates "normalize" the case counts across populations, Gerald said. For example, they make it easier to compare the number of cases across the county's ZIP codes.
"One of the challenges with raw case counts is they're going to be heavily weighted towards areas that have a higher population rate. And it's very hard to do the mental math in your head," he said. "Think about, 'well is this ZIP code more populous than another ZIP code?' Because if you don't take that mental math into account, it might lead you astray."
Garcia prefers the map of census tracts over ZIP codes because census tracts are smaller and "because they tend to have closer to more similar population sizes."
Making progress
Ultimately the county is in a good position, Garcia said, adding that the decrease in cases was due to good compliance from students over pool and common area closures, as well as a recommended 14-day quarantine.
"That's part of the reason why we want to recognize all the good stuff that folks have done," he said. "We realize it's been onerous, it's been difficult. I'm just thankful we're starting to see the other end of this."
He said that despite a statewide jump in hospitalizations, the number of beds available in Pima County hasn't fluctuated much over the last month.
"We're at about the same number of beds in use that we were at the beginning of the month," he said. "That's a good sign."
Similarly, while the number of new cases has continued to decline, the county has been able to maintain its level of testing, with more than 21,000 diagnostics tests completed during the last two weeks in September, marking an increase from the previous four weeks.
"If anything, we've been going up," he said, adding that the percent positivity dipped to 3% last week. "I believe that we're moving in the right direction. … We've been making the kind of progress that we need to make in order to get this thing under control."
Concerned about COVID-19?
Sign up now to get the most recent coronavirus headlines and other important local and national news sent to your email inbox daily.