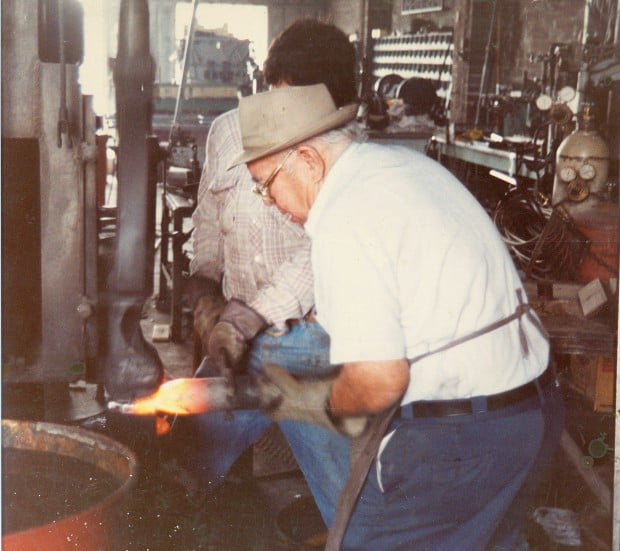 Harry Dayton Hayes knew what made Tucsonans sneeze.
For more than 30 years, the lab technician kept daily record of pollen blowing through the city. The data led to several research projects, numerous scientific papers and the addition of a county ordinance regulating the importation of non-native flora.
Even in retirement, Hayes couldn't let go of his life's work.
"When we were cleaning out his house just before we sold it, we found Harry had this collection of dozens of these wooden boxes that stored these glass slides. They were full of preservation slides of pollen smears," said his son, William Hayes.
Harry Hayes died on Oct. 7 after a brief illness. He was 89.
Born in Bisbee in 1920, Hayes family moved him to Tombstone where his father ran a barbershop. The future lab tech's first job was cleaning up around his father's shop and shining shoes. The family moved to Tucson in the early 1930s, when Harry's father became co-owner of a barbershop on Davis-Monthan Air Force Base, William Hayes said.
Summers during Hayes' boyhood were spent on his uncle's ranch along the San Pedro River, said former colleague Allen Solomon, a retired global ecologist living in Oregon. On occasional road trips through Southern Arizona, Hayes kept Solomon entertained with stories of his childhood. Hayes recalled one summer on the ranch when he was 9, and a bankrupt circus passing through sold its baby elephant to his uncle.
Hayes also recalled taking food to displaced Chinese immigrants housed at the Bisbee jail during the Great Depression. The workers were expelled from Mexico and lived at the jail until they could find permanent housing and jobs. Hayes' mother contracted with the town to feed the immigrants, "and Harry was running plates of food over and bringing back dirty dishes to his mother."
After graduating from Tucson High, Hayes attended the University of Arizona on an athletic scholarship. He played offensive center and defensive guard on the Wildcat football team. It was at the UA that Hayes began working in a lab as a glassware washer.
During World War II, Hayes joined the Navy for two years before enlisting as a Marine reservist and continuing his education. While stationed in Oakland, Calif., he met Alice Holliday, whom he wed in 1942. The couple had three sons. Alice died in 2001.
After the Korean War, Hayes returned to Tucson and took a job offered by William E. Draper. Since 1920, Draper had run the laboratory for Tucson Clinic (later called Thomas-Davis Clinic) in midtown. Draper began keeping pollen counts on-and-off in 1922.
In 1953, Hayes took on the task and kept meticulous daily records for the next 33 years, until his retirement in 1986. Though, Solomon said, "there was always a hole in the records for two weeks in August when he took vacation."
Hayes began working with Solomon when the then-paleo- ecologist moved to Tucson in 1970 to study fossil pollen records and compare them with modern pollen records. The duo wrote a number of scientific papers based on their combined research.
"He and I worked together on them, and I found him to be an exceedingly curious fellow," Solomon said. "He was very excited to learn things from those pollen records. He was one of the finest humans I've ever worked with.
"We were able to demonstrate the atmosphere in Tucson had changed drastically over the years, especially with the increase of exotic species - things that don't belong there. These things apparently were causing allergies in people who had come to the Southwest to avoid their asthma and allergies."
It was their findings that led the Pima County Board of Supervisors in the mid-1980s to create the first pollen-control ordinance in the nation, said Tucson air-quality investigator Mark Sneller.
In the 1970s and '80s Hayes was the go-to guy for information on pollen counts. In his capacity as chief medial technologist at the Tucson Clinic, Hayes often was interviewed by local reporters and regularly laid blame for airborne allergens on exotic and non-native plants and trees.
From the midtown lab where he worked, Hayes took daily samplings of pollen to assess the impact on allergy sufferers. The collection device was basic - a stand that held a glass slide smeared with Vaseline. The slide was replaced every 24 hours and examined under a microscope by Hayes to determine the types and quantities of plant pollens clinging to it.
Often the pollen culprits included mulberry and olive trees and Bermuda grass.
"We have created a monster that could have been avoided, because our native flora isn't all that ugly," Hayes said in a 1979 Arizona Daily Star article.
"Quit watering those things and go back to the old desert flora," he advised readers of the Tucson Citizen that same year.
"He was native desert all the way," Sneller said.
In 1980, Hayes, Sneller and a researcher from the UA completed a study on the changes in Tucson's flora and the wide-spread use of swamp coolers and their effects on pollen and mold allergies. He and Sneller later published a free Tucson pollen and mold calendar, offering a month-by-month preview of what allergy sufferers could expect for the coming year. He and Sneller also wrote myriad scientific papers together.
For a couple of years in the early 1980s, Hayes' counts were "higher" than usual, when he detected an increase in cannabis pollen at his midtown collection site.
Though the media fueled interest in the evidence of marijuana being grown in the area, Hayes was blasé when he talked to an Arizona Daily Star reporter in 1982: "I'm a native, born and raised, . . . and there's still marijuana growing down there along the San Pedro River."
Based largely on Hayes' records, the Pima County Board of Supervisors voted in 1984 to fund the first pollen and mold program, said Sneller, who headed the program. The funding allowed the men to buy monitors they could set up around Tucson.
"It was preventive medicine. That information was outleted to hundreds of thousands of people every day through radio, through television, through newspapers locally and nationally. Pima County had the first pollen-control ordinance in the nation. The doctors had no source of information but us," Sneller said.
And it all resulted from the decades of meticulous attention Hayes paid to the wee bits of pollen he saw through his microscope.