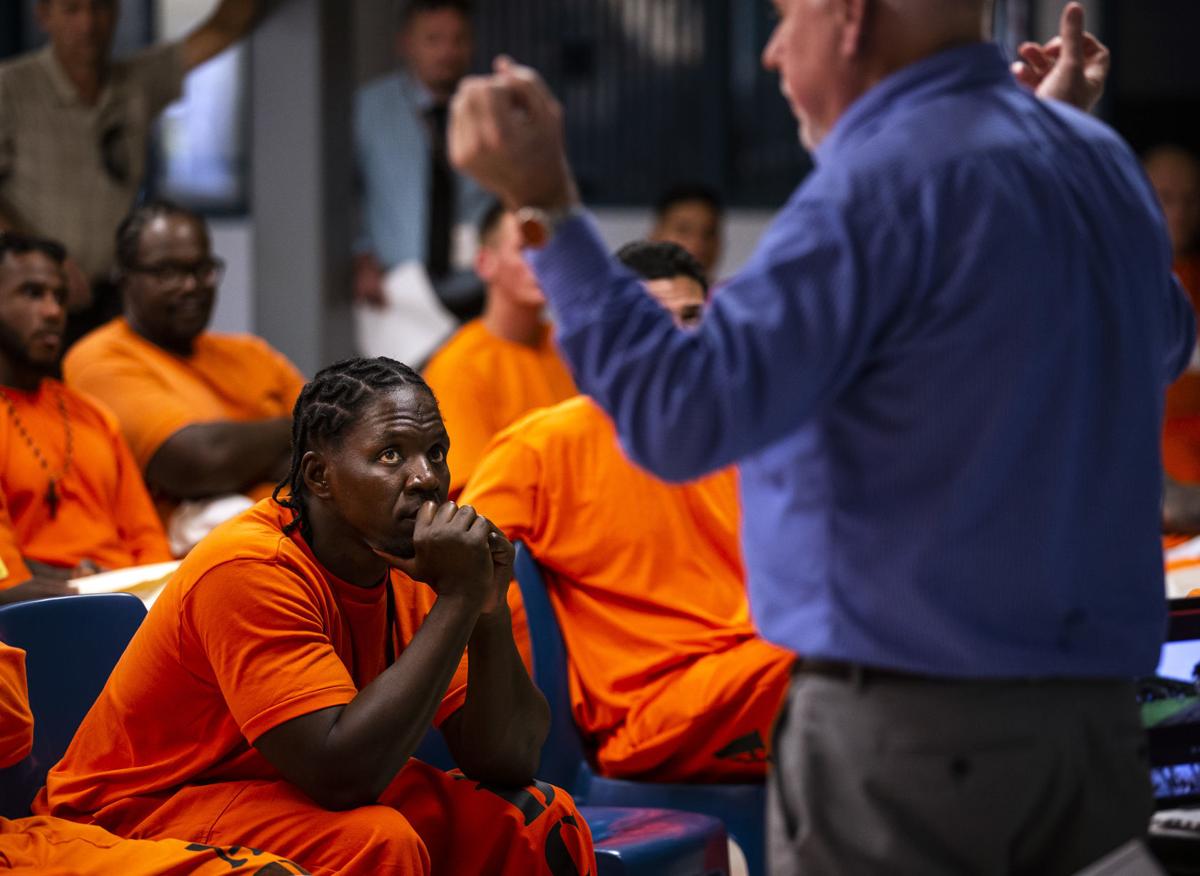 Inmates at the Arizona State Prison Complex in Tucson are turning their mistakes, arrests and jail sentences into motivation to strive for a better future. A future they say is fueled by education and knowledge.
The Prison Education Project, an initiative led by the University of Arizona's English department, aims to advance educational opportunities in the local prison system and introduce incarcerated students to new ideas and perspectives through classes and lectures.
"You've heard of the school-to-prison pipeline where certain schools in some areas tend to be focused in such a way that people are almost expected to go from there to prison," said Marcia Klotz, director of the Prison Education Project. "We're trying to kind of establish a prison-to-college pipeline. It helps people to kind of imagine the possibility of attending college classes when they get out."
Through the project, those with high school diplomas or GEDs are offered a variety of 10-week-long courses such as communications, English as a second language, social anthropology, reading and writing. At the end of the course, they receive a certificate of completion.
The project also expanded in spring 2018 to include monthly lectures on different topics that are open to everyone within the unit, regardless of diploma status. In the past, visiting faculty members have covered topics such as psychology, astronomy, film, Japanese culture and art.
"I believe that education is valuable, even for someone who has a life sentence," Klotz said. "It gives them an opportunity to expand their horizons, to put their mind in a different place, to kind of reach out to a world outside the prison walls."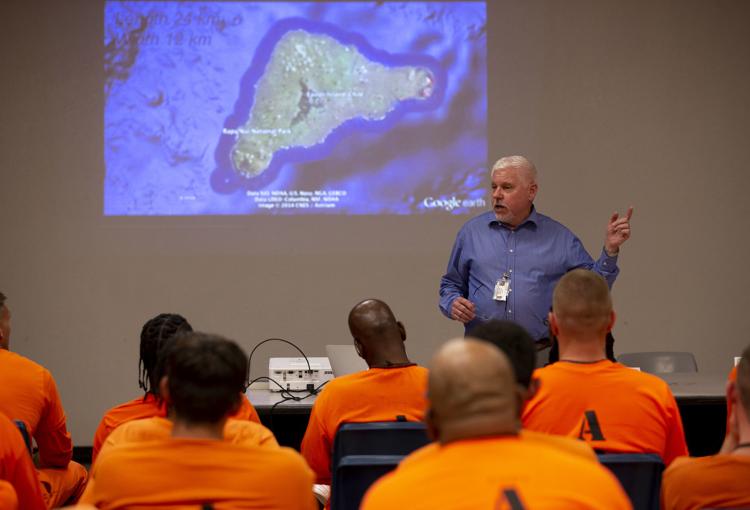 The prison complex is divided into seven separate yards, which range from minimum security at level one to maximum security at level five. The project began in a minimum-security unit called Whetstone and has continued offering courses there over the last four years.
Recently, the team worked with prison officials to expand into the high-security Rincon Unit, which is a level four facility. On Friday, 59 students from that unit attended a lecture called "Solving the Mystery of Easter Island" with Terry Hunt, professor of anthropology and dean of the UA Honors College. This was the third lecture that has been offered at the Rincon Unit so far.
something new
During the lecture, Hunt presented his research on the mysterious, multi-ton statues, called moai, that are placed throughout Easter Island, a Chilean island in the southeastern Pacific Ocean. Hunt and his team investigated how the island's natives, the Rapa Nui people, would have built and transported these statues to different parts of the island with limited resources.
"If you asked the islanders how their ancestors moved the statues, they have a very simple answer. They will say to you, 'they walked,'" Hunt said.
At this point in the lecture, hands were popping up all over the room. The students asked questions about the symbolic meaning of the moai statues, how they would have gotten the statue uphill or downhill, the population of natives on the island before colonizers arrived, the religion and culture of the Rapa Nui people and many more.
After building a life-size replica of a moai statue with the help of National Geographic, Hunt explained that he and his team began experimenting with how the statues could have been transported from a vertical position.
Ultimately, Hunt and his team found that if they used ropes, they could wrap them around the head of the statue and have groups of people pulling the ropes on both sides. As he showed in a video, when they pulled back and forth, the statue began to rock and move forward.
"Remember I told you that if you asked the islanders how the statues were moved. What did they say?" Hunt asked the students.
The group yelled out, "They walked!"
"Now what happens is the statue is designed with the pendulum effect in mind," Hunt said. "So, once it starts to rock, you can almost just let go of the ropes on either side. It's eerie."
The room was filled with more hands and questions. At the end of the lecture, when asked by prison officials if Hunt should be invited back, the group erupted with cheers and applause.
"My favorite part about this lecture was probably the solving of the mystery because they went so many years and decades and centuries without knowing exactly how the statues were moved," said Robert McFall, one of the students. "For me, that bugs me when I really want to know something, and I know there's an answer, but I just can't solve it. So, to see it finally get solved, it was just amazing to see the process and where it came from. It was really cool."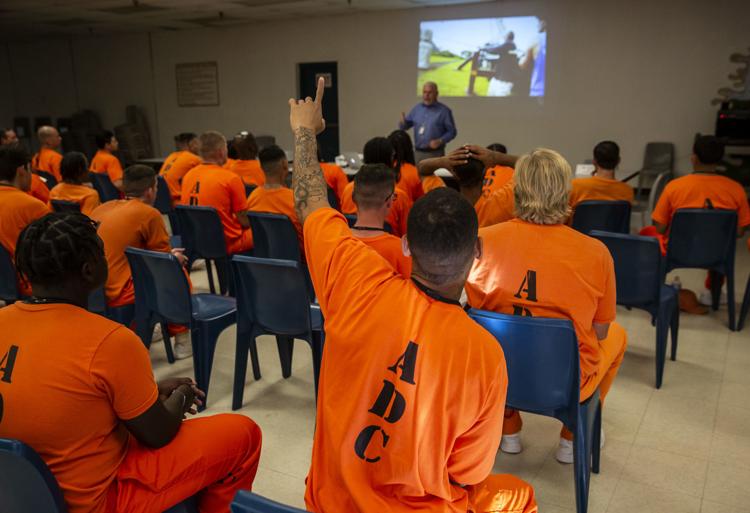 Changing perspectives
McFall has been to every lecture that has been offered at the Rincon Unit so far. He is also enrolled in a 10-week creative writing course where he said he's focused on writing his own book about the struggles of a young boy growing up in Chicago.
"The world paints an image of the incarcerated," said McFall, who is serving time for theft. "It says we're bad people, don't want to learn nothing, don't want to change, and not just through what people read, but also through the images they put out on TV. In some cases, I'm sure you can't argue that. But in a lot of cases, you have a lot of people that would really like to learn more and enjoy these things. I feel like we should be able to get the same opportunity as others. Yeah, we made mistakes. Everybody does. We're not perfect. I'll be the first to admit I'm not perfect, but I enjoy these opportunities to learn things that I missed out on."
For other incarcerated students, the Prison Education Project shines a light on the possibilities of life after prison.
"It gives you something to look forward to, you know?" said Jonathan Jackson, whose convictions include armed robbery. "For me personally, I'm working on bettering myself so when I get out to society, I can give back and teach young people not to make mistakes and I can do better."
Another student, Israel Ortiz, said he plans to attend every lecture he can until he goes home.
Ortiz said growing up in the streets, he didn't value education as much as he does now and wants to take any opportunity he can to challenge himself.
"I know I have face tattoos and stuff, you know, but it doesn't define me as a person," said Ortiz, who was convicted of charges that included weapons misconduct. "To me, it's my past and the struggles that I've been through that have made me who I am now, you know? And just because we're isolated, doesn't mean we don't want to learn. I'd like to learn things and become a better person for my future and for my family's future."
Reducing Recidivism
For Rushaun Dawkins, the lectures are an opportunity to expand his perception of the world and learn about other cultures from a place that can feel very secluded at times.
"Not only are our bodies caged but our perception can be caged," said Dawkins, who is serving time for manslaughter. "Our perceptions become limited, you know what I'm saying? And you're not able to grow. Your horizon is limited. And then, when someone introduces you to something new, it takes you from one place to another. … Without that opportunity, you would never know."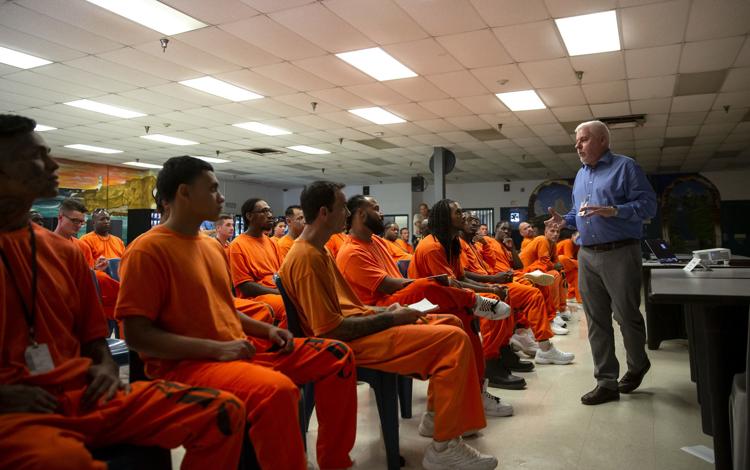 According to Klotz, prison officials have a goal of reducing recidivism — the tendency for people to reoffend — by 25 percent over the next eight years. Arizona's three-year recidivism rate is 39 percent, which is lower than the national average of 50 percent.
"The only way they know how to do that is really by bringing education into the prison system," Klotz said. "That is the one factor that correlates most strongly with lowering rates of recidivism."
The impact that education has on the incarcerated students also affects the rest of society in many ways, Klotz said. Incarceration doesn't only affect one person, but entire families as well.
"Mass incarceration affects 1 in every 3 people in our country, whether it's a family member or a friend who has gone through the system," she said. "So, I just think it's really important that we not leave that part of our society in a box, but that we engage with it in whatever way we can."
"The education is important to us because it shows us that there's still a life out there," said student Robert Dudley, whose charges include theft of means of transportation. "Being able to come to something like this, even just to get out of the prison mindset for an hour or two, it's really big."