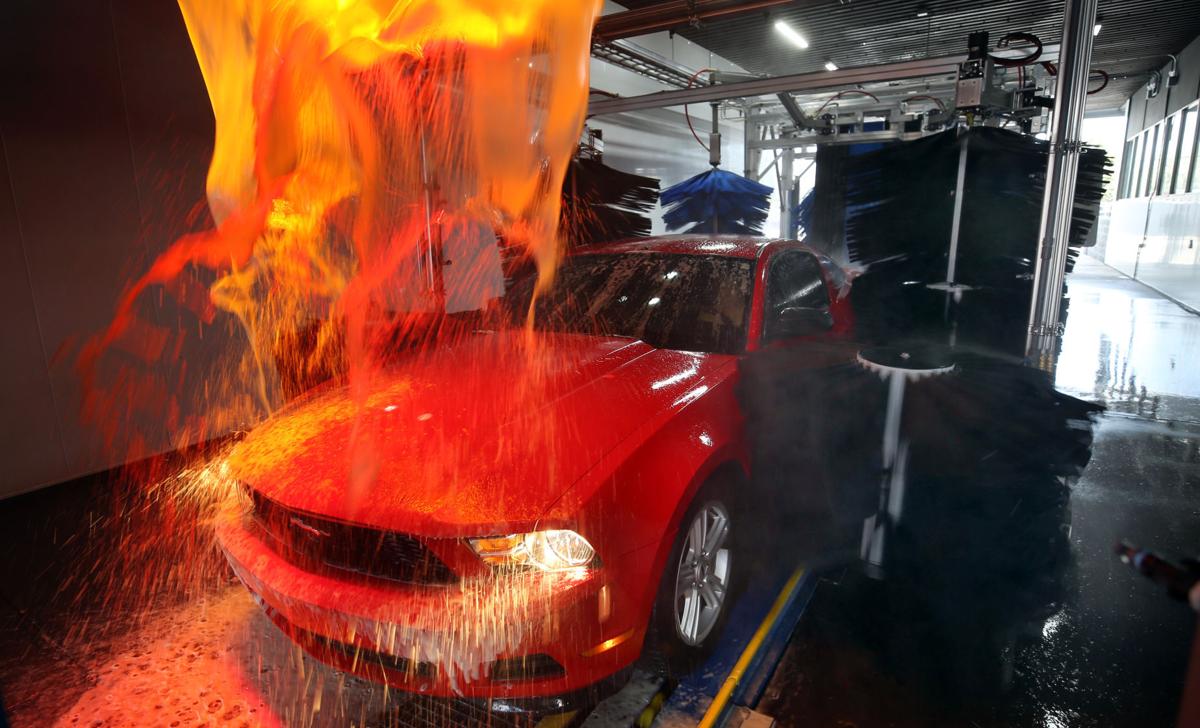 Thousands of vehicles go through automatic car washes in Tucson each week, but not all of them come out looking better than before, some local consumers say.
Websites such as Yelp and the Better Business Bureau are home to numerous complaints about inferior work or costly damage incidents at several area car washes.
For example, the Mister Car Wash chain — the city's top purveyor of suds and polish with 15 Tucson locations — has a D-minus rating with the BBB.
The company often doesn't respond when customers complain to the BBB about broken windows, dangling door mirrors, scratched side panels and other types of damage allegedly caused by the car-wash machinery or employees, online complaint records indicate.
Mister Car Wash CEO John Lai disputes that the firm is unresponsive and said the number of complaints is tiny compared to the 1.7 million cars washed each year in the Tucson area.
Lai says the firm's damage rate in Arizona is less than .03 percent or "one in 3,500 cars" and said the company willingly pays for repairs when it determines it was at fault.
"While one damage claim is too many, we continuously work to provide our customers with a safe wash for their vehicles and operate one of the safest car wash chains in the country," he said.
"In addition to the small number of complaints we receive, we also get thousands of rave reviews," he added.
52 COMPLAINTS
Headquartered in Tucson, Mister Car Wash has more than 250 locations across the country, making it America's largest car-wash chain.
One was from a retired University of Arizona professor who said Mister Car Wash at North Oracle and West River roads broke the passenger window and window mechanisms on her 2012 Fiat in June.
Repairs cost nearly $500, which she paid out of pocket after the company said it wasn't responsible, said the professor, who wasn't named in the BBB complaint.
The location the professor complained about has a Yelp rating of 2.5 stars out of five. Of the 25 Tucsonans who posted reviews, two claimed their vehicles were damaged.
Lai, the CEO, maintained in an email interview that the Better Business Bureau is not a reliable source of information. He pointed to a 2010 news story about a Los Angeles BBB —later ejected from the national BBB network — that was accused of giving negative ratings to businesses that were not BBB members.
Asked if that's how Mister Car Wash got its negative rating, Lai did not answer the question.
Susann Miller, spokeswoman for the BBB of Southern Arizona, said the company's D-minus rating is based solely on its failure to respond to complaints. Given its track record, Mister Car Wash "does not qualify" for BBB accreditation, she said.
Lai said the firm has resolved "nearly all" the complaints by reaching out to customers directly, rather than through the BBB.
"We have elected not to respond to the BBB complaints since we find that very few people use them as a source of relevant reviews," he said.
NEW "HEADACHES"
New technology aimed at making vehicles safer is "causing headaches" for car-wash owners and increasing potential for damage claims, according to Professional Carwashing and Detailing, a national industry organization.
Anti-collision features such as automatic braking, for example, can occasionally deploy without warning inside car wash tunnels, setting the stage for collisions.
"Sensors, locking systems and more engaging at the wrong time can definitely give owners and customers a thing or two to complain about," the organization's website said.
Soft-cloth car-wash systems, which aim to protect a vehicle's finish, can entangle trim and side view mirrors and tear them off if they were loose to begin with, the website said. Even seemingly minor damage like a detached mirror can cost up to $1,000 to fix, it said.
Many car washes now pre-screen vehicles for loose parts and pre-existing damage. Some, including Mister Car Wash, have video cameras inside wash tunnels to help determine what happened if something goes wrong.
But even those safeguards aren't foolproof.
Michael Walton, 50, said his 2003 Dodge Ram truck recently sustained $1,000 worth of damage at one of the city's newest car washes, Dynamite Car Wash Hypersonic on East Ajo Way near Interstate 19.
Workers there, who are required by company rules to inspect every vehicle for pre-existing damage, cleared Walton's truck to enter the wash tunnel, he said.
Halfway through, Walton said, the machinery stopped briefly and he heard "a real loud pop." The metal housing that secures the truck's antenna was twisted and hanging when the truck emerged, he said.
Employees wouldn't let him see the video of the incident and claimed the problem was pre-existing, he said.
Walton's wife, Nancy, who was with her husband when the incident occurred, said the couple got the runaround when they asked to see the footage.
An assistant manager said to come back the next day when a manager was on duty, but when she came back the manager wasn't there, she said.
Evo DeConcini, who owns the car wash, said management typically shares video footage with customers who complain and said his staff has assured him that occurred in the Waltons' case.
"We generally side with the customer in a situation like this, and always make genuine efforts to go above and beyond when it comes to customer service," said DeConcini, who stressed that complaints are rare.
Walton, meanwhile, said he's shopping around for somewhere else to take his family's three vehicles and is feeling uneasy about it.
"Once you've have a bad experience," he said, "it's hard to know who you can trust."
Contact reporter Carol Ann Alaimo at 573-4138 or calaimo@tucson.com. On Twitter: @StarHigherEd
Get local news delivered to your inbox!
Subscribe to our Daily Headlines newsletter.