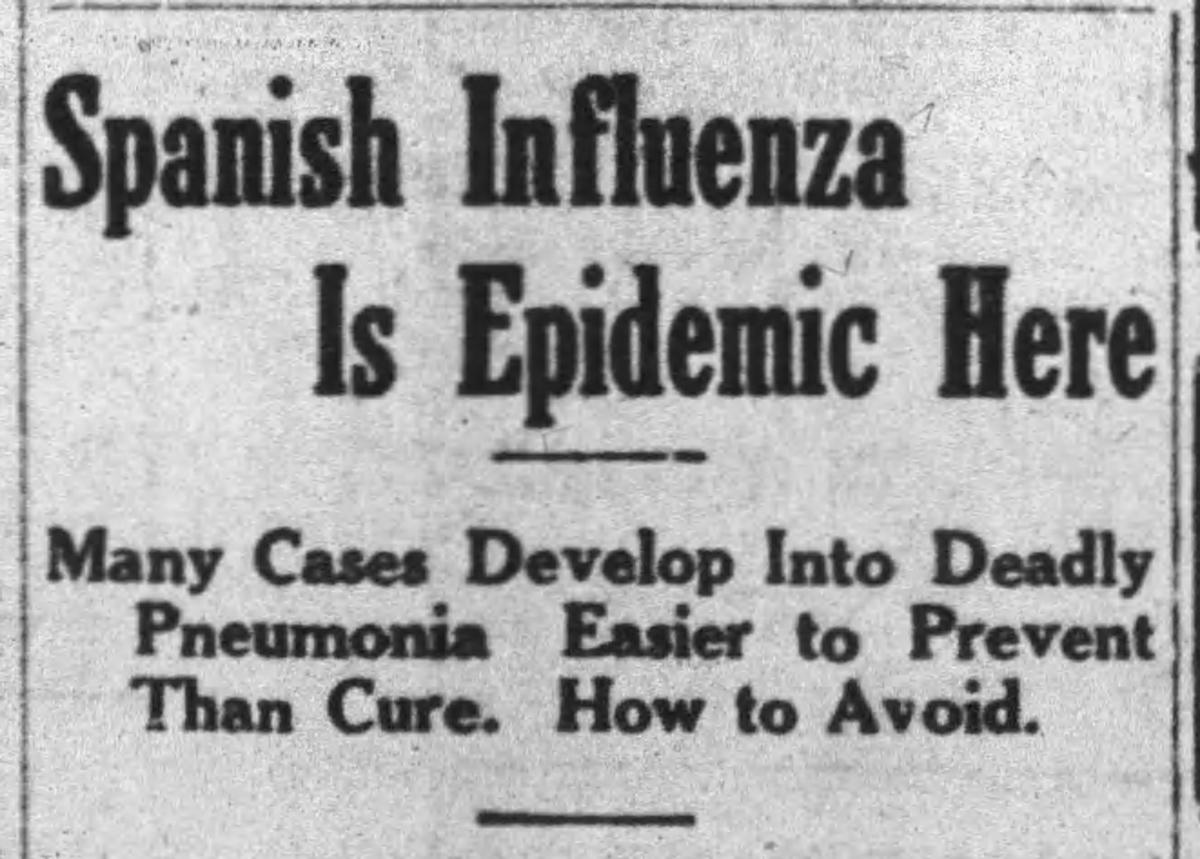 To see how Tucson was tested during the 1918 Spanish flu pandemic, check the daily newspaper. It's all there in black and white.
The phrase "Spanish influenza" appeared in the Arizona Daily Star for the first time on July 7, 1918 — a casual reference buried in a World War I dispatch from the front. It scarcely showed up again until Sept. 14, when the Star published a story on Page 6 announcing the arrival of the "strange army disease" in the eastern U.S.
References to the virus appeared almost daily after that, as the number of cases grew in distant Army camps and major East Coast cities.
By Sept. 28, the virus was spreading so fast that it was disrupting military training for recent draftees, though the paper noted that weeknight drills for local conscripts would continue as scheduled at the local armory.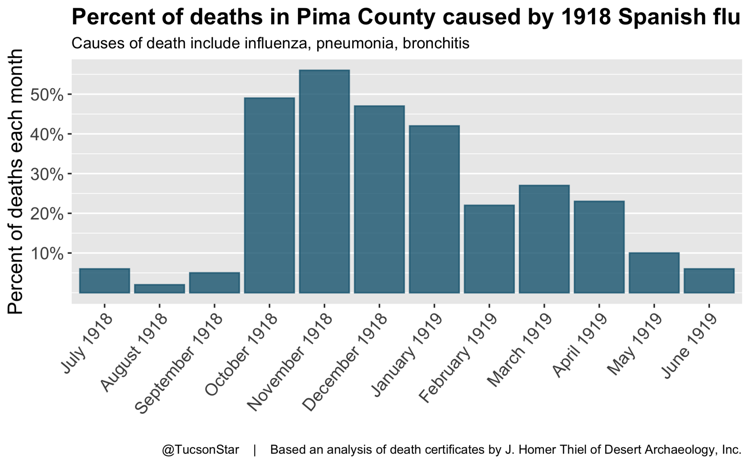 The Star carried its first report of Spanish flu in Arizona on Oct. 4, with 200 cases in Winslow and 60 in Flagstaff, prompting the closure of what was then called Northern Arizona Normal School.
A headline in Tucson the following day declared: "No influenza cases appear in this city," but the Old Pueblo's luck ran out on Oct. 10, when 27 people were reported ill.
In a notice published at the top of the front page that day, acting Tucson Mayor A.C. Bernard ordered the closure of all churches, schools, "moving picture houses, pool rooms and other places of amusement where people congregate."
"We are not only fighting the enemy abroad, but also the enemy at home," Bernard wrote. "In order to conserve all our forces and resources, it becomes a necessity for each (and) every one to observe this request."
Pima County ordered similar closures in a legal notice published in the paper on Oct. 23.
Soon the pandemic had permeated every section of the Star, from front page headlines declaring "Influenza worse than Hun bullets" to advertisements for cure-all tonics and part-time jobs for local teenagers "while the schools are closed."
Dozens of obituaries in the coming months would chart the growing scale of the outbreak and its alarming toll on people in their 20s and 30s.
The Oct. 25 edition included a mortuary notice for a Mrs. J.E. Carr, the young wife of a Southern Pacific Railroad brakeman, who died from influenza after she traveled to Missouri to tend to a sister seriously sick with pneumonia.
A front page story two days later revealed that Arizona's state health officer was testing contraband whiskey confiscated by law enforcement officers as a possible treatment for influenza. "Although Arizona has been a 'dry' state for nearly four years," the story noted, "it is said that there is more than a sufficient quantity of whiskey being held by the sheriffs to meet the demands of the health authorities."
In what might qualify as an early version of click bait, the Star also included reports of prominent people falling ill and then recovering, including an assistant secretary of the Navy named Franklin D. Roosevelt and a certain Mexican guerrilla leader known as "Pancho." According to an Oct. 29 wire story: "Spanish flu has done what bullets have never done, put Francisco Villa to bed."
By November, the Star was carrying daily updates on the number of new influenza cases in Tucson, prompting perhaps a new city ordinance that required everyone to wear a mask when walking the streets or entering a business establishment.
For several days after the "mask order," the paper reported on a handful of unmasked men who were "arrested" and slapped with $10 fines, but the push to get Tucsonans to cover their faces never seemed to gain much traction.
A Dec. 12 story summed up the effort this way: "The order of the city board of health is in full force and effect, but it is being unanimously ignored by the public. The only person attending the meeting of the city council last night who wore a mask was City Health Officer Meade Clyne."
Though local flu deaths would continue well into 1919, coverage of the virus gradually grew less frequent and urgent.
A Jan. 7 story about Thomas E. Campbell being sworn in as Arizona's first Republican governor made only a brief mention of Spanish influenza, noting that his inaugural reception had to be canceled because of a wave of flu cases in Phoenix. Among those infected were the new governor's own two sons.
Contact reporter Henry Brean at hbrean@tucson.com or 520-573-4283. On Twitter: @RefriedBrean.
Concerned about COVID-19?
Sign up now to get the most recent coronavirus headlines and other important local and national news sent to your email inbox daily.