It killed 16 civilians, Yemeni officials said, including five out of six siblings from one family. The only sibling who survived was a 5-year-old girl named Buthaina, whose eyes were so bruised and swollen that she had to open her eye with her fingers to see visitors at the hospital. A heart-wrenching photo of that moment awoke some people to the mass tragedy of the Saudi war in Yemen — some people, for some time.
In the rubble of the building, local photographers found a fragment of the bomb with a series of numbers on it: MAU-169L/B EC42; ASSY2252788–1; and NSN 1325–01–524–9697. They sent a photo of the numbers to Amnesty International, and through research, the human-rights group found this year that the device was made by Raytheon Missile Systems in Tucson.
This month, the killing of a Saudi journalist, Jamal Khashoggi, has opened America's eyes, again, to the true nature of a regime we have been supporting for decades. The dissident journalist's apparent murder also should remind us of the much bigger crime, probable war crimes actually, that Saudi Arabia has been committing in Yemen — not just with U.S. military assistance, but using munitions built by Tucsonans.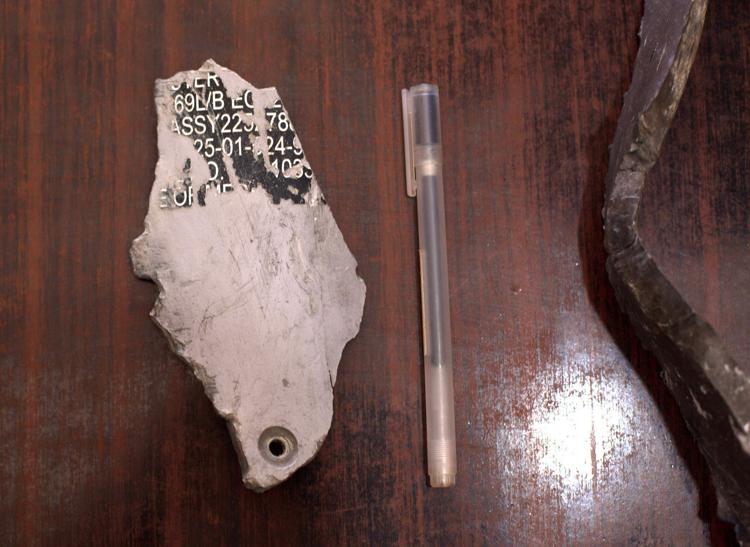 Raytheon missiles and bombs have been the documented weapon in several gruesome attacks on Yemeni civilians, but this is the only one that could be traced to its specific source, said Patrick Wilcken, an arms-control researcher for Amnesty International.
"That's the only example where we've had all the markings and been able to go back to Tucson," he said. "A lot of these airstrikes, you don't get a lot of remnants. In the urban ones, there are Amnesty researchers but also local NGOs who might come across munitions remnants. Sometimes we get partially obscured markings, or a Paveway fin, which would say that it is a Paveway" but not its manufacturer.
A saying, often misattributed to Josef Stalin, captures the reason for our country's sudden rediscovery that Saudi Arabia is a vicious dictatorship: "The death of one man is a tragedy. The death of a million is a statistic." We here in Tucson have nothing specific to do with the death of that one man, Khashoggi, a Washington Post contributor killed by Saudi officials in their country's Istanbul consulate. Unfortunately, we have had a hands-on role in the deaths of the "million" — actually, about 7,000 known civilian deaths — in Yemen.
President Trump has repeatedly said he doesn't want any punishment of Saudi Arabia for the Kashoggi killing, or the Yemen war crimes, to include stopping arms sales, which he has valued at $110 billion — a massive exaggeration. In a "60 Minutes" interview last Sunday with Lesley Stahl, he even cited Raytheon specifically.
The Saudis "are ordering military equipment. Everybody in the world wanted that order. Russia wanted it, China wanted it, we wanted it. We got it," Trump said. "I tell you what I don't want to do. Boeing, Lockheed, Raytheon, all these com(panies) — I don't want to hurt jobs. I don't want to lose an order like that. There are other ways of — punishing, to use a word that's a pretty harsh word, but it's true."
Raytheon's relationship with Saudi Arabia goes back to 1966, well before the Massachusetts-based company bought Tucson's Hughes Missile Systems in 1997 and turned it into Raytheon Missile Systems, now Tucson's largest private employer. It is an increasingly tight bond. In May last year, Raytheon announced it was creating a subsidiary to build weapons and equipment in Saudi Arabia for that country's military.
This is a good time to be in the business of arming the Saudis and their allies, the United Arab Emirates, and selling them missile defense systems. Since 2015, Saudi Arabia and the UAE have been attacking the forces that have taken over Sanaa and much of Yemen, a country on the southern coast of the Arabian peninsula. The new rulers of that area, the Houthis, are a Shiite Muslim militia, who have fired missiles into Saudi Arabia, some of them intercepted by Raytheon defenses. The Saudis and some Americans accuse the Houthis of being supplied by Shiite Iran, though that claim is disputed.
Selling missile defense systems is one thing, but the constant Saudi attacks using U.S.-supplied offensive weapons have devastated much of Yemen, causing outbreaks of cholera and ongoing starvation, as well as the direct killings and injuries of thousands of civilians.
For years, some senators have tried to slow our arms sales to Saudi Arabia and our assistance to their military in response to the slaughter, but the Trump administration has only deepened ties. Rather than traveling to Mexico or Canada in his first foreign trip, as is the presidential tradition, Trump traveled first to Saudi Arabia.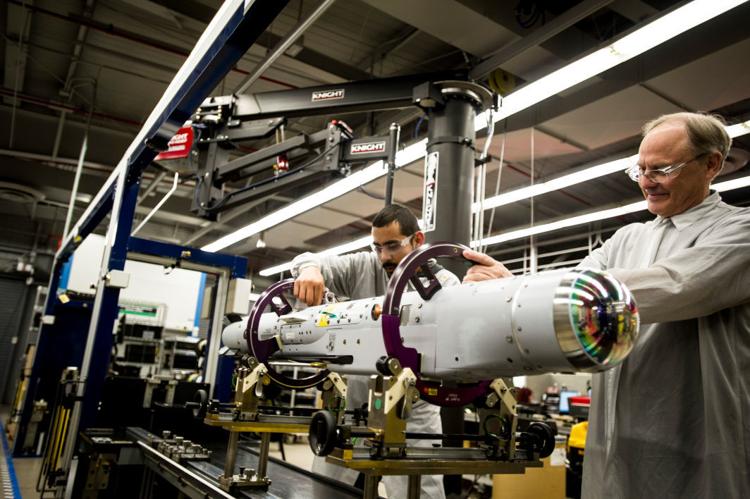 Trump has centered his Middle East policy on the kingdom. No longer a massive supplier of oil to the U.S., it serves as an Arab ally that abides Israel and counteracts Iran. Through his son-in-law, Jared Kushner, Trump has given the new crown prince, Mohammed bin Salman, so much leeway that the crown prince felt comfortable blockading Qatar, imprisoning hundreds of political rivals, briefly kidnapping Lebanon's prime minister, and breaking diplomatic ties with Canada over a tweet, among other reckless actions. U.S. indulgence has emboldened him.
Raytheon and other U.S. defense contractors have benefited. Raytheon makes more of its sales to foreign countries than any of its competitors, said Loren Thompson, a defense analyst at the Lexington Institute, a defense-industry-funded think tank in Virginia. Last year, Raytheon made $8.1 billion in foreign sales, 32 percent of its total. The company does not publicly break down which individual countries make up what percentage of sales, nor how may people those sales employ.
"The Saudi relationship is very important to Raytheon," Thompson said. "Saudi Arabia relies more on Raytheon missiles and munitions than any other supplier."
Raytheon Missile Systems would not provide comment for this column. But in the past the company has noted it does not make direct sales to foreign governments. It's the U.S. government that makes the deals for foreign military sales. The defense contractors, like Raytheon, simply fulfill the U.S. government's orders for those countries.
This is true, but it obscures reality. Defense contractors don't just sit back and let elected officials set policy; they lobby the government and use political influence to convince the government to make decisions that help sales. Raytheon spent at least $5 million on lobbying in 2017. For defense contractors like Raytheon, war is financially beneficial, even when, once shipped away, its missiles or bombs end up hitting apartment complexes or, as in an August strike using a Lockheed Martin bomb in Yemen, a school bus filled with boys, 40 of whom were killed.
The stubborn defense of these commercial interests, of jobs in places like Tucson, leads eventually to the killing of civilians in Yemen, said William Hartung, director of the arms and security project at the Center for International Policy, a liberal think tank in Washington, D.C.
Of those interests, Hartung said, "I think they are standing in the way of ending the war. President Trump is so intent on going ahead with the war for jobs and business reasons."
Yet, as President Trump frequently points out, we have a strong economy now — an unemployment rate of 3.7 percent in September. Of all the periods in our country, now would be the best time to ignore worries about sustaining whatever jobs, probably very few, that are tied to killing the innocent.
I can't speak for Raytheon or its employees, but I find it ridiculous to use them as an excuse to collaborate in potential war crimes, starvation, cholera and the Saudi state terrorism of repeatedly bombing Yemeni civilians, not to mention journalists. Tucson will do OK without that on our record, or our conscience.