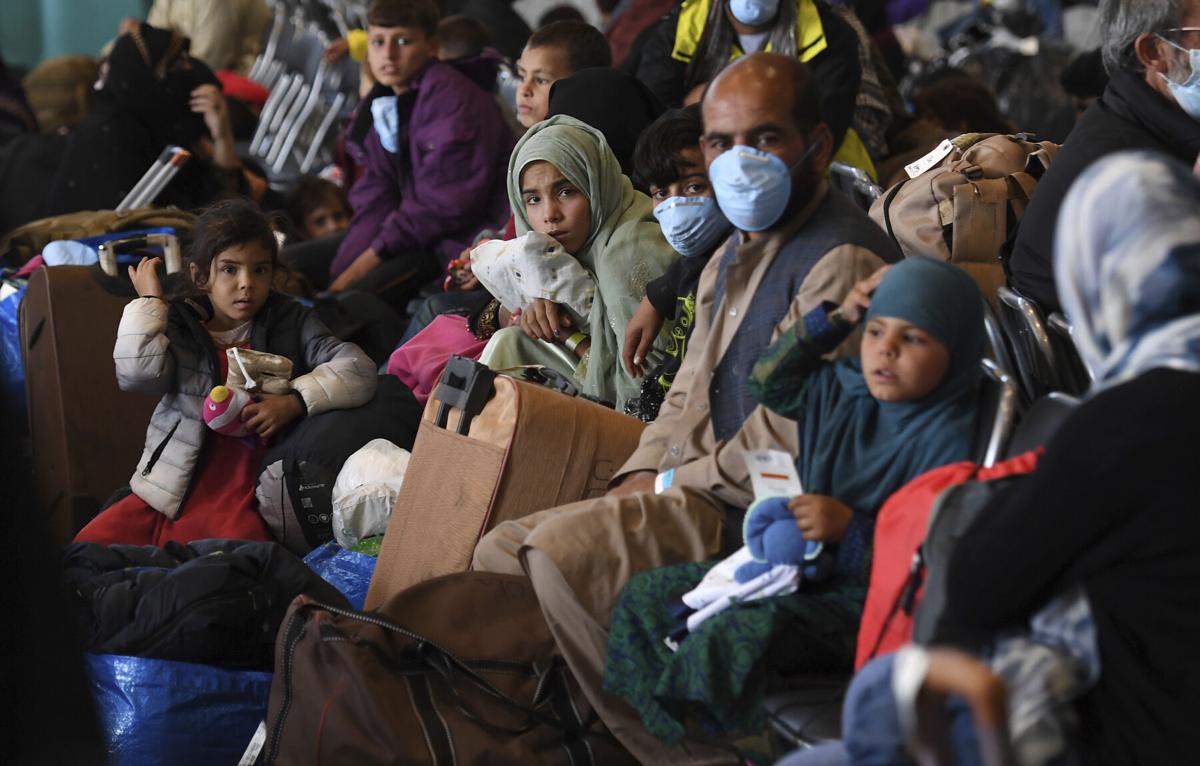 A Tucson resettlement program will be receiving 25 Afghan refugees by early- to mid-October once refugees receive vaccines for measles and COVID-19, said the head of a nonprofit agency Wednesday.
There was a measles outbreak among refugees, and once the Afghans receive vaccines for both measles and the coronavirus they are expected to arrive 21 days later at Tucson International Airport, said Connie Phillips, president and chief executive officer of Lutheran Social Services of the Southwest.
Phillips said she does not know where the measles outbreak occurred or from what military installation the refugees will be coming to Tucson. She said the local office is working with and receiving word from the national Episcopal Migration Ministries officials.
Lutheran Social Services of the Southwest refugee resettlement program can accept 100 Afghan refugees in Tucson, said Phillips. The other local refugee resettlement program, International Rescue Committee, can help about the same number of refugees here, Phillips said. Presently, both organizations are the only two resettlement organizations in Tucson.
"We are in the process of hiring additional staff, including a case management worker who is Afghan and can speak Farsi or Dari," Phillips said. She said the agency is also looking for apartments and houses to rent. The State Department Office of Refugee Resettlement will contract for refugee services with national organizations that will allocate money to local resettlement organizations for staff, housing and other expenses.
She said the 25 refugees coming to Tucson are arriving as evacuees under a humanitarian parole program and will not qualify for government food programs or medical services as those refugees who qualify for the Special Immigrant Visa (SIV), which was created to protect Afghan allies helping U.S. troops in Afghanistan.
Those arriving under the SIV can choose where they want to go, and most settle in Texas, California and Virginia where they have family or friends, said Phillips.
"Arizona does have some Afghans with SIVs resettled here, but we are not a big state for SIV resettlement," she said.
Lutheran Social Services will help the refugees apply for a work permit, find employment, enroll children in school and look for other resources to provide assistance to the individuals and families.
"This program is not a treatment program or a respite program. It is a program to help resettle people into the United States, and in our country people work to pay their expenses. Everyone must work," she said.
"These people are fleeing death and horrible trauma. The resettlement process does include the support of mental health and addresses physical concerns. That is part of what we do. We connect people with the help they need," Phillips explained.
The refugees are paired up with volunteers and others to practice English, and learn to navigate going to the grocery and drug stores, and learn about daily living and what needs to be done. Afghan refugees, who made Tucson their home years ago, will be introduced to the newly settled Afghans so they can help them fit into and feel comfortable in their new surroundings.
She said the refugees are met at the airport and taken to their homes that are fully furnished and stocked with food. Case management workers help the new arrivals with visas and immigration paperwork, and also help them complete all the documentation for citizenship in five years.
"I want to emphasize how grateful we are to help with this resettlement program," said Phillips. "We are a faith-based organization, and we are really excited to see more refugees who are coming, and we look forward to welcoming the evacuees coming from Afghanistan."
Phillips said refugee resettlement programs used to work with 95,000 refugees a year across the country, but the numbers were lowered and last year the official cap was set at 18,000, but the U.S. welcomed fewer than 12,000 people. Over the years, resettlement programs disbanded. Now, the government is working on relationships with housing, employers, school districts and congregations to reactivate all of the systems to work with this influx of Afghan refugees.
Once the refugees are relocated in the United States, 6,000 to 10,000 people per week are expected to be taken across the country to resettlement programs in various states, and 54,000 are expected to be resettled.